A figure of Larry Fitzgerald scoring a touchdown is McFarlane Toys' exclusive Super Bowl collectible being sold at the NFL Experience during Super Bowl week. 
Larry Fitzgerald is stuck, frozen in time, scoring a touchdown like a three-dimensional snapshot of a highlight.
Anquan Boldin is leaping for another big catch.
They are scenes easy to envision for the Cardinals' star wide receivers. Especially if you buy them.
With the Super Bowl approaching, Tempe-based McFarlane Toys has gone local with its latest pair of sports figurines in its SportsPicks line: Fitz and Q.
Fitzgerald is the headliner, the annual Super Bowl exclusive figure. The past few years McFarlane has had exclusive figures tied to the "home" team of each Super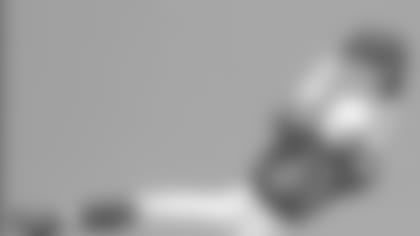 Bowl. In Jacksonville a few years ago, there were special Fred Taylor and Byron Leftwich figures. In Detroit, it was Barry Sanders. Last year in Miami, it was Jason Taylor.
Only 5,000 of the figures are going to be made, and most will be available only at the company's booth at the NFL Experience during Super Bowl week. For the first time, a small amount – a few dozen, estimated McFarlane's sports brand manager Mark Weber – will also be available in McFarlane's stores in both Tempe and in Glendale.
The NFL Experience will be open Jan. 26-27, Jan. 31, and Feb. 1-2. The Fitzgerald figure will be on sale as soon as the gates open Jan. 26 at 10 a.m.
Because the Fitzgerald figure is limited, McFarlane decided to produce a second "exclusive" figure that won't be quite as hard to come by. Originally, the figure was supposed to be quarterback Matt Leinart, but because of Leinart's injury the company has put that release on hold.
Instead, McFarlane has made a Boldin figure, McFarlane's second shot at Q after releasing a Boldin figure back in 2005. Sporting a captain's patch on the jersey, the new Boldin figure is due in McFarlane stores sometime before Super Bowl week and will also be available online.
Weber said the Leinart figure, with Leinart posed on the sideline, is now scheduled to be released in August, around the opening of training camp.
This article has been reproduced in a new format and may be missing content or contain faulty links. Please use the Contact Us link in our site footer to report an issue.