The old, cement-like artificial turf of NAU's Walkup Skydome is being replaced with a new turf called RealGrass Matrix, which should make it easier to practice indoors.
Every day of training camp, Marcel Shipp would wake up in his Flagstaff dorm room praying it wouldn't rain because he didn't want to practice inside.
The Cardinals' veteran running back didn't want to be stuck working on the ancient and rock-hard artificial turf of Northern Arizona University's Walkup Skydome, where he dislocated his ankle and broke his leg in a gruesome scrimmage injury in 2004.
"Every time I walk through there," Shipp said, "I get flashbacks."
So the smile that crossed Shipp's face -- when he heard the Skydome was finally getting upgraded turf -- was a natural.
"This," Shipp said, "is a great thing."
Dave Brown, the Walkup Skydome director and NAU's liaison to the Cardinals,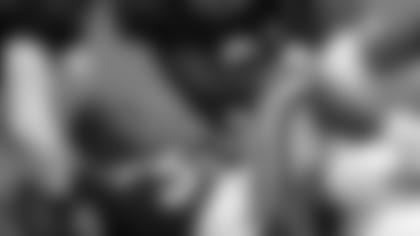 said installation of the turf began Monday by the Hellas Construction firm of Austin, Tex. The carpet, the Matrix version of the brand RealGrass, will cost in excess of $1 million, Brown said.
The Cardinals hired a turf consulting firm, CMX, to work with NAU and come up with the Matrix choice.
The plan is for the NAU football team to hold its spring game on the turf in the dome April 26 before the field will be rolled back up until preparations begin for the Cardinals' camp in mid-July.
"This is a first step," Brown said.
Brown said the turf is the same that will be used in the Dallas Cowboys' new stadium, although a Hellas spokeswoman said the firm is merely negotiating with the Cowboys and no deal has been reached.
The new turf will change how the Cardinals conduct training camp, because injury fears have turned recent indoor practices into glorified walkthroughs.
With rain not uncommon in the afternoons, the Cards are pushed inside for practice about three or four times in camp every season.
"It just gives you a viable option if you have those afternoon thunderstorms," coach Ken Whisenhunt said. "From what I understand, they are going to put some (new turf) on some outdoor fields too. This just gives you the comfort to know you can stay on your schedule.
"You don't want to put your players at risk on a surface you have concerns about. There are risks at any practice, but you don't want to increase the chances of it happening."
Now that the turf is being installed, the school's next priority is to look at the rest of the Skydome and update the 30-year-old facility. Brown added the price of the turf was low enough that there should be extra money that could be used to upgrade other needs, some of which will help the Cardinals at camp.
Changing the turf, however, means a lot on its own.
Cardinals senior director of player programs Anthony Edwards once played for the team. He was never a fan of artificial turf – he began his career in Philadelphia, where the Eagles once played on the most infamous turf ever at Veterans Stadium.
In 1994, after Edwards came to the Cardinals, he dealt with the harsh Skydome turf during an early August practice. Chasing a long pass after getting past the cornerback, Edwards' knee blew out as he was running, sending him to the sideline for the year.
"I disliked turf, period," Edwards said. "You know, we are looking forward to new turf. It is very satisfying (to see it replaced) and I know it is something the Cardinals were looking to get done."
No one was looking forward to it more than Shipp, who has no doubts the turf was the big reason his leg was obliterated that August night in 2004.
"When you are on the (old) artificial turf like that, there are no real practices," Shipp said. "Everyone is real tentative with what you are doing. Everyone is trying to work hard, but at the same time, you can't get over it. Especially me. It was hard to focus in and get a good day's work in."
This article has been reproduced in a new format and may be missing content or contain faulty links. Please use the Contact Us link in our site footer to report an issue.