Adrian Wilson (24) and Karlos Dansby (58) are two of the Cardinals' many pieces on defense for coordinator Clancy Pendergast.
FLAGSTAFF – When he is working at the Cardinals' Tempe facility, defensive coordinator Clancy Pendergast spends a ton of time not in his office but in a video room, complete with huge wipe boards on which to scribble various thoughts.
Coming up with new and various ways to maneuver his defensive players is Pendergast's favorite pastime.
"He definitely has a lot going on in that head of his," safety Antrel Rolle said.
It may be a little easier to put those plans into practice this season.
The Cardinals made a concerted effort to improve their defensive depth this
[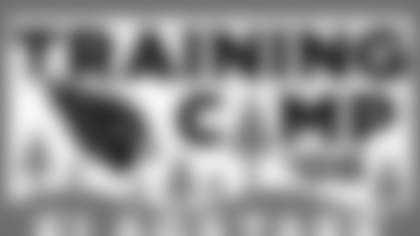 ](http://www.azcardinals.com/news/training_camp.php)
season after injuries robbed the team not only of key players in 2007 but also of Pendergast's ability to be creative.
Not only have key cogs like safety Adrian Wilson, linebacker Chike Okeafor and defensive end/linebacker Bertrand Berry returned, but the Cards brought in free-agents like defensive end/linebacker Travis LaBoy, linebacker Clark Haggans and defensive lineman Bryan Robinson. Rolle was moved to safety from cornerback. Linemen Calais Campbell and Kenny Iwebema and cornerback Dominique Rodgers-Cromartie were drafted.
"Clancy has all the tricks up his sleeve, but he can do more because he has so many more guys," cornerback Eric Green said. "Teams aren't going to be able to look at us and say, 'If this guy is here, they are going to do this.' "
The way the Cardinals have set up their defense lends itself to Pendergast's whims (and those of veteran defensive coaches like linebackers coach Bill Davis and defensive backs coach Teryl Austin, whom coach Ken Whisenhunt said also help building schemes). The "predator" linebackers like Berry and LaBoy are defensive ends that can drop into coverage if necessary. Linebacker Karlos Dansby is a weakside linebacker who played on the strongside early in his career. Safeties Rolle and Matt Ware are converted cornerbacks, allowing both to be moved around.
And then there is strong safety Adrian Wilson, who is a feared in-the-box defender and blitzer and who is working like a linebacker in dime packages.
"They are all fairly interchangeable and we have a lot of depth on paper," Pendergast said. "We just have to see who can get out there and play.
"Over the course of time, (scheming) is an aspect I really enjoy, to utilize the players and taking their abilities and utilizing skills as best as I can."
Haggans, who played for some of the "Blitzburgh" teams for the Steelers, said he likes Pendergast's aggressiveness and his desire to have the defense try and dictate to the offense rather than read and react.
The Cardinals' new depth and versatility – at least on paper – aids in that quest.
"It makes it harder in the NFL for offenses when you have guys who can move around and are difficult to pick up," Haggans said. "Defensive football in the league is a lot about matchups."
Rest should also make the Cardinals' defense better. The injuries and lack of depth forced starters to play longer and face double-teams more than they should have last season. It wasn't a coincidence that the play of defensive tackle Darnell Dockett dropped when Berry was hurt.
Both Dockett and defensive end Antonio Smith both have talked freely about needing more rest during games to be effective.
"It got to the point where (blockers) beat on you and beat on you," Smith said. "You get to the fourth quarter and your heart is there but your legs just aren't moving as fast as your mind and your heart want them to."
While Pendergast has repeatedly said he plans to put the best 11 players on the field, those players may change on the situation. The Cards are still rotating some players between first and second units – LaBoy and Berry at "Predator" linebacker, Haggans and Okeafor at "Sam" linebacker, Matt Ware and Aaron Francisco at free safety while Rolle nurses a bad ankle.
Eventually, Pendergast will find a way to use a lot more than 11 players anyway.
"Clancy," Smith said, "is the mastermind."
This article has been reproduced in a new format and may be missing content or contain faulty links. Please use the Contact Us link in our site footer to report an issue.