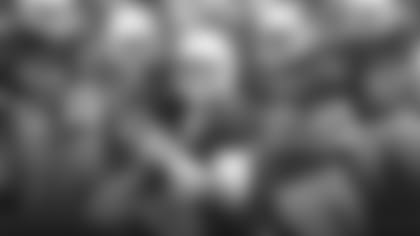 The Cardinals ultimately fell short of their Super Bowl goal with a loss in the NFC Championship game, but 2015 was still one of the most memorable seasons in franchise history. Many different players made the run possible with their standout performances, and there was no shortage of candidates for end-of-the-year honors. Here are the results of the annual Cardinals Digital Media Awards, as voted on by a 19-member panel.
CO-OFFENSIVE PLAYERS OF THE YEAR: QB Carson Palmer and WR Larry Fitzgerald (9 votes apiece)
Others receiving votes: RB David Johnson (1 vote)
Palmer's 2015 statistics: 342-of-537 for 4,671 yards with 35 touchdowns and 11 interceptions.
Voter takes on Palmer: "He was the biggest reason the Cardinals won 13 regular season games. He had an MVP-caliber year, and one of the greatest statistical seasons in franchise history." – Dave Pasch, radio play-by-play
"Everyone will remember Carson Palmer's nightmare NFC Championship game, but I will remember his consistent playmaking throughout the season. Never have we seen a Cardinals team hammer opponents the way they did in 2015. There were so many blowouts and most of them had to do with Palmer. Some of his throws were things of beauty. The bomb to J.J. Nelson against the Bengals. Threading the needle to David Johnson in St. Louis. The one aspect of Carson's game that came as a surprise in 2015 was his ability to use his feet to buy time. This was most apparent in the thrilling Divisional playoff win over the Packers when he stepped up, moved around and found Larry Fitzgerald across the field for a 75-yard gain to set up the winning score." -- Jim Omohundro, radio producer
Fitzgerald's 2015 statistics: 109 catches, 1,215 yards and 9 TD
Voter takes on Fitzgerald: "It wasn't just the number of catches (team-record 109), it was the magnitude of the catch. Fitz moved the chains and moved the meter. How many times did Larry make a big catch in traffic and it was like attaching jumper cables to the offense as it roared to life." -- Paul Calvisi, host/radio sideline reporter
"It was just last year when Cardinals fans were wondering if it was the final time they would see Fitzgerald in a Cardinal jersey. Keeping him ended up being one of the best decisions by this organization. There was a certain fire within him all year long, a fire that was truly illustrated on his 75-yard OT catch against Green Bay. He would not be denied. I felt like every week he was breaking another record and his resurgence this season took the team to new heights." – Lisa Matthews, multimedia producer/ reporter
"I think Larry deserves it for being such a motivator and a guy everyone looked to for that spark during games. How the team played off his energy was amazing to watch all season long. Also, the guy had a career type year when no one expected it. He's Mr. Cardinal." – Grant Greeley, broadcast assistant
DEFENSIVE PLAYER OF THE YEAR: S Tyrann Mathieu (10 votes)
Others receiving votes: CB Patrick Peterson (7 votes); S Deone Bucannon (2 votes)
Mathieu's 2015 statistics: 89 tackles, 5 interceptions, 16 pass deflections, 11 tackles for loss, sack, forced fumble, pick-six
Voter takes: "He was in the running to be the Defensive Player of the Year before his injury and his absence was sorely missed at the end of the season. He was the "X-Factor" for James Bettcher all season and produced solid numbers. But his loss revealed more about his leadership and influence than anything else. Badger don't care…" – Ron Wolfley, former player/radio color analyst
"The Honey Badger all the way! The Badger contributed in every aspect of the defense, and until his injury I believe we would have been great in the playoffs. Even with the Week 15 injury, I still believe in the savage!" – Rolando Cantu, former player/Spanish radio analyst
"Mathieu has a diverse skill-set – sticky cover guy, superb tackler, dangerous pass-rusher -- and his talents were on full display before the untimely ACL tear in Week 15. No matter where he lined up, he was one of the NFL's premier playmakers. There is no other defensive back in the league like him, and he was so dominant when on the field that he gets my vote despite missing the final stretch of the season." – Kyle Odegard, azcardinals.com writer
BEYOND THE BOX SCORE PLAYER OF THE YEAR: S Deone Bucannon (7 votes)
Others receiving votes: CB Patrick Peterson (4 votes); S Rashad Johnson (2 votes); DT Frostee Rucker (1 vote); S Tyrann Mathieu (1 vote); G Ted Larsen (1 vote); WR Larry Fitzgerald (1 vote); LS Mike Leach (1 vote); LT Jared Veldheer (1 vote).
Bucannon's 2015 statistics: 127 tackles, 17 tackles for loss, 3 sacks, 3 forced fumble, 2 fumble recoveries, pick-six
Voter takes: "Drafted as a safety, Deone Bucannon spent more time, if not all of his time, in the box next to linebacker Kevin Minter. Bucannon played so well that he kept Sean Weatherspoon, one of the team's key offseason additions, off the field and allowed defensive coordinator James Bettcher to put his best defenders, i.e. secondary, on the field at the same time." – Craig Grialou, radio host
"Not only do his stats back up the honor, but Bucannon's positional versatility and ability to play at a high level may make many around the NFL think of implementing the Dollar LB. #GAMECHANGER." – Damien Anderson, former player/radio analyst
"No fringe, no froufrou. Bucannon is just one heck of a football player. Leading the team in tackles is impressive, but more so is just how fundamentally sound he is at wrapping up. And when the opportunity presents itself, you've got a player who is able to unleash some hellacious hits on his opponents. Deone doesn't get as much credit as other defenders, but the guy can do whatever he's asked to do." – Dan Nettles, broadcast editor
NEWCOMER OF THE YEAR: RB David Johnson (15.5 votes)
Others receiving votes: G Mike Iupati (2 votes); LB Dwight Freeney (1.5 votes)
Johnson's 2015 statistics: 125 carries for 581 yards, 8 TD; 36 catches for 457 yards, 4 TD; kickoff return TD.
Voter takes: "Impact performer from game one.  A threat as a rusher, receiver and returner." – Tim DeLaney, executive producer, broadcast
"When Chris Johnson went down in Week 11 at San Francisco, David Johnson all of a sudden was the guy, and boy did he look good. The rook took his chance and ran with it - with three monster performances in a row, during a critical stretch of the schedule (22 carries for 99 yards at St. Louis, 19 carries for 92 yards vs. Minnesota and 29 carries for 187 yards at Philadelphia.) Plus, don't forget his great start to his career with a game-winning TD vs. the Saints in Week One and a kickoff return TD the next week at Chicago. He will be the most exciting Cardinal to watch in 2016." – Jonathan Hayward, broadcast producer
PLAY OF THE YEAR: WR Larry Fitzgerald's 75-yard catch-and-run in overtime against the Packers (16 votes)
Others receiving votes: RB David Johnson's 47-yard touchdown at Eagles (2 votes); Fitzgerald's 5-yard overtime shovel pass touchdown to beat the Packers (1 vote).
Voter takes: "There were a ton of memorable plays, but none were memorable and meant so much to the team as Palmer's amazing I-won't-be-sacked pirouette and throw to Fitzgerald, who had a run to set up the game-winning touchdown. It would have been devastating if the Cardinals had lost that game. Thanks to CP/Fitz, they didn't." – Darren Urban , azcardinals.com senior writer
"The first of only three plays in overtime in the divisional round against Green Bay takes the cake, because without that first play, we would not have had the second. So Larry, Larry, Larry, Larry, Larry, Larry Fiiiiiiitzgerald!" – Gabriel Trujillo, Spanish radio play-by-play announcer
MOST VALUABLE CARDINAL: QB Carson Palmer (11 votes)
Others receiving votes: WR Larry Fitzgerald (4 votes); CB Patrick Peterson (2 votes); S Tyrann Mathieu (1 vote); coach Bruce Arians (1 vote).
Voter takes: "The mere fact that Palmer was healthy gave this team its "swag" back. After the injury he was focused on leading this offense and he did that with the numbers he put up -- shattering franchise records in the process. On the road in Seattle was a great example of his resilience. Even after making mistakes he rebounded. His performance in the two playoff games was disappointing, and hard to explain. It's hard to say how much his finger injury affected him. But there is no doubt the Arizona Cardinals would not have had a 14-win season without Carson Palmer quarterbacking the team." – Jody Jackson, reporter/host
"We saw the year he had, and with him you have a chance to win. Without him … not so much." – Bertrand Berry, former player/radio analyst
"After going 6 -0, then tearing his ACL last year, all everyone talked about was "what could've been?" had Palmer not been injured. This season we found out, as Palmer had career highs in yards (4,671) and touchdowns (35) with a QB rating of 104.6. The result was a 13-3 season while breaking several offensive team records along the way. If you'd like to know how much of a difference a healthy Carson Palmer made, just ask Larry Fitzgerald, whose playing days in a Cardinals uniform were thought to be over by many last January. Under Palmer's leadership, the 2015 team, and most of the sports world, believed that the Cardinals would win Super Bowl 50. And they might have, if Palmer continued to play at his MVP level in the postseason." – Richard Mendez, broadcast manager
Click below for a full look at the voting breakdown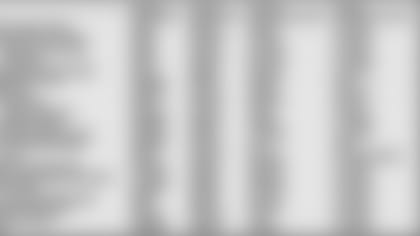 ](http://prod.static.cardinals.clubs.nfl.com/assets/docs/2016/CardinalsDigitalMediaAwards.pdf)