Rookie defensive end Kenny Iwebema sacks Saints quarterback Mark Brunell during last week's preseason opener in Glendale.
FLAGSTAFF – Tucked in an auxiliary locker room at University of Phoenix Stadium – the roster remains too big for rookies to be in the main locker room – Kenny Iwebema and Calais Campbell were standing around after their first NFL game giving each other grief.
The insults were good-natured, although not repeatable. Their personalities – and their similar positions -- had made it easy for the two defensive linemen to become friends after April's draft.
Their personalities have also cleared a path for veterans to give them advice,
[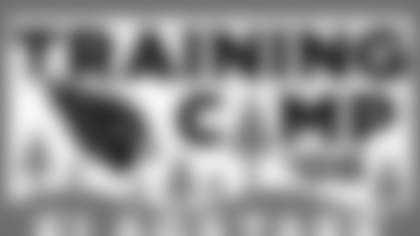 ](http://www.azcardinals.com/news/training_camp.php)
perhaps one of the reasons both, in the words of coach Ken Whisenhunt, "showed up" against the Saints.
"We are outgoing people and it makes it easier for players to want to help you," Campbell said. "We bond well."
Iwebema, the team's fourth-round pick from Iowa, got a key fourth-down sack. Campbell, the second-round pick out of Miami (Fla.), disrupted a few plays and got in on the Cards' goalline stand that stopped the Saints.
Given their draft status, a decent debut shouldn't have been a big surprise. Yet both players came off disappointing final college seasons – seasons that, at a brief glance, make it easy to question whether either was driven to succeed.
If Campbell and Iwebema have proven anything to coaches and teammates during their short NFL stints, however, it's the opposite.
"It is really easy to work with guys like Kenny and Calais," said defensive lineman Bryan Robinson, a 12-year NFL veteran. "They want to learn. They don't feel like they know it all. They know the ladder to improve is easier to climb if they listen to an older guy."
The 6-foot-7 Campbell plays behind Darnell Dockett at left defensive end. Iwebema, whose game is stronger against the run, plays behind right end Antonio Smith – who could become an unrestricted free agent at the end of the season. Campbell can slide inside to play defensive tackle in nickel situations, his size causing all kinds of passing lane problems for opposing quarterbacks.
Both play multiple special teams, so much so that Iwebema joked "it'll be hard to cut me."
Neither are in much danger of going anywhere, however.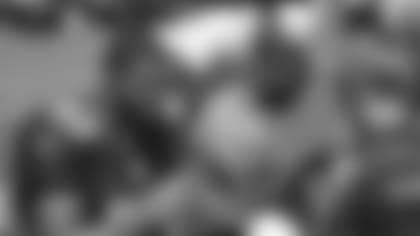 Noting both work extra after practice on technique, Whisenhunt said "they want to be good."
Iwebema said it was difficult waiting the entire first quarter before getting into a game. He wanted to make an immediate impact, but after his game – including the big sack – he admitted "I was able to do it a lot more than I thought."
The numbers will make it hard for both to be active on game days once the season starts. It seems Dockett and Smith will be active, as will nose tackle Gabe Watson and probably Robinson. The Cards will normally have five defensive linemen active – not counting the linebacker/defensive end hybrids Travis LaBoy and Bertrand Berry – so there may only be one other spot for Campbell, Iwebema and second-year tackle Alan Branch.
But Campbell and Iwebema don't plan to make that choice simple.
On one play against New Orleans, Saints tight end Mark Campbell took a short pass and rumbled 15 yards downfield, only to be caught from behind. By Campbell, who had rushed upfield to start the play.
"I think that's why they drafted me because they saw on film I am a hustle player," Campbell said. "Anytime I see a player running I try to make a play. You may save a touchdown.
"As long as you get them down, you have a chance to stop them again."
This article has been reproduced in a new format and may be missing content or contain faulty links. Please use the Contact Us link in our site footer to report an issue.