Cards running back Edgerrin James (left) could find himself sharing time with someone like Rashard Mendenhall (top right) or Jamaal Charles (bottom right).
INDIANAPOLIS – Edgerrin James was never really into sharing, talking about it many times since he has become a Cardinal.
Even after the last game of the 2007 season – in which James had 89 percent of the team's running back carries – he mentioned he wanted to carry the ball more.
But these are the realities for the Cardinals as they sort through potential draft [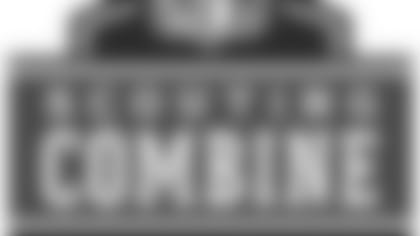 ](http://www.azcardinals.com/fanzone/combine.php)picks, including running backs, at this year's scouting combine:
Coach Ken Whisenhunt wants to run the ball more often. James will turn 30 at the beginning of August. James doesn't have tremendous speed, and big plays simply haven't been forthcoming from him since coming to Arizona. And the Cards would like to have a running back with speed.
Although it is possible James' $5 million salary could play a role this offseason on his status, it would seem unlikely he will be going anywhere. But he may be asked to share.
It's a plan many NFL teams have already used.
"You need to have two running backs," Chiefs coach Herman Edwards said, "because you are going to need both of them."
Many mock drafts have found it popular to stick the Cardinals -- with their 16th pick of the first round – with a running back. The prognosticators see James' advancing age as a reason to snare a heir apparent. Backs like Illinois' Rashard Mendenhall or Oregon's Jonathan Stewart figure to be available.
But in a deep draft for running backs, and with conventional wisdom saying a team can usually find good backs later in the draft, waiting might be the best course. Burners like Texas' Jamaal Charles – a track star who said Friday he once ran a 4.1 40 on a track starting from blocks – or East Carolina's Chris Johnson.
Whisenhunt said there can't be a set philosophy. While he was in Pittsburgh when the Steelers signed undrafted Willie Parker and watched him blossom into a Pro Bowler, Whisenhunt acknowledged to find a player that way was "a bonus."
First the Cards must determine what they think of the running backs available in the draft and compare it to what is available on the free-agent market and the cost of each.
"If that means we have to take a back with our first pick or second pick because that is the best fit with what we do, we will do that," Whisenhunt said. "If it means signing a back in free agency like the Cardinals did with Edgerrin, then we will."
Whisenhunt takes a similar tact when it comes to finding a "speed" guy for the backfield. His example is former all-pro Priest Holmes, who went undrafted in large part because he wasn't thought to be fast. But Whisenhunt said he remembered Holmes breaking plenty of explosive runs while Holmes played for the Chiefs.
Whisenhunt's ultimate speed story comes from his own trip to the combine as a player in 1985, when future star Jerry Rice was in his group that ran the 40-yard dash.
"He ran a (slow) 4.77 or 4.78," Whisenhunt said. "But when you watched him on tape, he damn sure looked like he ran a lot faster than that.
"Sometimes you have to evaluate a guy by what you see. I think the only way to determine if a guy is fast or not is, 'Does he have a lot of long runs or does he get caught from behind?' "
And if the Cards do find a back? Most players would want to eventually become the running game's focal point – that's what Johnson said when asked about it Friday. But the rookies-to-be also seem to understand that sharing time may be inevitable in the NFL.
"Most teams are going to the two-back system, and that's not a problem for me," Mendenhall said.
Added Stewart, "I think it's great actually. Me and Jeremiah Johnson, my backup at Oregon, had the same kind of concept, the ultimate duo back there. It's a great opportunity for both running backs to succeed and for the team to succeed."
As for James, he was asked the same questions about possibly sharing time with Adrian Peterson prior to last year's draft. He said then "I won't sweat it."
It may be a topic again the next time James gets to the Cards' Tempe facility.