Karlos Dansby and the Cardinals' defense want to do a better job containing Eagles running back Brian Westbrook than they did the last time.
Darnell Dockett considers Brian Westbrook to be one of his best friends, after the two trained together for a number of years.
The Cardinals defensive tackle even joked that, while he wanted to see Westbrook, the Eagles? star running back, win last weekend so the NFC Championship would be in Arizona, ?I don?t want to play against him.?
That?s what Dockett expects though, even with Westbrook battling knee and ankle injuries that have become one of the major storylines heading into Sunday?s game.
?Trust me, Brian Westbrook is going to play in this game,? Dockett said. ?I?m not even thinking about that.?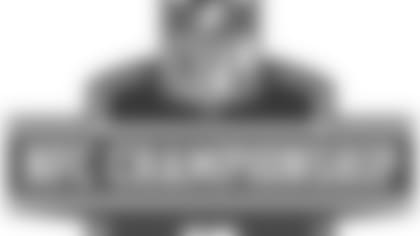 The Cardinals have reason to worry about Westbrook. He shredded them during the Thanksgiving blowout, rushing for 110 yards on 22 carries, making three catches for another 20 yards, and scoring four touchdowns.
Westbrook?s 71-yard touchdown on a screen pass against Minnesota was the deciding factor against the Vikings in the Wild Card round. But he was limited to 46 total yards ? 36 rushing on 18 carries ? in a win over the Giants last week, and ESPN reported his knee injury got worse in the loss.
The Eagles, not surprisingly, are staying vague on the subject. ?I only know one Brian Westbrook and he is giving us everything he?s got,? Eagles quarterback Donovan McNabb said. ?We know he?s going to get out there and he?s going to play well.?
Westbrook was limited in practice Friday after not practicing earlier in the week. He is listed as probable.
But Eagles offensive coordinator Marty Mornhinweg acknowledged his team is not running the ball well and the Eagles will be ready to adjust if Westbrook is limited. The Eagles also know the Cardinals? defense has played the run well in the playoffs, holding two of the best running teams in the NFL ? Atlanta and Carolina ? to an average of 67.5 yards a game.
The Cardinals know Westbrook can be a killer, both on the ground and through the air. So for the idea Westbrook is too banged up to make a difference, ?Don?t believe it,? Cardinals defensive end Bertrand Berry said.
?They said that the last time, and he came out and had a pretty good game against us,? Berry said. ?I think (Patriots) coach (Bill) Belichick has done a masterful job of manipulating (injury information) over the years, so I?m not one to look at injury reports. They?re going to have all their weapons Sunday.?
Saying that he practiced all week, wide receiver Anquan Boldin declared himself ?feeling good? with his injured hamstring and ready to play Sunday.
?If nothing else happens from this point, I?ll be out on the field,? Boldin said. ?I?m fine.?
Asked how healthy he felt on a percentage basis, Boldin said ?I?m not good with percentages. I?m good enough to play, so that?s all that matters.?
Coach Ken Whisenhunt said the Cards will monitor Boldin during the game and ?we?ll give him as much as he can handle.? Boldin is officially listed as questionable.
The other three players on the Cards? injury report ? defensive end Travis LaBoy (ankle), tight end Ben Patrick (knee) and punter Ben Graham (groin) ? were all limited Friday and listed as questionable, but all are expected to be available. If something happens with Graham, kicker Neil Rackers would serve as the emergency punter.
Dockett said a major reason the defense has improved late in the season is because of the accountability factor between the players. Film sessions have become ?strict.?
?If you do something wrong, we will call you out,? Dockett said. ?We will say you need to do a better job and if you can?t, we will get somebody in there that can do it. Don?t be the reason we are going home.?
Dockett emphasized it is the players, and not the coaches, doing the calling out.
?We have enough leaders on the team to know to get on someone,? Dockett said. ?We all know it?s not going to be textbook drawn. We don?t believe in loafing or missing tackles or pointing fingers. We just want to come together.?
Former cornerback Aeneas Williams will serve as the Cardinals? honorary captain for Sunday?s game. Williams served as the honorary captain before the Cards? Monday night game against San Francisco this season, on a night when he was inducted into the team?s Ring of Honor.
The Eagles are using former running back Duce Staley as their honorary captain.