Linebacker Gerald Hayes returns one of the Cardinals' five interceptions during Saturday night's 33-13 playoff win in Carolina.
CHARLOTTE, N.C. – The last interception came long after the outcome had been decided, but served as a microcosm of the Cardinals' 33-13 defensive domination of Carolina in Saturday night's Divisional playoff game.
Cornerback Rod Hood grabbed a fifth interception of Panthers quarterback Jake Delhomme – the Cardinals' sixth forced turnover of the game – at midfield, eventually leading to Arizona's final field goal.
The defense that had stumbled a few times late in the season has had no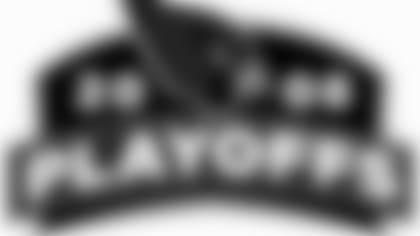 problems once the games matter most.
"The criticism came down on us, even after the game we played last week," Hood said. "But that fueled our fire. We will let them be the judge, but I am proud of this defense."
The unit was solid in a Wild Card win over Atlanta, holding the Falcons to 60 rushing yards and forcing three turnovers. But all that did was create more questions before facing the Panthers, questions that looked justified after an opening Carolina drive that scored a touchdown and caused concern for coach Ken Whisenhunt.
"That was the most memorable moment in the game," defensive end Antonio Smith said.
Memorable because of the way the Cards responded from it.
The Cards stopped the Panthers on a three-and-out on the next series. Then the turnovers started.
First came Smith's sack and strip of Delhomme. Smith recovered the fumble at the Carolina 13-yard line, and running back Edgerrin James scored two plays later to give the Cardinals a 14-7 lead.
Then came a momentum changer. Two plays after a pass interference call on safety Antrel Rolle covering  streaking wide receiver Steve Smith gave Carolina 45 yards and the ball inside the red zone, rookie cornerback Dominique Rodgers-Cromartie picked off a pass at the Arizona 1 to stall a scoring threat.
Linebacker Gerald Hayes grabbed another pick midway through the second quarter to set up a Larry Fitzgerald touchdown catch.
Rolle then saved some momentum himself in the third quarter, grabbing a ball that went off the hands of both Rodgers-Cromartie and Smith and returning it 27 yards to set up a field goal. The play also made the Cardinals' lone turnover of the game – a Kurt Warner interception – moot.
Veteran nickel back Ralph Brown also picked off Delhomme in his own end zone later in the game.
"It just started snowballing," Delhomme said. "I should get the blame. It's inexcusable."
The Cards deflected 12 of Delhomme's 34 pass attempts, sacked him twice and held the Panthers to 75 yards rushing.
"We didn't make mistakes," safety Adrian Wilson said. "That's what took us over the top today."