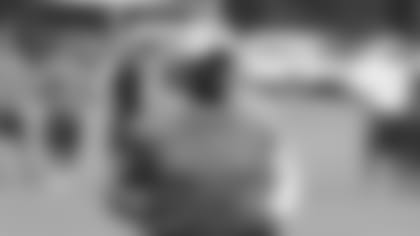 Wide receiver Anquan Boldin takes part in the Cardinals' annual conditioning test in the rain Thursday in Flagstaff.

FLAGSTAFF – The day was the same, as was the place, but Anquan Boldin's message was much different.
Standing on the field following the Cardinals' annual conditioning test to begin camp, Boldin made clear he wasn't going to let his desire for a new contract – a desire that remains intense – mess with his mood. He wants to play football and he wants to be happy, and Boldin acknowledged those are the only things he can control.
"I am not going to let anyone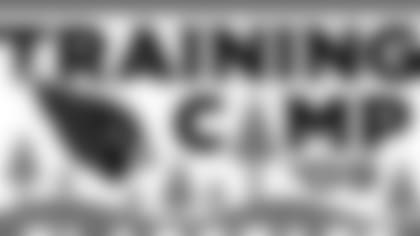 else control my happiness," said Boldin, who admitted his issues last season lessened his enjoyment of the Cards' Super Bowl run. "That's completely on me and totally up to me.
"It's (about) enjoying life. That is what my entire offseason was about."
The comments were a far cry from the verbal bombs Boldin dropped a year ago after the run test, when he said he was so angry about not getting a new contract he would never sign a contract extension with the Cards.
Coach Ken Whisenhunt and general manager Rod Graves said several times since then they eventually wanted to sign Boldin to a new deal when the timing worked. The issue reached a boil again during the draft, when the Cards publicly said they would listen to trade offers for Boldin and then a couple weeks later when Boldin dropped agent Drew Rosenhaus and went to Tom Condon.
Boldin, speaking Thursday for the first time since his agent switch, said he made the change for "business purposes." Asked if he made the move because it might be easier for Condon than Rosenhaus to get a new contract from the Cards, Boldin said he didn't want to elaborate further. Boldin added he still has a "great relationship" with Rosenhaus and that his younger brother remains a Rosenhaus client.
Boldin didn't come to any of the voluntary workouts in the offseason, but said he had been working out three times a day. Staying with the theme of improving his happiness, Boldin spent his off time with his family and working on charitable projects in his hometown of Pahokee, Fla. He also traveled a lot, to the Dominican Republic, throughout Italy and Jamaica.
Besides, Boldin said, continuing to worry about a situation he cannot affect was "pointless."
Because of Boldin's stance, Whisenhunt's post-run test press conference also had a much different tone, something the coach admitted after last year's "crazy situation" to open camp.
"With the season we had last year you know there will be enough distractions anyway that you want to minimize that," Whisenhunt said. "It's nice we don't have a situation like that this year.
"I have said all along we're a much better team with Anquan on it. It's my hope and it's been our intention all along to get (a contract) worked out long term. I wish I could say that would happen right now or yesterday, but that is something the organization is working hard to do."
Perhaps Boldin doesn't need to go public with his thoughts now that quarterback Kurt Warner has continued to stump for him. Warner praised Boldin's work ethic again and said how the Cardinals go "stems from who he is and what he brings to the table."
"He's too important to what we have done and this whole building process that somebody has to be talking about that, and somebody needs to be sharing how important he is to this whole thing," Warner added. "If he's not going to do it, I'm going to stand up and do it, because I think it needs to be said."
Any thought of being traded doesn't matter to Boldin because "it's out of my hands." Boldin didn't want to rehash the idea he often espoused that the organization misled him about getting a new deal sooner because "That's irrelevant. How I feel isn't going to change a thing, so it makes no sense to harp on it."
Boldin made a clear a couple of times he is here to play football, not to worry about the other stuff. Football has always made him happy anyway.
"I am hopeful we can all do that," Whisenhunt said. "I don't know, I can't get in (Boldin's) head, I can't speak for him. I am happy he is here and he is working because like I said, we all know what he means to this football team."