Chase Edmonds finally is in position to be the starting running back and yet he's not really looking for such a title.
"I hate the term RB1," the fourth-year veteran said.
James Conner, the five-year veteran who had been the starter in Pittsburgh before arriving in Arizona as free agent? He agrees with Edmonds.
"Football is competing," Conner said. "We're both going to play a lot this year, we're both going to make plays, so 'RB1' really don't mean much."
When the topic of the Cardinals' running back situation comes up, there isn't much of a push internally to define much (likely depressing news to the fantasy football draftniks.) Edmonds is in line to be the starter, and it wouldn't be a surprise to see him end up with more touches by season's end. Given Edmonds' talents – and realistically, his size – Conner could end up with more actual rushing attempts.
Either way, it's a backfield that has to produce after the Cards felt their run game in 2020 ended up lacking some efficiency and leaning too much on the legs of quarterback Kyler Murray.
"We will play to their strengths," coach Kliff Kingsbury said. "James is obviously a bigger back and Chase when he had an opportunity did some great things. We want to make sure we are calling plays both those guys are comfortable with when they are in and kind of tailor them."
Edmonds was already trending into his role last season, when he played behind Kenyan Drake. Edmonds had career-bests in rushing attempts (97), rushing yards (448), receptions (53) and receiving yards (402), and then Drake left as a free agent.
Edmonds also played alongside David Johnson, when Johnson was also the clear RB1.
"I was always on the short end of the stick," Edmonds said. "I always felt like in football, you get what you deserve. Everyone in that room is going to earn what they get and deserve out in training camp. That's one thing we talked about. We talked about being as selfish as possible (only) in terms of your work ethic and work habits. When each of us are out on the field, we're cheering for you. It's a competition, and you have to earn your role."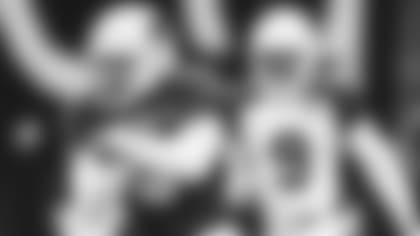 Kingsbury has always had high praise for Edmonds, going back to 2019 when he insisted he needed to find a way to get Edmonds the ball more often, even when both Johnson and Drake were on the roster.
"Chase Edmonds is a guy who has been in our system now going into the third year, he can run it, he can catch it, he can pass protect," Kingsbury said. "He's everything that you want in your organization."
Conner made a Pro Bowl in 2018 when he was with the Steelers and has proven to be effective both running and receiving. But he battled injuries last season, has missed three, six and three games in the last three seasons, and Pittsburgh let him walk as a free agent after a season in which the Steelers started 11-0 and faded hard.
"I got myself in the best shape to play, we started great, and me personally, I thought I did everything I could and obviously they didn't think I could do the job," Conner said. "So, you know, trying again here and keep putting my best foot forward."
At 6-foot-1 and 233 pounds, Conner is expected to be the one who handles much of the inside running and short yardage work. Edmonds, 5-9 and 210, is more effective in space. Both can both carry and catch.
Most of the time, Edmonds very well will be the back on the field to start the game. But there will be times when both are on the field together. Edmonds knows with his stature, he wouldn't be measured as a back the same way a usual "RB1" would anyway.
"I don't think it's a carry type of thing, I think it's a touch type of thing," Edmonds said. "Getting me in the open field and finding a way to mismatch with linebackers is really how I believe I am the best type of football player."