The Cardinals signed tight end Jerame Tuman (left) Monday and are close to a deal with defensive end Travis LaBoy, who visited the team facility Monday.
Travis LaBoy has been a hand-on-the-ground, true defensive end for most of his four NFL seasons, and in college as well.
But LaBoy, the free agent who was deep into contract talks with the Cardinals as of Monday night, was brought to Arizona to play as a linebacker and a rush end in the hybrid 3-4 defense coordinator Clancy Pendergast employs.
"That is right up my alley," LaBoy said.
Finding a way to sign LaBoy would fit the Cardinals well after Monday's turn of events, which included the departure of free-agent linebacker Calvin Pace after Pace signed a six-year, $42 million deal with the New York Jets. (UPDATE: NFL.com is reporting LaBoy has agreed to a five-year deal).
With Pace gone and veteran Bertrand Berry moving into the last year of his contract, the Cardinals needed another end/linebacker to pair with Berry and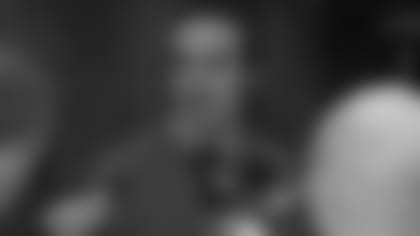 Chike Okeafor at the position.
The Cardinals also signed tight end Jerame Tuman to a two-year contract. The 6-foot-4, 253-pound Tuman, who played for Cardinals coach Ken Whisenhunt while Whisenhunt coached on the Steelers' staff, is a blocker first – something the Cards have been looking for at the position since Whisenhunt arrived.
Tuman spent nine seasons with Pittsburgh, going to injured reserve after playing just six games. The Steelers released him Feb. 22.
The Cards reportedly are also bringing in Rams free-agent linebacker Brandon Chillar for a visit.
But finding a pass rusher, given their circumstances, was the Cards' top priority. They believe LaBoy is a reasonably priced alternative.
LaBoy had 19½ sacks in four years with the Titans as a rotation player in Tennessee. In 13 games in 2007, LaBoy had six sacks, four forced fumbles, three pass deflections and an interception.
He has had issues with concussions – LaBoy missed games in three of his four seasons because of that head injury – but insisted "it's not really an issue."
LaBoy said he liked how upbeat he found the Cardinals coaching staff.
"What they've got going is a good situation," LaBoy said. "To be a part of that is real exciting."
Losing Pace was never the Cards' first option, but market forces made it clear as far back as the regular season that the money the Cardinals felt Pace was worth and the money Pace was going to find in free agency weren't necessarily going to match up.
That said, the $20 million signing bonus Pace received from New York -- and the reported $22 million in guarantees -- was shockingly large.
Pace looks like the first of both Cardinals 2003 No. 1 picks who will leave as free agents. Wide receiver Bryant Johnson was visiting in Buffalo and is probably the top remaining free-agent wideout available.
"I am definitely looking for a bigger role," Johnson told the Bills' team website. "I want more opportunities to show my ability."
Johnson said he has a visit scheduled with the Redskins, and the Bears also reportedly have interest.
This article has been reproduced in a new format and may be missing content or contain faulty links. Please use the Contact Us link in our site footer to report an issue.