Quarterback Kurt Warner conducts a press conference after signing his new two-year, $23 million contract Wednesday.
Kurt Warner wanted to be a Cardinal.
He said it during the season, he said it after the season – ""If I am going to play, I don't want it to be anywhere else" was the line two days after Super Bowl – and then, listening to 49ers coach Mike Singletary Monday during his visit to that team Monday as a free agent, it struck him again.
Just 45 minutes or so into the interview with the 49ers, who were trying to woo the free agent quarterback, Warner understood clearly the circumstances that led him to sign a two-year, $23 million contract Wednesday with Arizona.
"Coach Singletary was kind of breaking down his philosophy and his vision for the organization out there and I couldn't help but think, 'Everything he is saying I feel in terms of the places I have been and how I have tried to impact (my) teams," Warner said. "It was at that moment, however way you put it, I felt God say to me, 'That's what I want you to continue to do in Arizona, try and impact that organization the same way coach Singletary was talking about impacting the 49ers.' "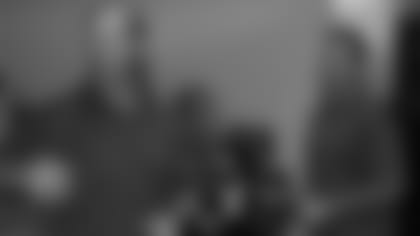 Coach Ken Whisenhunt (left) talks with quarterback Kurt Warner (right) and Warner's wife Brenda after Warner's press conference Wednesday. That impact Warner will try to provide comes with a reward in the form of a $15 million signing bonus, along with $4 million salaries in each of the two seasons. After that, Warner said, he plans to retire from the NFL.
"Never say never," Warner said, before adding after a brief pause, "but I'm old."
Warner will be 38 in May, but the Cardinals didn't want to let him go after how he played at age 37. Warner was fantastic in 2008, completing 401-of-598 passes for 4,583 yards, 30 touchdowns and only 14 interceptions in the regular season, setting multiple franchise records in the process. He was better during the Cards' run to the Super Bowl, completing 92-of-135 passes for 1,147 yards, 11 touchdowns and only three interceptions in four postseason games. His passer rating was 112.2.
"What he has accomplished within the framework of our team and our offense has been critical to what we have built and a big part of our success," coach Ken Whisenhunt said.
Warner wanted to return to the Cards and the Cards wanted him back. But the negotiations were anything but smooth as Warner sought a contract worth around $29 million with massive guarantees. The Cards originally offered $20 million.
Yet Warner insisted Wednesday the delay wasn't about the money differences and his trip to San Francisco wasn't about determining his market value, but instead about "figuring out where I was most comfortable and then making it work."
Warner did say there was an offer from the 49ers, and Warner's agent has repeatedly said it was for substantially more than the Cards ultimately paid.
Both sides had hoped to have the deal done before Warner became a free agent. After Warner's contract expired, he did multiple national interviews saying he had felt underpaid and wanted to be paid among the top quarterbacks in the NFL.
Warner wanted to make sure he was properly compensated after his stellar 2008 season. The Cardinals, meanwhile, wanted to make sure they had their Pro Bowl signal-caller back to run an offense that had a franchise-record 427 points this season and averaged 29.5 points in the playoffs.
"We're happy to have one down," general manager Rod Graves said with a chuckle.
"Kurt Warner was important to us in maintaining our momentum we created last year," Graves added. "We understood that from the start."
Warner had expressed concern when offensive coordinator Todd Haley left to become head coach in Kansas City. But he said Wednesday the new dynamic with passing game coordinator Mike Miller "will work itself out," in part because Warner is comfortable with Whisenhunt calling plays.
Graves said the team will turn to the rest of free agency now, although extensions for current players – likely safety Adrian Wilson and linebacker Karlos Dansby to start – are also in the plans. Warner talked about the team's need for wide receiver Anquan Boldin going forward; Graves simply reiterated the Cards consider Boldin part of the team's future.
In the meantime, the Cards have their quarterback in place, with a substantial contract that Warner acknowledged is "crazy."
"It's one of those things that can be bittersweet, especially at this point and time in the economy and where people are struggling," Warner said. "I understand all the dynamics. My whole role with having this blessing is understanding my role in it and having the most impact I can, whether it is with my family or the community. That's how I look at it, as a responsibility."
The Cardinals hosted free agent defensive lineman Mike Wright (Patriots) Wednesday and will see long snapper Mike Leach (Broncos) Thursday. They also lost out on running back LaMont Jordan, who signed with Denver Wednesday. ...
Linebacker Karlos Dansby signed his franchise tender, meaning he is now guaranteed a 2009 salary of $9.6 million. The Cards have until July 15 to work out a long-term contract or Dansby must play the season under his tender offer. Dansby, as a franchised free agent, can no longer negotiate with other teams.