Safety Adrian Wilson, the longest-tenured Cardinal, gives an interview after a 2002 game at Sun Devil Stadium.
The years went by and Adrian Wilson admits it was easy to get frustrated.
The losing records piled up. Wilson – the Pro Bowl safety who is the longest-tenured Cardinal, having been drafted in 2001 – endured enough of the 4-12 and 5-11 records.
"It's hard not to look on the other side and say, 'The grass is greener over there,' " Wilson said.
Six Cardinals have spent at least six seasons with the club, dating back to the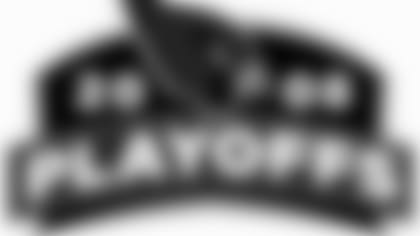 Dave McGinnis era: Wilson, wide receiver Anquan Boldin, linebacker Gerald Hayes, guard Reggie Wells, long snapper Nathan Hodel and kicker Neil Rackers.
As Boldin noted Monday, the Cardinals are used to coming in that day for exit interviews. Instead, it was finally to prepare for a playoff game.
"It's a process," Boldin said. "We have obviously been here through some trying times. To get here, it's kind of satisfying. But at the same time, we haven't done much."
None of the Cards' "original six" arrived with much fanfare. Wilson was the Cards' fourth draft pick behind Leonard Davis, Kyle Vanden Bosch and the immortal Michael Stone. Boldin, Hayes and Wells arrived in a draft remembered for the Cards passing on a chance for Terrell Suggs and instead taking Calvin Pace and Bryant Johnson.
Rackers arrived in midseason 2003 to replace Tim Duncan (the kicker, not the NBA all-pro). And Hodel, like Wilson, has been around since 2001, arriving after being cut from a Carolina Panthers' team destined for 1-15.
Since their arrival, McGinnis was fired, Dennis Green was hired and fired, and Ken Whisenhunt was brought in to remake the roster. The Cardinals changed uniforms and stadiums. But until this season, the six knew by early December they wouldn't be making the playoffs.
Hayes acknowledged there have been some "stormy times."
"It is easy to get negative," Rackers said. "We see too often guys are ready to change teams because their team is losing rather than sticking it out, working hard, making the guys around you better and getting to this point."
Boldin said there was a feeling around the group that they had helped "jump-start the program." Wilson said he always wanted to finish the job he started when he arrived, which meant staying in Arizona and finally reaching the postseason.
"You have to walk the walk," Wilson said. "You can't waver regardless of the situation, you can't stick your foot in and see if it is hot or cold. You always have to be there, because otherwise guys won't know if they can play with you or not and that's the thing, when you are with an organization for so long, you can't say you're not going to give it your all, because guys look up to that."
The Cardinals' roster is littered with players who have not been to the playoffs. Even players who have been there have had some droughts – quarterback Kurt Warner hasn't been to the postseason since the 2001 season.
If nothing else, Whisenhunt hopes, this first trip will serve as a building block for the future.
"Once you make the playoffs, that's when you really understand the importance of getting in and what the difference is," Whisenhunt said. "That's why teams with a number of guys who have been in the playoffs are more successful because they understand what it takes to get there and what it means to get there."
There is little question the long-time Cards know this. Hodel called this opportunity "precious." Wilson said after eight seasons, the game can't come fast enough.
"You get a great sense of pride you stuck it out," Wilson said, "now that it's finally here."