NASHVILLE, Tenn. – From a calm start to some nervousness to elation, Kyler Murray's emotions ran the gamut before the NFL draft on Thursday night. By Friday morning, the No. 1 overall pick was on a private plane headed to Phoenix.
While millions watched Murray walk across the draft stage, here is a behind-the-scenes look at his movements during one of the busiest 24-hour stretches of his life.
Thursday, 2:05 p.m. – While Murray was in high demand at the draft, it was a low-key build-up that afternoon. Murray stayed on the 21st floor of the J.W. Marriott during his time in Nashville, about a mile from the draft stage.
"It was kind of like game day, minus the meetings and walk-throughs," Murray said. "I just stayed in the bed until I had to get up. I didn't leave my room until 3 o'clock. I tried to just chill out because I knew (it) was going to be a big day. I was calm."
Murray's agent, Erik Burkhardt, spent much of the day working the phones to get any useful information he could pass along to his clients. In the early afternoon he stopped by Murray's room.
"It was really kind of the calm before the storm," Burkhardt said. "I went in and checked on him and he was typical Kyler – in his OU pajamas, watching a funny movie."
3:30 p.m. – As the draft neared, Murray put on a pink, three-piece suit that would garner plenty of attention in the ensuing hours. It was inspired by Leonardo DiCaprio's character, Jay Gatsby, from the movie "The Great Gatsby."
"I didn't even know we were going to (attend) the draft," Murray said. "So once I knew we were going, I had to come up with an idea quickly. I didn't want to do a basic blue, black. I pride myself on being different, having a different swag. I'm glad I got the opportunity to wear that suit. It was perfect."
Murray's dad, Kevin, said he couldn't pull off the look, but knew his son did.
"That sh-- was fire," Kevin said. "That sh-- was off the chain."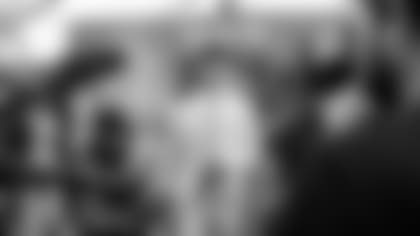 6:50 p.m. – Murray took a bus over to the draft around 4, and after a variety of media duties on the red carpet, settled into the green room as the first pick approached. The nerves then kicked in.
"He looked at me five-to-ten minutes before seven and was like, 'Yo, I've got to go to the bathroom real quick,'" Burkhardt said. "The way the green room was set up, you had to literally walk out of the building and go to a port-a-potty in a construction (zone) because it's all (newly) built. I was like, 'I'll go with you,' because the media was just crazy. So I followed him out, and we're in there (going), and I looked at my phone, and it's like, 'Damn, they're on the clock in three or four minutes. Let's get back to the table, bro.'"
7 p.m. – As the draft festivities ramp up, the Murrays believe Kyler will be the No. 1 pick, but still don't know for sure.
"My wife said, 'We're going to Phoenix on Friday morning,'" Kevin said. "Kyler and I both were like, 'You need to stop saying that.' (Burkhardt) would say the same thing. 'I talked to (Cardinals GM Steve) Keim and blah, blah, we're going to Phoenix.' I said, 'Bruh, I'm from the Show-Me State. I'm from Missouri. Don't tell me. Show me.'"
While speculation swirls, Murray takes his father's cautious approach.
"Most of the time dudes here might read one mock draft that has them at 1, 5 or 8 and that's their floor, because they read everything and they want to cling on to the good sh--," Burkhardt said. "Even though I felt really good about it, Kyler's like, 'It will be what it will be. If they call my name, then I'll be blessed.' But he never put himself there, because he knows it's a crazy business and a crazy night. Anything can happen."
7:14 p.m. – The Cardinals are on the clock for a minute when the television focuses on Murray. He looks unflappable sitting on a gray couch in the green room, but the calm exterior is a façade.
"I've never felt like that in my life," Murray said. "Well, maybe once in my life, before my first high school varsity game. My heart was beating. It was crazy. When I was in the green room, it got crazy."
7:19 p.m. – As the Cardinals' allotted time ticked down, a small amount of doubt crept up at the table.
"I'll tell you what: those six, seven minutes or whatever it was when they were on the clock, I was like, 'God dang, Kliff (Kingsbury), Steve, Mr. (Michael) Bidwill, please," Burkhardt said. "I was looking at mine and I was looking at Kyler's phone. You just want it to ring."
"I was sitting there and to Kyler I'm like, 'Just breathe, dog, breathe,'" Kevin said. "I could tell he was tensing up a little bit. And I understood. I looked at the timer, which was at like three minutes. I was like, 'OK, what are we doing here?' And then the phone rang."
7:21 p.m. – Murray smiles wide as word comes from Keim, Kingsbury and Bidwill that he was indeed the No. 1 overall pick.
"I knew they were very fond of me, but at the same time, I wasn't going to believe anything until I got that call," Murray said. "So once I got it, I was ecstatic."
Kyler hangs up the phone and embraces his mom, Missy, and then Kevin.
"When he hugged his dad, that was the cherry on top of all the hard work since he was five years old, from Pee Wee football to now," Missy said. "His dad had the vision before he was even old enough to spell football. When they were hugging, I could see that Kyler was emotional and Dad was emotional. These are two non-emotional, pretty tough guys. I was like, 'Wow, this is it.' He was born to do this."
7:49 p.m. – Murray is guided through a maze of post-draft media responsibilities. As he heads down a corridor left of the stage, Murray passes Ohio State edge rusher Nick Bosa, who has just become the No. 2 overall selection in the draft. "Nick!" Murray yells, and the two share a quick hug.
7:54 p.m. – The Cardinals set up a talk-back video so the fans at the draft party can hear from Murray. As he waits to go on, there is time for a quick look at his cell phone. The text messages on the home screen come so rapidly he barely has time to read them. "This is ridiculous," Murray said, a wide smile splashed across his face.
9:53 p.m. – After more than two hours of media, Murray is free to do as he pleases. Instead of perusing the spectacle of Music City, Murray returns to the green room to support Oklahoma teammates Cody Ford and Marquise Brown.
"That doesn't happen," Burkhardt said. "These kids get out of the green room and they want to go party. Me and my company got a party bus for him and his family to go celebrate a little bit. He's like, 'Man, I appreciate it, but I'm good.'"
"I'm a low-key guy," Murray said. "I'm a homebody. It was a long day and I was a little fatigued. I was glad to just get back to the hotel. Really, for me, the most important part for me was getting to spend it with the people I love. Getting to see Marquise get drafted was special."
Friday, 3:30 or 4 a.m. – Murray stays at the draft until the first round ends and gets back to the hotel around 1. It was still a few more hours until he called it a night, but once his head hit the pillow, there was no reminiscing about one of the greatest days of his life. "I just passed out," Murray said.
8:53 a.m. – On his first morning as a member of the Cardinals, Murray loads into a 14-passenger black van with his parents, Burkhardt and some team employees and heads to the Nashville airport. The AirPods are in and Murray is quiet.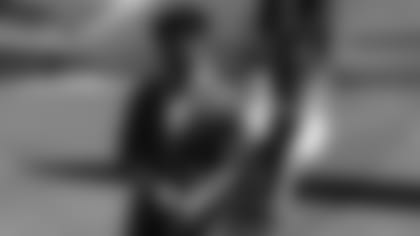 9:21 a.m. – Bidwill's private plane is waiting for them at the airport, but after stepping into it, Murray, his parents and Burkhardt pop back out for a quick photo.
"Kevin and I were talking about this earlier," Burkhardt said. "We are all very similar and like-minded. We all don't stop enough to smell the roses. Like, 'My gosh, we're on Mr. Bidwill's plane right now eating French toast.'"
True to form, the most animated Kevin becomes is on the descent as Phoenix comes into view.
"This is the next phase, the next chapter," he said. "We haven't done anything. Let's go prove it."
10:55 a.m. (Arizona time) – Murray wakes up from a catnap as the plane touches down at Scottsdale Airport and puts on a gray sport coat. He does a quick social media shoutout to Cardinals fans outside the plane, and then gets in a black suburban for the trip to Tempe.
11:45 a.m. – Murray walks into the Dignity Health Arizona Cardinals Training Center and is quickly met by the braintrust that made the bold move to choose him with the first pick. The first one to greet him is Bidwill, followed by Kingsbury and then Keim.
Murray and Kingsbury smile wide as they embrace. They have known each other since Murray was a 15-year-old high school superstar and have talked about teaming up for years.
"Now we're here," Murray said.
12:05 p.m. – Cameras flicker as Murray walks into the auditorium for his introductory press conference. He is asked about the relationship with Kingsbury, his dual-sport abilities and turning the franchise around.
After a smattering of questions, the room eventually goes quiet.