Coach Ken Whisenhunt greets his players in the locker room right after the Cardinals advanced to the NFC Championship by beating Carolina, 33-13.
CHARLOTTE, N.C. – The moment was emotional for Bryan Robinson.
The veteran defensive tackle had been to the playoffs twice in his 12-year career, losing in the first round in both. Now he stood in a crowded visitors' locker room in Carolina, dozens of media members interviewing his teammates, all asking about the Cardinals' 33-13 thrashing of the Panthers.
The details didn't matter much to Robinson. His team was going to the NFC The Cardinals were – are -- 60 minutes from possibly playing in a Super Bowl.
"Come on now, I am just happy," Robinson said. "Not just for myself but for the Bidwills, for the Cardinals organization, for coach (Ken) Whisenhunt, A-Dub (Adrian Wilson). It's just happy times right now."
Everyone wanted to ask about what team the Cardinals wanted to play next. The obvious answer was Philadelphia, not because they consider the Eagles more beatable but simply because if Philly wins Sunday, the Cards get to play at home in what thus far is the biggest game in franchise history.
"I think that's who everybody is pulling for," wide receiver Larry Fitzgerald said.
Before the game, avoiding a road trip to New York to play the Giants may have been an additional reason. But suddenly slain was the East coast fear, a storyline that had taken a life of its own after the Cardinals had gone 0-5 in the far-away time zone.
Proving to both themselves and the world such a win wasn't impossible was an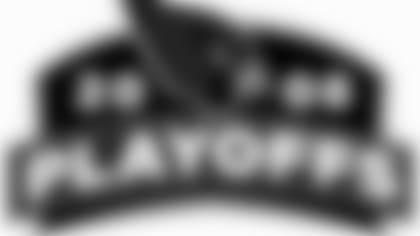 important benefit of the Panthers' game.
So too was that the defense can be a force. Two straight playoff performances forcing a total of nine turnovers underscored that ideal.
As for a change in the prism from within the nation sees the Cardinals, well, that will only be determined in the soon-to-be-increased hoopla heading into the NFC title game.
"I'll tell you what, you get to the playoffs, you don't know what is going to happen," Whisenhunt said. "Not a lot of people have said very nice things about us or given us a chance. We are working hard to try and earn some respect."
Whisenhunt looks like a prophet, of course. He said over and over and over, as his team endured a late-season slide, that clinching the NFC West division early had probably taken some of the focus from his team. He reiterated there was still time to right what was wrong.
Could he have foreseen holding the Panthers and Falcons, two of the NFL's best rushing teams, to 135 yards rushing total? Probably not.
Could he have foreseen intercepting Panthers quarterback Jake Delhomme, who had only 12 picks in the regular season, five times? Probably not.
But he did foresee what his team had the potential to become.
"They believe in what we are doing, and they believe in each other," Whisenhunt said, "and those are two big things."
Save for a scary second quarter against the Falcons in the Wild Card round, the Cardinals are not only winning but controlling their playoff games. Confidence is always a factor, and those late-season hiccups now are only a faded memory.
How the Cardinals got to this point doesn't seem crucial anymore.
"Everybody has hopes and dreams inside a locker room, and it's no different for us," Wilson said. "We believed once we got into the playoffs that we could win."
The Cardinals, one of six teams never to appear in a Super Bowl, are close enough to see themselves stepping through that sacred gate and on to hallowed football grounds. The franchise has never even had a chance to get into the Super Bowl, with next weekend being the team's first NFC title game.
That was what was at the forefront of the thoughts of many of the Cards Saturday night.
Someone wanted to know how defensive end Antonio Smith felt, and Smith, as he does, pondered it for a moment.
"It feels like victory," Smith finally said. "It feels like victory."