Cardinals coach Ken Whisenhunt (left) talks with linebacker Karlos Dansby during Whisenhunt's first training camp in 2007.
Ken Whisenhunt returned from vacation about 10 days ago, a week in front of the rest of his staff, just to be certain.
The football side of the Cardinals' training facility was fairly quiet, but Whisenhunt wanted to make sure there were no late issues – prior to training camp – with which he needed to deal.
The Cardinals and their head coach have been through training camp before, complete with the requisite bumps and troubles. As the team heads north to Flagstaff Wednesday to begin camp No. 2, Whisenhunt isn't going to stop being wary of what might need fixing – although he's naturally in a better spot as a coach having done it once already.
"I don't know if I will ever be comfortable as a head coach, and I think that's
[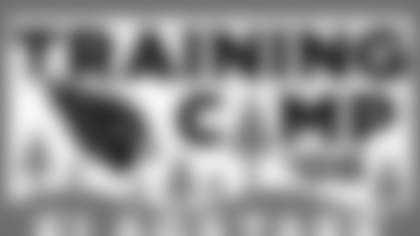 ](http://www.azcardinals.com/news/training_camp.php)
something that drives me because I am always worried about not making the right decision or not doing the right thing," Whisenhunt said.
"But," he added, "I am confident in our plan."
Learning is a normal part of the job. Whisenhunt insists he never had expectations of himself as a head coach, other than getting such a job and doing well at it.
Getting from the stage in the Cardinals' auditorium where he was introduced in January of 2007 to where he is now, on the brink of training camp 2008, was a process.
Whisenhunt has been willing to tweak some of his preconceived notions, from travel to practice to how the team prepares for games, to better fit his team. One example came last offseason, before Whisenhunt had even held a training camp.
He admitted he was "rigid" in how he wanted to conduct organized team activities, sending the team on the field at 11:30 a.m. and bringing them off at 1 p.m. But a couple of workouts in, some veteran players asked Whisenhunt to revisit the plan and take out dead time.
At that point, players went to meetings and then the weight room, jamming up the weight room session. Whisenhunt compromised, sending half the team to weights and half to meetings and then switching, and subsequently getting on – and off – the practice field quicker.
"I have a definite idea how I want to do things – I think everybody around here is pretty aware of that," Whisenhunt said. "There are certain things I may be kind of, a little too over the top with. As far as what it takes for us to be successful, I am pretty anal about that.
"(But) there are a lot of things (we changed). Now, it's not like everyone that has a suggestion, that's going to be put in play. But I am always looking to improve and get better."
That's happened on the football side as well. Whisenhunt, long the playcaller in Pittsburgh and a man who loves that part of the job, gave offensive coordinator Todd Haley a taste of it last year in part because Whisenhunt knew the sideline may run more efficiently.
This year, while Whisenhunt will keep a hand in the playcalling, Haley will take over the main duties while Whisenhunt tends to the bigger picture on game days.
Whisenhunt, who made it clear he wanted to be able to run the ball coming into last season, also was willing to throw more than expected with quarterback Kurt Warner and receivers Larry Fitzgerald and Anquan Boldin.
"I have been in a number of places with a number of coaches who had more experience, and it is hard to change what your main philosophy is when you have had success doing it," Warner said. "As I mentioned at the end of last year, I have to give those guys so much credit for being willing to say, 'What's best for this football team? Where do the players fit best?'
"Down the stretch … offensively, we were as good as anyone in the league when we changed the philosophy and said, 'Let's cater to our strengths.' "
The learning curve last year included the camp in Flagstaff itself. Whisenhunt acknowledged he was "skeptical" of holding camp at Northern Arizona University.
That was in part because of the Walkup Skydome's ancient artificial turf, which has now been replaced. But it was also because of the unfamiliarity of the logistics on campus and the lower temperatures. Whisenhunt said as a player and a coach, it had been drilled into him that only a hot, rugged camp could help prepare a team for the season.
What Whisenhunt found was the temperatures weren't an issue because his team was toughened by working in Flagstaff's 7,000-foot altitude.
On the eve of training camp this year, Whisenhunt isn't concerned about Flagstaff anymore.
"There are things," Whisenhunt said, "I learn about every day."
EXTRA POINT: While negotiations are ongoing with unsigned first-round pick Dominique Rodgers-Cromartie, a deal is not expected to be done before the team reports to a mandatory meeting Wednesday night in Flagstaff.
This article has been reproduced in a new format and may be missing content or contain faulty links. Please use the Contact Us link in our site footer to report an issue.