Will Anderson, the Alabama pass rusher who very well could have been No. 1 in the 2022 draft had he been able to come out, has reason to not be. So how, if he figures to be a top choice, does he maintain that modest mindset?
"One lady: Tereon Anderson, my mother," Anderson said with a giant smile, before adding with a laugh, "she's always going to keep me grounded."
Cardinals general manager Monti Ossenfort is looking for the right players but also the right people – a common refrain from every team this time of year. But Anderson might be that desired combination of good (great?) player, good person that tends to get picked in that first 30 minutes of the draft.
"Whatever culture I am in," Anderson said, "I'm going to do things the right way."
His statistics did drop off this season. After ravaging college football in 2021 with 17½ sacks and 34½ tackles for loss in 15 games, his numbers did drop in 2022 – 10 sacks, 17½ tackles for loss in 13 games.
But Anderson pointed out that the stats aren't always what matters to prove pass-rush effectiveness and took umbrage to the idea he regressed.
"Being able to affect the quarterback besides just sacks, (to) get him to get off his spot, throw interceptions, (help) get other people sacks, get incompletions -- that's what makes an efficient pass rusher," Anderson said.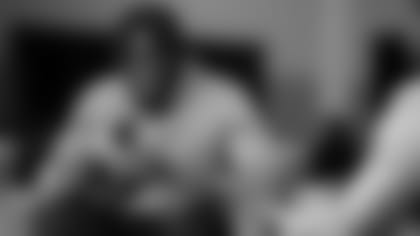 That thinking dovetails nicely with the Cardinals' new draft boss.
"Anybody that can disrupt the quarterback is a premium spot," Ossenfort said. "Whether that comes from the outside, the inside, anyone who can get the quarterback off his spot and disrupt timing, who can account for more than one blocker."
NFL Network draft analyst Daniel Jeremiah has Anderson as the second-best player available in the draft, after Georgia's Carter – although those rankings came before Carter's legal troubles went public this week. (Carter returned to the Scouting combine on Thursday after returning to Georgia on Wednesday.)
The idea the Cardinals might trade out of their pick is what will drive much of the early draft narrative.
"If you are asking me, I wouldn't be trading off of either of those two guys," Jeremiah said. "When you look at Jalen Carter, Will Anderson, I probably wouldn't want to get out if I were (the Cardinals), as desperate as they are for defensive linemen. I think those are the two best guys."
Asked about the Cardinals, Anderson said he was excited to see "what the coach did in Philadelphia" – new Cardinals coach Jonathan Gannon – with his edge rushers. Certainly, with a top three edge rush lineup of Cameron Thomas, Myjai Sanders and Markus Golden, the Cardinals could use a premium addition on the edge.
Anderson has five older sisters, all of whom played sports and "molded me into the athlete I am today."
They probably helped make the person too – the guy who is going to get picked very high in April's draft.
"Nothing has to motivate me to get ready to play a football game," Anderson said. "It's always in me. That's how much I love the game. For me, jumping up and down with my brothers celebrating and making plays, that makes lasting relationships."