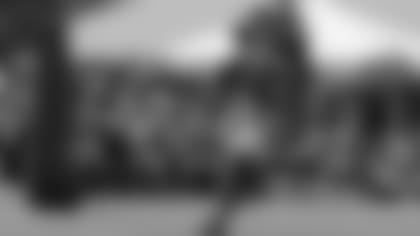 Wide receiver Larry Fitzgerald, already a star on the field, has emerged as a leader as well for the Cardinals.

FLAGSTAFF – The question is often asked of Larry Fitzgerald.
Just how can you get better?
The answer is always the same, that he still has much to improve, that he has to continue to work harder, that he hasn't yet scratched the surface of his talent.
The Cardinals' Pro Bowl wide receiver electrified the NFL world last year when he delivered a postseason for the ages as Arizona came so close to winning the Super Bowl. Yet there he was this offseason, straining to become better anyway, bringing in Jerry Rice and Cris Carter as tutors for workouts he conducted in Minnesota for himself and other NFL players.
Fitzgerald's greatest improvement may have come away from the field, in an area immeasurable by catches or yards or touchdowns.
Fitzgerald has blossomed into a leader.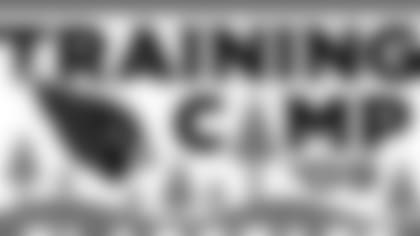 The examples have been many. There is his quest to jump-start defensive end Darnell Dockett, issuing Dockett a challenge through Twitter for Dockett to become the superstar the Cardinals need. Rookie running back Beanie Wells talked about Fitzgerald inviting him into his house this summer, with Fitzgerald keeping Wells updated on the playbook while Wells was forced through a long-standing rule to sit out the organized team activities. Fitzgerald took in fellow Minneapolis native Dominique Byrd as the tight end attempted to get back into the NFL with the Cardinals. He ran his Minnesota camp, where among the many young NFL stars to work out were Byrd, Wells and safety Antrel Rolle.
"Larry has been to Pro Bowls, had 100-catch seasons, and maybe on other teams the superstars wouldn't reach out to the guys trying to find a spot or trying to find a contract," Byrd said. "But when you see a guy like that reach out to have everyone get better, it helps you when you get that opportunity."
Fitzgerald wasn't always that way. He came into the league at 20 years old and admits he didn't know all he needed to about becoming a star in the NFL. His work habits slowly improved, not coincidentally spiking when the confrontational Todd Haley arrived to challenge Fitzgerald.
His athletic ability never was doubted. He was going to reach the level where he was smashing postseason records for catches (30), yards (546) and touchdowns (7).
It was during that playoff run where Fitzgerald also realized the power of his position, and the influence he could wield.
The motivation became easier to deliver in the locker room. And it carried over to the offseason.
"Sometimes you have to let your teammates know how important they are," Fitzgerald said. "Guys told me that last year and it means a lot to hear that from your peers. (Last week) in the locker room, Darnell said, 'Fitz, I appreciate that.' Anything you can do to motivate a guy and help him achieve goals, that's what being a team is about."
There is a selfish aspect. Fitzgerald knows if he can spur his teammates to greater heights, it can only help in his quest to get back to a Super Bowl and win it. Fitzgerald acknowledged "the biggest thing that scares me is failure" and he has reached the point where team failure hurts as much as on the personal side.
"We talk about being the best in the league," Dockett said. "Sometimes you come off a big year and you slump the next year. We just talked about pushing each other and creating expectations and playing the way we are capable of playing and dominating football."
Increasing his level of dominance may be difficult for Fitzgerald, who already has three 1,400-yard years and three Pro Bowls in his five seasons. Those numbers wouldn't have necessarily jumped him to the top of the NFL receiver list, but his postseason – video-game stats on the sport's biggest stage – certainly did.
As long as he would have continued to try and refine his game, it's doubtful anyone would have questioned had he simply done it on his own.
"I don't think many guys around the league would do the things Larry Fitzgerald does," Wells said. "He has one focus and you can clearly see it -- To get to another Super Bowl and win a Super Bowl. Guys like that don't come around very often. The way he works and the way he teaches those below him is incredible."
Even if Fitzgerald has another spectacular season, the questions will remain. People will still ask how he can possibly improve. He'll say there is always room for improvement. Now, he'll just try and bring a few guys with him on that journey to better his game.
"You have to sacrifice," Fitzgerald said. "I realized that as the years continued and I got a little older that I had to step it up. I want to continue to raise that bar."