The Cardinals are happy with starting cornerbacks Rod Hood and Eric Green (left) but may pick up someone like Antoine Cason (right) in the draft.
INDIANAPOLIS – As one of the top-rated cornerbacks heading into the 2008 draft, Antoine Cason had a distinct definition of a "shut-down corner."
"He's a good cover guy who can play man or zone," the University of Arizona product said. "He's a good tackler, he has good awareness of what's going on on the field and in the backfield, and he knows where his help is on the field. And he makes plays."
What Cason didn't mention is shutting out a receiver – which is a virtual impossibility for a cornerback in the NFL these days, given the rules that favor the offense. And it's with that knowledge that the Cardinals continue their search for [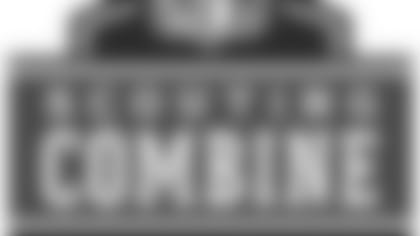 ](http://www.azcardinals.com/fanzone/combine.php)cornerbacks.
The Cards, like every NFL team, are always looking for corners. That spot, along with pass rushers, said coach Ken Whisenhunt, is always a position of need.
But that doesn't necessarily mean that a guy must be a No. 1 draft pick, or that he must make millions, in order to be effective.
The Cardinals have learned that with Antrel Rolle, the eighth pick overall in 2005 who is now moving to safety after his time at cornerback didn't work out.
Rolle's move doesn't make the Cards' current search for a cornerback any more urgent, coach Ken Whisenhunt said.
In fact, Whisenhunt and general manager Rod Graves have both talked repeatedly about their satisfaction with Eric Green and Rod Hood, each of whom were full-time starters for the first time in 2007. Green was a third-round pick, while Hood is a one-time undrafted player who came to the Cards in the second wave of free agency last year.
"Corners are going to have their ups and downs," Hood said. "But honestly, I think me and Eric can be a top tandem in the league."
Instead, depth and competition is the main goal, Whisenhunt said. There will be many sexy names to take at cornerback come late April – like Kansas' Aqib Talib, or Troy's Leodis McKelvin – in the first round, but there is a chance Cason could be there in the second round. Or Iowa's Charles Godfrey in the third.
Other factors could influence the draft – and, as a philosophy, also influence the kind of cornerback the Cards want or need.
Graves worked for the Bears in the 1980s when Leslie Frazier and Mike Richardson were the team's cornerbacks, at the time when the Bears' front seven were as fierce as there has been in football.
"I am willing to say, since they're not here, they weren't great corners," Graves said with a chuckle. "I think they were certainly beneficiaries of a (pass rush) that shortened the field for them. What you have to do is have cornerbacks that are smart and certainly have some cover skills.
"But if you are naked out there and don't get the benefit of guys who can put pressure on the passer and force him to get rid of the ball, it's hard for any corner to just line up -- I don't care who you are -- and just cover."
That's why the Cards' attempt to retain linebacker Calvin Pace and/or draft a pass rusher impacts the secondary as much as acquiring a new cornerback might.
Godfrey said a cornerback better be versatile enough to play different coverages, and, as an important aside, be able to support the run.
"If you're a corner and you can't tackle in the NFL and you've got these big running backs, if you can't bring them down, you're going to be in trouble," Godfrey said.
A shut-down corner may be a misnomer, if not an impossibility. Then again, there is a premium on who can play the position well.
"If a guy can't cover," Hood said, "that's seven points.
"That's why coaches are so adamant in finding those corners."