The Cardinals go into the draft looking for pass rushers and hoping free-agent Travis LaBoy (right) transitions to a new scheme as well as Chike Okeafor (left).
Travis LaBoy shrugged off the idea he was a player making a difficult transition.
He was a defensive end playing for the Tennessee Titans, whereas the Cardinals signed him as a free agent to be their version of a linebacker in a hybrid 3-4 look.
So LaBoy sees it as a simple change. Before, he was chasing the quarterback after[
](http://www.azcardinals.com/news/draft08.php) starting the play with a hand on the ground. Now, he'll chase the quarterback standing up prior to the play. A player merely needs athleticism to do so, LaBoy said.
"But as far as how you grade that," LaBoy said, "that's too far over my head."
That's been the job of the Cardinals' scouts since defensive coordinator Clancy Pendergast and head coach Ken Whisenhunt decided to install their vision of a 3-4, with outside linebackers nicknamed Sam and Predator and defensive ends that – at least in Pro Bowler Darnell Dockett's case – were previously defensive tackles.
Most NFL teams still run 4-3 looks. So do most college programs. On draft day, the Cardinals can benefit from going after some players that many NFL teams might not be able to use – as long as the Cards' scouts can project those prospects from a different system.
"Almost every undersized defensive end (in college) is going to be projected as a 3-4 outside 'backer," said Cardinals director of college scouting Steve Keim. "But that isn't the case, because there are requirements that come with being a 3-4 outside 'backer.
"He's got to be able to rush the passer and be able to hold up at the point of attack against tight ends, but he also has to be able to do some drop. You have to all of a sudden have to measure a guy's flexibility, his change of direction, his space play. Some of these undersized ends at the college level, all they do is go up the field."
One of the things Pendergast likes about his scheme is its flexibility. In a true 3-4, the front guys must all be big and bulky and able to take on a blocker and sometimes wrestle with the guy depending on the defensive play.
For the Cardinals, the emphasis is more on single-gap penetration and as such, there is an ability to use different players. They can use an explosive "three-technique" player like Dockett at defensive end, or they could use someone with longer arms who is more of a traditional end-type.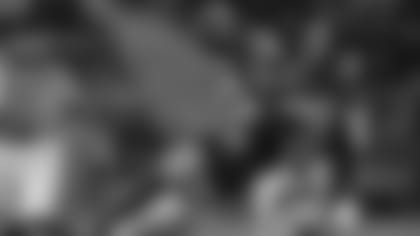 At the outside linebacker, the Cardinals use the "Sam" as one who spends more time in pass coverage. The "Predator" has more of the traditional defensive end responsibilities. Pendergast also thinks the Cards can look at players who don't have an NFL chance in a 4-3 and get them in a later round – or even as an undrafted free agent – and find a gem.
"We can take those undersized college defensive ends and put them on the outside," Pendergast said.
The Cardinals have options at the position in the draft. Whisenhunt said earlier this week that a team can never have too many pass rushers, and possibilities like Purdue's Cliff Avril and Auburn's Quentin Groves are out there for a 3-4 alignment.
Keim said he used to watch scouts for teams like the Steelers, long a 3-4 proponent, searching out prospects that didn't necessarily fit other teams. At the time, it was simply an interesting diversion. Now that Keim is doing it for his own team, it is becoming easier to see those players sticking out.
There is still an unknown factor to it, however. Pendergast has characteristics he covets in his front seven guys, but, for instance, the Cards weren't sure how well Chike Okeafor would play at linebacker until he shined during training camp. Calvin Pace earned big bucks in free agency because he transitioned to linebacker so well.
The Cards are looking for the same kind of metamorphosis from LaBoy.
"I can understand how a guy who has done nothing but put his hand on the ground might have a tough time making the transition," LaBoy said. "For me, we mostly get after the quarterback, which is what I do anyway."
This article has been reproduced in a new format and may be missing content or contain faulty links. Please use the Contact Us link in our site footer to report an issue.