Cardinals coach Ken Whisenhunt (left) and general manager Rod Graves address the media Saturday during the NFL scouting combine.
INDIANAPOLIS ? The setting was the scouting combine, where teams come to learn about their future players. But for Cardinals general manager Rod Graves and coach Ken Whisenhunt, the topics of their annual media session here Saturday were mostly anything but the draft.
Not surprisingly, the major questions were about the team?s ability to re-sign quarterback Kurt Warner and its ongoing situation with disgruntled wide receiver Anquan Boldin.
Graves said talks with Warner?s agent are ongoing, and while he wouldn?t characterize the negotiations, he did say he was ?optimistic? something would be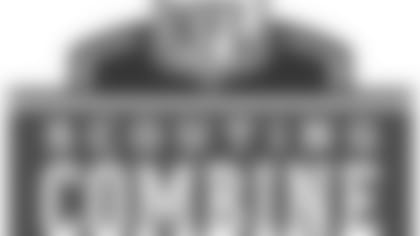 done. He also said that while he hoped a contract could be in place before Warner became a free agent next week, the team was ?not overly concerned? if it wasn?t, because there is confidence a deal will eventually be struck.
The Boldin issue remains more complicated. After news was leaked that Boldin was open to a new contract, a new report came out ? fueled by Boldin himself ? that said the Cardinals have until Tuesday to offer him a new contract or he will again only want to be traded.
The notion surprised Graves Saturday.
?We?re not aware of any deadlines,? said Graves, who had met with Boldin?s agent, Drew Rosenhaus, Thursday. ?And our position with Anquan hasn?t changed.?
Whisenhunt was asked if, given the circumstances, if there was concern about Boldin?s commitment to the organization and whether the Cards would need to first talk with Boldin about it before handing him a new contract.
Whisenhunt didn?t answer directly about any potential discussions with Boldin. But he held firm ? as did Graves ? that they want Boldin on the roster.
?The one thing about Anquan is he laid everything on the line and played hard for us this year and that?s what he said he was going to do,? Whisenhunt said. ?Anquan loves playing the game. Who knows where this is going to go? All I can tell is what we feel about Anquan and how much respect I have for him as a football player.?
With free agency approaching, Graves noted the upper echelon candidates were cut dramatically with the wide-spread use of the franchise tag. Whisenhunt reiterated the probability the Cards will chase lower-level prospects ? he mentioned linebacker Clark Haggans and defensive lineman Bryan Robinson as examples ? that are ?good fits for what we?ve tried to do.?
?But,? Whisenhunt added, ?it?s not going to preclude us from trying to address any needs we might have in free agency early, if we go after a player we feel like can really help our football team.?
The other news from the Graves and Whisenhunt was the talk about the Cards and their use of the 3-4 defense. While Graves said a couple of times the Cardinals were moving toward a 3-4, Whisenhunt was adamant the Cards would not be considered a 3-4 team. He repeated what he said the day Bill Davis was promoted to defensive coordinator, that the defense won?t change much except that there will be a few more elements of the 3-4 scheme added in to the playbook.
?We?re not going to be a pure 3-4 football team,? Whisenhunt said. ?We?re not going to be a pure 4-3 football team. We?re going to be a little bit of both.
?I think as an offensive coach, having faced a 3-4 team, having faced a team that could so some elements of the 4-3 as well, it?s difficult to prepare. And that?s ultimately what we?re trying to do. We?re trying to make it difficult for opponent?s offenses. ? I can?t sit here and say we?re going to be a 3-4 team. A lot of people have said that but we?re not going to be a straight 3-4 defense. We?re going to do something very similar to what we?ve done the last two years. We?re just going to play it better.?