Quarterbacks Matt Leinart (left) and Kurt Warner warm up before the first practice of training camp Friday in Flagstaff.
FLAGSTAFF – The Cardinals' quarterbacks were throwing at targets during their first practice of training camp Friday morning in a corner of the field, and Kurt Warner nearly drilled a slow-to-move Matt Leinart in the head.
"He kept getting in the way," Warner joked after practice, feigning exasperation.
Funny Warner should put it that way. The same can be said of the team's Leinart is the starter. Warner wants to be the starter, and right now, Leinart is in the way.
Training camp might just be starting, but this storyline is nothing new. It was just put on a backburner when Rams linebacker Will Witherspoon smashed Leinart into the St. Louis turf last season, breaking Leinart's collarbone and shoving aside a quarterback controversy.
Whisenhunt bluntly announced Leinart the starter going into the offseason. He did that the day after 2007 ended. Warner, not surprisingly, was not thrilled.
But Warner might still be the quarterback. Maybe.
It's been a hard concept for some to grasp, that Leinart could be the starter yet there still be a sort of competition. Some don't want to grasp it, after watching Warner toss 27 touchdown passes in 2007, thinking Warner should already own the job.
Instead, Whisenhunt will watch training camp and the preseason and make a final decision as the regular-season opener nears. Until then, the quarterbacks will do and say exactly what they have been all offseason.
"You understand the questions will be there, and if (media) sees Matt throw a bad
[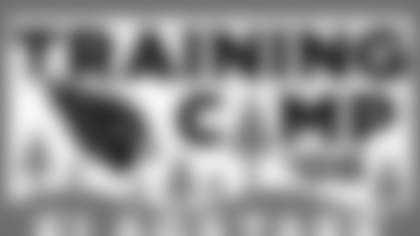 ](http://www.azcardinals.com/news/training_camp.php)
pass in practice, 'Well, maybe Kurt should be the starter' and if I throw a bad pass, 'Well, maybe …' " Warner said. "We understand all that. The hard part for me, this is what it is out here (in practice). Not that you can't assess anything, but it's a whole different deal when you start playing on Sundays."
Said Leinart, "I know that Kurt is pushing me and we are competing. When the guy behind you is breathing down your neck, that's going to make you a better football player. (But) I know coach has the faith in me to be the guy."
Leinart's career hasn't gone the way he expected. His shiny start as a rookie in 2006 gave way to a rough finish before a shoulder injury. Then came a coaching change to an offense that Leinart now admits he had trouble grasping. Then he had to share time with Warner, before his collarbone injury.
But Leinart called the injury a "blessing" and he and the coaches have said repeatedly he has a much better handle on his position.
"I have to be more careful what I do in my life, that is a lesson I have learned," Leinart said of a rough offseason fueled by internet photos. "But I just want to go out and play. I feel like I haven't played football in a long time."
What cannot be forgotten is that Leinart is still the franchise's hope for the future, something even Warner understands.
"For the sake of the organization and the situation, you want Matt to be the guy for the future," Warner said.
Is the future now, though? Warner said a team must balance its long-term plans with the idea of winning now. There are plenty of people – Warner included – who think Warner gives the Cards a better chance at that.
Warner also said he is "skeptical" that this will be a fair fight, not because of things that have happened recently but because of the career that has seen him benched for youngsters like Marc Bulger, Eli Manning and Leinart when Leinart was a rookie.
There is a frustration on Warner's part because what will determine who will play is not spelled out. Yet that is almost impossible. By most tangible measuring sticks, Warner's 2007 season would jump out on a resume and give him a huge edge.
Even Warner doesn't mind tossing his season out and starting fresh, however.
"We all understand the dynamics here," Warner said, "and that doesn't bother me."
Warner said he would want the Cardinals to tell him if he had no chance to beat out Leinart. They haven't said that, so he said he has to take that at face value.
Whisenhunt praised Warner's season, but added "the thing that seems to be forgotten is that Matt was growing and was doing a pretty good job for us too and he got hurt. You have to be careful about overlooking that."
The coach, as he did in the offseason, said while he wouldn't rule out playing two quarterbacks like he did last season, he didn't want to. He wants one man to take hold of the job.
Can it be Leinart? He will get every opportunity to prove that, yes, it can be him.
And he'll remain in Warner's way.
This article has been reproduced in a new format and may be missing content or contain faulty links. Please use the Contact Us link in our site footer to report an issue.