The journey took Zack Golditch more places than he had hoped in such a short NFL career.
Undrafted out of Colorado State, the offensive lineman signed with the Chargers after the draft but was eventually cut at the end of the preseason, leading to stints on the practice squads of the 49ers for a little more than a month and the Colts for a couple of weeks before the Cardinals.
The difference is that the Cardinals wanted him for their 53-man active roster.
"The call to come here was like my draft day phone call," Golditch said, sitting in front of a locker that still had a blank nameplate.
Golditch is anxious to try and move up the NFL ladder, saying he can play wherever the Cardinals might ask – if they ask. This is where his life is now, and it is his focus.
But Golditch doesn't do multiple interviews the following day because he is one of six backup offensive linemen on the Cardinals trying to carve out a place in this league. It's because of another part of his journey, a summer night at the movies before his senior year of high school turned tragic in his hometown of Aurora, Colorado.
That was the night a gunman murdered 12 people at a midnight showing of "The Dark Knight Rises," and Golditch, in the theater next door watching the same film, took a bullet in the neck, one of 70 more people injured. It was the night Golditch could've lost football forever but instead was given a perspective he might not otherwise have.
Success in the NFL is the dream. It's his story. But so too is that night – July 20, 2012 -- when Golditch was just 17.
"Football has done a lot in my life," Golditch said. "Introduced me to people I never thought I'd meet, taken me to places I never thought I'd go. But it's just a game at the end of the day. What really matters is I can hear, I can see, I can taste, I can breathe, I can walk.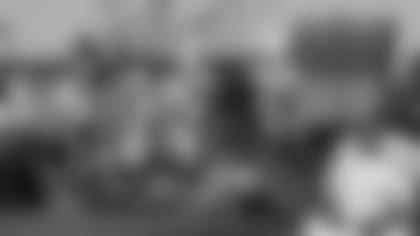 Golditch can't recall the exact details of why he and a few of his friends ended up in Theater 8 of Aurora's Century 16 Theater, only that a friend's mom pre-bought the tickets so they could be at one of the midnight showings of the final installment of the Batman trilogy.
The theater was just down the street from Golditch's high school, Gateway, and there were plenty of classmates headed over to the handful of screens showing the movie. Golditch, in the summer before his senior year, found out one of his best friends and teammates, Josh Butler, was going to be in Theater 9 with his younger brother to watch the film. Golditch convinced Butler to crash their theater instead.
Some 20 minutes or so into the movie, Golditch heard popping noises and then a man behind him yell out (the man was hit in the arm.) Golditch turned to look behind him over his right shoulder, exposing the left side of his neck – which then was hit by a bullet that had come through the wall.
People scrambled for the exits. Golditch got outside, not exactly sure what had happened but seeing blood pour down his arm. He called 911, and came across some road workers who got him with a police officer. The officer took him to the hospital, and it wasn't until his mother was able to take a cell phone photo before Golditch really got to see how bad his wound was.
Golditch can't help but play a little what-if. What if he hadn't convinced Butler to join him? What if the first man hadn't been hit? What if Golditch hadn't turned around? Where might that bullet had hit? Could he have been paralyzed? Would he be dead?
"As crazy as it sounds, it hit me in the perfect spot," Golditch said. "Nothing vital, and I had zero complications. I had some nerve damage in my ear but that came back. Now it's just a scar and a crazy story."
But mentally, that did lead to some complications.
"It was a pretty gnarly wound, but there were people who died, people whose lives were changed," Golditch said. "With my injuries not to be as severe, I felt like it was my obligation to feel for them. I felt almost like it didn't happen to me. I had people feeling for me, but I was like, what about these people? I'm fine. Don't worry about me. Worry about these families. I felt more a part of the community as opposed to a victim."
Golditch still goes to movies. "I don't know anybody who doesn't like to go to the movies," he said, and besides that, he's not a fan of having others influence what he can and can't do. That goes for the shooter that July night.
He even later got back out to see "The Dark Knight Rises" in a theater.
But there are times when Golditch feels some anxiety when he is around a big group of people that he doesn't know. It might be the aftereffect of going through what he went through. But, he said, it might just be a byproduct of how many times you see a gunman shoot up a public place these days.
"If it would happen again, would you react the same?" Golditch said, before the news of the recent attack in L.A. "It sucks that it happened, but if it were to happen again, I wouldn't mind it happening to me again. I think I handled it well, and not to say someone else wouldn't, but I'd hate to see it tear down the life of someone else. I would take that burden."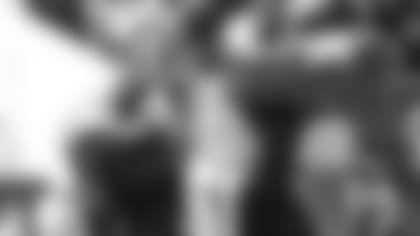 One of Golditch's locker neighbors with the Cardinals is fellow rookie lineman Korey Cunningham, the team's seventh-round pick who happened to play in the NFLPA all-star game with Golditch back in January.
A third teammate on the "American" squad was lineman Will House, who was also signed by the Cardinals after the draft and spent time on the team's practice squad this season. At one point, House mentioned to Cunningham that Golditch was a survivor of the Aurora shootings.
"I was like, 'What?' " Cunningham said. "Before I even knew him I heard him talking to someone else about it, and I was kind of being nosy and listening in, and he started talking to us about it."
Cunningham was able to help fill Golditch in on his new situation this week, and it didn't hurt that Golditch's famous backstory was already out of the way.
"He has something, it's kind of like a testimony, something he can tell people," Cunningham said. "He doesn't want to be defined by that. He still wants to be a football player. But it's good that he has that story, something he can lean back on when times get hard. He's been through adversity."
Coach Steve Wilks said he hadn't talked to Golditch about his past. There was an introduction by the coach to the rest of the team, but it was brief.
"He's already beaten the odds in my opinion," Wilks said. "Fulfilling his dream as an NFL player, but being able to say that he's alive, living and healthy is a tremendous testament itself."
That's how Golditch sees it as well. At one point, he didn't want to be known as an Aurora survivor but simply as a good football player. But then he told his story a few times, and he'd get messages from across the globe telling him his story had inspired or helped in some fashion. That was motivation enough.
His pride in Aurora and how that community rebounded from the tragedy remains intense. Finding the balance to continue to recount the past but see the future is part of that equation.
"It happened in middle of the night, and the sun rose again in the morning," Golditch said. "It's a good metaphor to keep moving on."
So Golditch will continue to tell his story to those who ask. But to be on an NFL active roster, now that's something to talk about. He's one of 11 offensive linemen the Cardinals have collected at this point in the season, and with all five starters expected to be healthy this week, Golditch is one of many guys just trying to make enough of an impression to stick around.
"(The shooting) has been part of my life for six years," Golditch said. "This news is just breaking. I'm always looking to add the 'and.' 'He's a theater survivor and an NFL player.' "