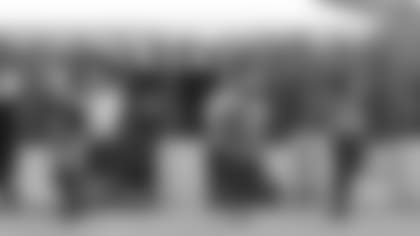 Players and coaches use a tent and fans for respite from the heat during Monday's first practice back at the team's Tempe facility.

The Cardinals were back at practice Monday, many miles away from the altitude and lower temperatures of Flagstaff.
Instead, a tent and giant fans stood in between two of the team's practice fields. And rookie linebacker Cody Brown was absent – his wrist injury to keep him out for the year. But even with fans no longer allowed to watch and the team's privacy factor up, the team remained doing mostly what it has been the last few weeks.
"There are a few more things we might work on, like when we do the competitive periods, but we are still in training camp mode as far as installation," coach Ken Whisenhunt said. "We have incorporated the in-season things we wanted throughout at different times, so hopefully no one could get a bead on what we were doing because there is so much stuff."
Whisenhunt said his team should understand how to deal with the heat, although he joked that one of the things he had to deal with before the first practice was making sure the giant fans were pointed in the right direction.
"There's not a lot we can do to change (the situation)," Whisenhunt said.
Rookie running back Beanie Wells not only participated in practice Monday, but the work was the most Wells had done since his minicamp practices in May and he looked like he had turned the corner in his recovery from a lingering ankle sprain.
"He looked explosive, he looked fast, moved around well on the field," Whisenhunt said, noting Wells made it to the perimeter a couple of times.
Whisenhunt said he remains hopeful Wells will be able to get in his first preseason game Friday night against Green Bay.
Aside from Brown, sitting out were WR Steve Breaston (knee), LB Ali Highsmith (ankle), T Elliot Vallejo (kneecap), QB Brian St. Pierre (back) and DT Keilen Dykes (quad). Breaston is making progress Whisenhunt said, although the team will be careful putting him back in practice so he doesn't have a swelling setback by falling on the knee.
Dykes was back to doing individual drills and some running, but sat out of team work.
Whisenhunt said he will wait until the end of the preseason before he officially announces the depth chart of the quarterbacks behind starter Kurt Warner.