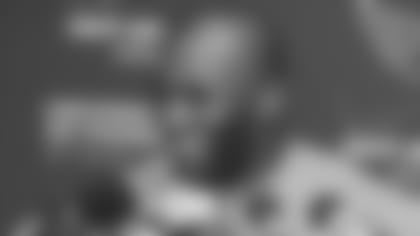 Beanie Wells smiles while talking to the media Saturday during his press conference following the announcement of his five-year contract.
FLAGSTAFF – Beanie Wells wanted to be an Arizona Cardinal as quick as possible, so much so that he made the two-hour drive to camp in the dead of the night against the preference of his head coach.
Arriving at 3 a.m. isn't necessarily going to get Wells the starting running back job, nor will the weight he has lost (22 pounds since he was drafted, to his current 224) or the extra work he has put in with teammate Larry Fitzgerald.
Those things can be building blocks, however, as the Cardinals' No. 1 draft pick – who signed his new five-year contract late Friday night after missing the team's first two training camp practices – tries to displace Tim Hightower atop the depth chart.
"My plan has always been to come in, learn as much as I can, and eventually  
be the number one guy," Wells said Saturday before his first practice. "I'm the type of guy, I like to get the ball, and I like to get it often. I haven't thought about sharing carries too much."
Wells said all of that with a smile, and it isn't arrogance that emerges with the words. His role will be an evolving process. That would have been true regardless in his rookie season, but given that he has barely been on the field – missing every organized team activity this summer because school had not finished – it is hard to gauge exactly where Wells fits.
Coach Ken Whisenhunt couldn't compare the styles of Wells and Hightower because he hasn't seen enough of Wells. Given Whisenhunt's gradual use of last year's No. 1 pick, cornerback Dominique Rodgers-Cromartie, it stands to reason Wells too may be brought along slowly.
"Tim is the starter, but we will play the players that give us the best chance to win," Whisenhunt said. "With the running back position, it's unique, because I don't think one guy can take every snap at that position. We'll figure out that rotation."
Whisenhunt reminded the assembled media about the big plays Hightower provided last season, including two crucial efforts – a fourth-and-1 run of six yards and the eight-yard screen pass for the game-winning touchdown – in the Cardinals' NFC Championship win.
Hightower has maintained a quiet intensity about Wells' arrival. Hightower believes he is better than the 2.8-per-carry average he had as a rookie, and he has no desire to simply step aside with Wells around. But he also saw how Edgerrin James – the man Hightower replaced as a starter for a chunk of last season – treated him despite their competition. Hightower wants the same relationship with Wells.
"I didn't come in last year looking at the depth chart," Hightower said. "It didn't really matter. I came in and wanted to prove myself as a guy who could contribute and do what I can to help this team win. That's what I am going to do. I am going to bring (Beanie) along like Edge brought me along last year. We'll grow and help this team be a better team and help this team win.
"That's what it has to be. It's a healthy competition. It's something where you can't get caught up in the numbers and nowadays, there is no one true guy. The better he does, the better I do. The better I do, the better he does. And the better we do, the better the team does. That's the mindset."
The Cardinals need both to play well so they can improve on a running game ranked last in the NFL in 2008. So it can only help that Wells took strength and conditioning coach John Lott's advice to heart in dropping so much weight, allowing him to feel much quicker. It can only help that he spent so much time with Fitzgerald – both at Fitz's house in Phoenix and at Fitz's summer camp in Minnesota – learning what it takes to be an NFL player.
Wells said he wants to be "that" guy. He may, in time.
But even before he practiced, Wells still showed he is a rookie with things to learn.
"I want to lead us to another national champ… well, not a national championship," Wells said with a chuckle, catching himself with the college football reference. "I want to lead us to a Super Bowl."