Larry Fitzgerald, here taking a hit against the Redskins, and the rest of the Cards' receivers know that violent collisions are part of their job.
The nastiest hit Larry Fitzgerald has absorbed in the NFL came at the end of the first game of the 2005 season, when Fitzgerald's 13th and final catch of the day was punctuated by Giants safety Shaun Williams.
Like the hit taken by Anquan Boldin against the Jets last weekend, Williams teed off on Fitzgerald with less than two minutes left in a blowout – this time, a 42-19 Giants win. As Fitzgerald collected a 19-yard pass from Josh McCown, Williams launched himself at Fitzgerald.
With helmet-to-helmet contact, Fitzgerald's helmet went flying off as Fitzgerald went to the ground. Unlike Boldin, Fitzgerald bounced right up and tossed the ball to the official.
No penalty was called. And no one thought twice of the punishment Fitzgerald was handed – including Fitzgerald.
"You are going to get hit in this league," Fitzgerald said. "That's part of the business and it comes with the territory. That is just freak what happened to Q. But you've got to go in there and do what he did. That's what we are paid to do, make tough catches."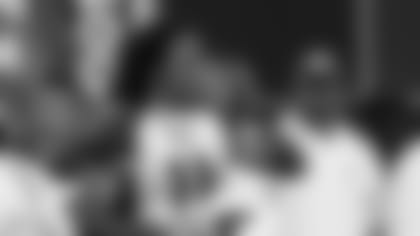 The crushing hit Boldin endured from Jets safety Eric Smith scared his teammates and was frightening to see. No position on the field is more frequently vulnerable to such blows as pass catchers – particularly wide receivers.
They know this. But it cannot matter.
"It's a violent sport," wide receiver Steve Breaston said. "You are gonna get hit. You get hit like that on special teams. Defense has crackback blocks (to watch for). It's the way the sport is. It's crazy, but that's why you play – you're out there, the motor is running, and everyone is flying around."
 That doesn't make it any easier in some cases. Quarterback Kurt Warner has endured a laundry list of crushing hits himself, including a full-speed sack from former teammate Calvin Pace last weekend.
Yet he was shaken after the Boldin play, admittedly feeling some guilt having been the one to throw the ball. Warner still sounded down Monday, even after it was known Boldin was back in Arizona and expected to be fine.
Warner said knowing his throws could get receivers in position to be hurt "is a hurdle you have to get over."
"It's the worst part of our business by far," Warner said.
Rookie Early Doucet, who will likely be active for the first time Sunday, has had to adjust to the collisions he has seen on Sundays watching from the sidelines. Playing in the Southeastern Conference, Doucet said, there are big hits but "nothing of this magnitude."
Fitzgerald said Boldin saw Smith coming over for the hit yet still went after the football. Receivers who aren't willing to do so don't last much longer, Fitzgerald said, using as an example Todd Pinkston – who infamously avoided a hit by avoiding the ball during a nationally televised ESPN game.
"Guys like that find a way to go home," Fitzgerald said.
Boldin said this week his style won't change despite the hit. There won't be a fear factor for him back on the field, and that was one of the reasons Boldin wanted so desperately to get up after the hit and walk off the field himself – to show he was fine.
Fitzgerald did the same thing in Giants Stadium that 2005 afternoon after Williams belted him. Not only did Fitzgerald grab his helmet immediately to put it back on, but he slapped hands with then-teammate Obafemi Ayanbadejo as congratulations for holding on to the ball.
Fitzgerald then lined up with the Cards in a hurry-up offense and went out for another pass like nothing had happened.
"This business is humbling," Fitzgerald said. "You never know. We are blessed to play the greatest game in the world. I think we have the greatest job.
"But this is the rough part of the business."
This article has been reproduced in a new format and may be missing content or contain faulty links. Please use the Contact Us link in our site footer to report an issue.