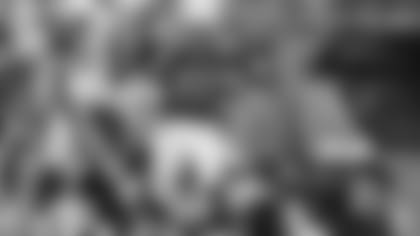 Safety Matt Ware is one of the players fighting for a roster spot for the Cardinals with final cuts looming at the end of the week.

DENVER -- Matt Ware has played in two Super Bowls and spent five seasons learning about the NFL – including the point where he was first cut, as a member of the Eagles in 2006, before latching on with the Cardinals.
The veteran safety sees the numbers and understands this time of year. The Cardinals play their final preseason game against the Broncos Thursday night, and by Friday afternoon, coach Ken Whisenhunt and his staff will have cut another 22 players off the roster. Ware could be one of them. Not that it makes sense to stress the situation.
"Early in my career I worried about it, but not anymore," Ware said. "You've
just got to go out and play. I just put my faith in God that all the cards will fall in place, whether you're here – which is what you're hoping for – or you are auditioning for somebody else."
Whisenhunt had wanted to build up the talent base of his roster since he arrived, and in his third season, he feels it has reached that point. It comes with a downside, however – cutting players that can help the team.
Whisenhunt estimates there are "five or six" players he would normally feel he could release in hopes to bring back to the practice squad who likely won't make it that far. The coach isn't naming names – he said he still hasn't made any final decisions -- but one of those candidates has got to be wide receiver Lance Long. Long is eligible for the practice squad, but the reality that a receiver-starved team like Kansas City, where former Cardinals offensive coordinator Todd Haley is head coach, would be a logical destination.
"Last year I was, I don't want to say lost, but I didn't know how it worked, what was going to happen," Long said. "This year, I have a good feeling. I want to stay with Arizona and I want to do everything possible to stay here, and if things don't work out, I will worry about it then."
Figuring Larry Fitzgerald, Anquan Boldin, Steve Breaston and Jerheme Urban are the Cards' top four wideouts, Long is battling Early Doucet and Sean Morey for what would figure to be two more spots at the most. Morey is a Pro Bowl special teams player and has played well as a receiver in preseason. The oft-injured Doucet has still shown talent and is a former third-round pick. Long is clearly fighting uphill at this point.
Ware's situation is murkier. Assuming the Cards keep nine defensive backs, the locks are starters Adrian Wilson, Dominique Rodgers-Cromartie, Bryant McFadden and Antrel Rolle, along with draft picks Rashad Johnson and Greg Toler. That leaves three spots for Ware, Aaron Francisco – a couple of safeties – and cornerbacks Ralph Brown and Michael Adams. Since Adams can go to the practice squad, the Cards may have some leeway.
There are other positions to figure out, like the mass of tight end candidates, or the inside/outside linebacker mix.
But there are no sure things while Whisenhunt sorts through the players.
"Some of the mistakes now are magnified, because guys know they are on the edge and if they make a mistake in their minds could lead to them not being on the team," Whisenhunt said. "You pull for every one of them and it always gets tough."
Whisenhunt said players can still turn heads in the final preseason game. He acknowledged safety Dennis Keyes likely made the practice squad a year ago because of a late interception return for a touchdown against the Chiefs. A play like that could make a difference in Denver.
"I'm sure there are a lot of guys thinking about it," Ware said. "It's just the preseason, but it matters."