Nose tackle Gabe Watson (left), along with linebacker Chike Okeafor (56), are important cogs in the Cards' attempt to play a 3-4 defensive scheme (also pictured: defensive end Antonio Smith and defensive tackle Darnell Dockett).
INDIANAPOLIS – Turning into a different defense in the NFL isn't a simple process.
When Ken Whisenhunt first arrived to coach the Cardinals, his belief in a 3-4 defensive scheme – having coached in Pittsburgh, where the Steelers perfected the alignment – was obvious. But fitting the team's personnel into solely that scheme wasn't going to work, nor was Whisenhunt willing to fully commit.
It wasn't just because holdover defensive coordinator Clancy Pendergast had a background in the 4-3, because now, with Pendergast gone in favor of Bill Davis, Whisenhunt still isn't changing.
"The same type of basic fundamental defensive philosophy we've had is going to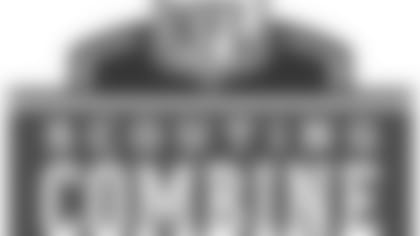 continue," Whisenhunt said this weekend at the NFL scouting combine.
There is little question the use of the 3-4 is blossoming once again in the NFL, part of a cyclical process. The Denver Broncos and Green Bay Packers, for example, each have made it clear they will be turning to the 3-4 this season. Even Whisenhunt acknowledged, with Davis in charge, the Cards will add in more 3-4 principles than they had previously.
But there are a number of reasons Whisenhunt won't – and in some ways, can't – declare his defense a 3-4.
Personnel plays a large factor. The Cardinals used one-time defensive end Chike Okeafor as the starting linebacker in their 3-4 packages this past season, but Okeafor probably isn't quite the prototype for that spot. Neither is veteran Bertrand Berry, playing the other defensive end/linebacker role on the other side.
The Cards also are trying to find consistent play at nose tackle, a must in 3-4 looks. They believe Gabe Watson has the size and skill, but Watson never was fully healthy from his offseason knee surgery. Bryan Robinson did yeoman work there, but his career was mostly spent at defensive end. The disappointing lack of progress of Alan Branch has hurt.
General manager Rod Graves said he believed the outside linebacker/rush end position, so crucial to the 3-4, is one of the deepest areas of the draft.
"We feel our personnel is getting to the point now where we feel good about our ability to run a 3-4," Graves said.
The potential draftees at the scouting combine are clearly aware of the NFL's shift toward more 3-4 looks. Not surprisingly, they insist they are versatile enough to learn a 3-4 even though most play a 4-3 in college.
"Really I don't think those challenges would be any different if I played for a 4-3 team," Penn State rush end Aaron Maybin said. "Basically I see it as, 'I'm going into this thing as an athlete.' My job is to prepare myself physically and mentally for what it is I'm going to face once I get drafted. Then once we know the scheme, I'm moving into 'We'll move forward from there.' "
Versatility is important. Packers coach Mike McCarthy said he sees teams use a base defensive look less and less every year as teams get more creative in their schemes, using sub-packages even on first down and second down. Whisenhunt's desire to keep elements of both a 4-3 and 3-4 look stems not from any player shortcomings on his roster as much as the hope the Cards have as many weapons as possible to attack opposing offenses.
"Ultimately," Whisenhunt said, "this game is about matchups."
Playing a little of both schemes can only help the Cardinals' offense as well, because that unit sees both defensive looks in practice every day. If the Cards played a 3-4 exclusively, it would make it harder for the Cards' offense when they played a 4-3 opponent.
It isn't smart to get locked into one style anyway.
"You don't win by saying, 'This is what we do' and not changing," Broncos coach Josh McDaniels said. "Because if you don't change in this league, somebody will figure out a way to beat you doing what you think is best."
Whisenhunt made clear this week, after his coaching changes, that his dismissal of Pendergast was rooted in holding Pendergast accountable. The Cardinals were not effective enough in categories like points allowed or red zone defense, Whisenhunt said, prompting the move to Davis.
But Whisenhunt also doesn't think the scheme – although there will be a couple of tweaks -- was to blame. That's the biggest reason the Cards will stay as a hybrid, even if they eventually lean more toward a 3-4.
"The thing we don't want to do is have a lot of change in terminology or anything that's going to disrupt us," Whisenhunt said. "Hopefully we can improve in a number of areas that hurt us late in the season."