The Cardinals are attempting something daring in 2019, as coach Kliff Kingsbury is bringing Air Raid principles to the professional ranks.
The change was evident from the first practice of training camp, when the offense routinely pushed the tempo and used four receiver sets.
The plan is a divisive one, with detractors doubting its ability to work against NFL defenses.
Quarterback Kyler Murray doesn't understand the hand-wringing. There could be hurdles as he and Kingsbury transition to the NFL together, but Murray oozed confidence about its long-term viability.
"I don't see why everybody thinks it can't be successful," Murray said. "It's just like any other offense. It's an offense. We work at it, we practice it, and it's our job to execute it. If we don't, then it won't be successful, but if we do -- I feel like it works at the college level.
"I don't see why it couldn't work at the pro level. It's our job to make people believe in that."
If Murray can come close to duplicating his college success, the Cardinals will be in great shape. The reigning Heisman trophy winner put up video game numbers in the Air Raid at Oklahoma, leading his team to the College Football Playoff.
"We probably had the best offense ever," Murray said. "Statistically, we had the best offense ever to do it."
Kingsbury has pushed back at the notion that he is a trailblazer. He has seen similar principles infiltrate the NFL in recent seasons, as teams like the Eagles, Chiefs and Browns have found success with college-type formations.
"There are teams doing stuff pretty wide open," Kingsbury said. "The Kansas City Chiefs kind of jump out – obviously they have a special talent there at quarterback (in Patrick Mahomes). I think you see more and more of the college schemes and different schematics showing up in an NFL game. So hopefully with how we're blending things together, we can put together a quality product on offense."
When Kingsbury was hired, he said his offense wouldn't be as pass-happy as that of his mentor, Mike Leach, who threw the ball 71 percent of the time in 2018. The run-pass split is still unknown, and Kingsbury said many of the specifics are still being nailed down.
"I think everybody that accepted a job here understood that it could look a little bit differently," Kingsbury said. "We're still working through what we're going to be, and who we're going to be offensively. We're blending a lot of things together, with different thoughts from different coaches who have done it at a high level at other places. I'm excited to see what it ends up as."
While its NFL sustainability won't be answered for months – and maybe years – the pass-catchers on the roster are excited about the change.
"I smile about it every time," Christian Kirk said. "Selfishly, as a receiver, I know how much we're putting the ball in the air and just how dynamic we can be."
Murray and the passing game have had some nice moments early in camp, as his accuracy and easy velocity have been on display.
The big hurdle will come when the regular season begins, as opponents send exotic looks to confuse and batter Murray. Once again, the unflappable quarterback was unconcerned about those potential pitfalls.
"Honestly, we saw a lot of creative defenses in the Big 12, just because it's tough to stop the offense and those coaches have been coaching it for a long time," Murray said. "I don't know if there is much more that you can possibly see, as far as defenses go. We saw a lot."
The Cardinals are all-in on Kingsbury's offense, sold that it will be on the cutting edge of the NFL and not destined for the cutting room floor.
"When you've got an innovative coach, a coach with a lot of creativity that is actually going to put it on the field instead of just talking about it -- it's obviously worked," Murray said. "He's learned from guys he's been coached from. I just think it's a very dangerous offense when everything's clicking."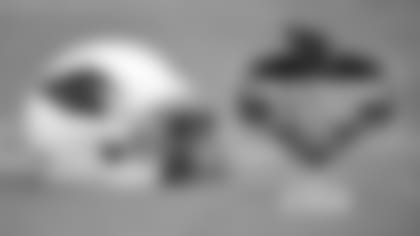 Follow along with all our coverage from camp and find important details about attending open practices on our training camp central page.