The !Cardinals still hadn't scored in the first quarter this season after a fruitless opening possession Monday, but David Johnson changed that in a hurry. The second time the offense got the ball, the star running back took a handoff to his left, exploded through a big hole and maneuvered his way through traffic for a 58-yard touchdown. It put the Cardinals ahead 7-0 and they cruised to the 28-3 victory. Johnson, right guard Earl Watford and coach Bruce Arians broke down the play in this week's edition of Cardinals Film Room.
The situation: The Cardinals faced a first-and-10 from their 42 with 10:03 remaining in the first quarter of a scoreless game.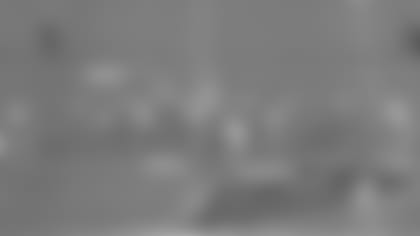 The Jets load up the box and bring pressure, but Arians' playcall works out perfectly: "I think we caught them in a new designed blitz that they had. Sheldon Richardson kind of came up the middle, but we blocked it extremely well."
Watford moves behind the offensive line to act as a lead blocker for Johnson: "I've always done it. As long as I've played O-Line, it's been me pulling. I love running the ball."
Johnson eyes his running path: "I'm looking at the leverage of the outside guy (Darron Lee), if he's a nine (technique) or if he's tight, to see which hole I'm going to go through. I should cut it up since he has the outside leverage."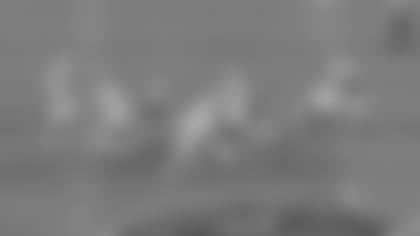 Johnson has a clear path early: "Once I got the ball I saw I had a huge hole. It was great blocking by Earl and all the linemen really. And Jermaine (Gresham). I just had to cut it up and see what else was coming to me down the field."
Watford chips Jets defensive tackle Leonard Williams for his first block and then looks for others: "I don't know how many people it was. I was just trying to get on the second level and just block. Just try to finish a play."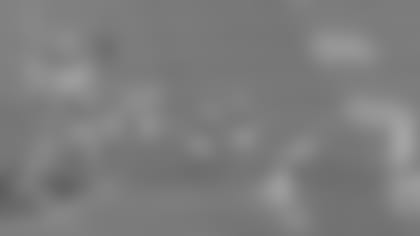 Johnson cuts upfield past linebacker Erin Henderson:"That was the key part. That was the guy I had to get through, was that linebacker that was coming through. I thought he was over-playing, but actually after replaying it, Earl had a great block. He pushed him straight through to where I was able to cut up."
Arians is impressed by Watford's athleticism: "I know he pushed (Henderson) out of the way, then he kept going downfield and got the safety (Marcus Gilchrist) also. … He must have blocked three or four guys."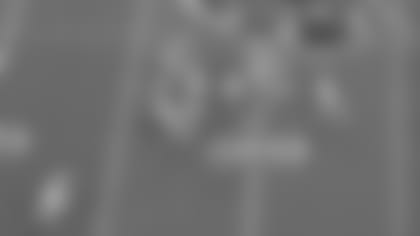 Wide receivers Larry Fitzgerald and John Brown hold their blocks. Arians: "You don't have the running game that you have without receivers blocking. Those three touchdown runs, our receivers blocked their tails off. Larry got two guys on the long run."
As Johnson cuts upfield, another huge running lane emerges: "After I cut it up, I looked to see where there was green grass. I looked and Fitz had a great block, John Brown had a great block. I was able to bounce it out. … I talked to Smoke and he said that I owe him for that block."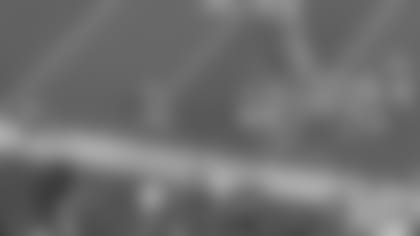 Watford finishes it off and Johnson cruises to the end zone: "Credit to (Johnson). He's just a playmaker. Hopefully he keeps this up, and we keep blocking for him and blocking well."
Johnson marvels at Watford's ability to keep springing him downfield: "Earl is a very athletic lineman. He's able to run. I think he said he had the fastest 40 out of the linemen his year coming out of the combine. A lot of people on Twitter, social media, were like, 'What is that guy running, a 4.4, a 4.5 40?' The way he was running, and not just that, but the way he blocked. He ended up blocking, what, four or five guys on one play alone? He helped me out a lot."
The duo meet in the end zone for a congratulatory jump hug. Arians: "He did a little better with the celebration this week. He didn't get knocked down at least."
An image sequence of David Johnson's 58-yard touchdown run in Week 6 against the Jets