Quarterback Carson Palmer finds wide receiver Michael Floyd for a score against Oakland
The Cardinals started quickly against the Raiders on Sunday, jumping out to a 14-0 lead on a 33-yard touchdown pass from quarterback Carson Palmer to wide receiver Michael Floyd.  Oakland pulled to within one point in the third quarter, but the early advantage held up in the 24-13 win. Palmer, Floyd and running back Stepfan Taylor broke down the touchdown pass in this week's edition of Cardinals Film Room.
The situation: The Cardinals faced a 3rd-and-8 on the Oakland 33 with 5:44 remaining in the second quarter, leading 7-0.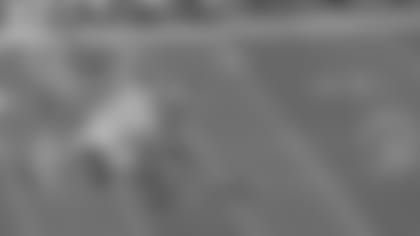 Before the snap, Palmer hasn't yet considered a deep ball: "It was a third-and-long play and we were thinking first down. All you want to do is get the first down."
Floyd, though, likes his chances of making a big play: "My route's a go-route, and when you see one high (safety) and press (coverage by the cornerback), that's where you want to go with the ball."
Taylor has blitz pick-up: "It depends on what protection is called for who I need to block.* *My two mandatory guys were on the left side of the field."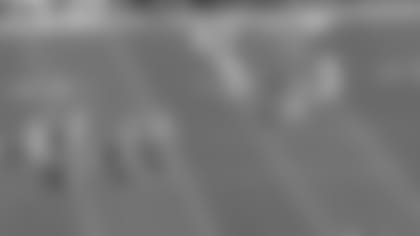 Palmer quickly realizes he has a variety of enticing options: "It was very split-second. I was caught between, 'Do I take this, do I take this or this?' I had a couple different opportunities of guys coming open. I had Smokey (wide receiver John Brown) open and Larry (Fitzgerald) open. And possibly Ted (Ginn) on the backside coming open, too. But I took a shot with Mike and gave him an opportunity to make a play. Three or four steps into the drop, I realized that that's our best opportunity. I was in between one or the other. Gladly it worked out."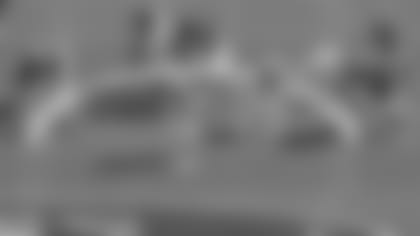 Taylor looks left before picking up blitzing safety Charles Woodson to his right: "I knew it was possible he was going to come and (the original blocking targets) would drop off with the receivers. I saw him coming so I had to pick him up. We know if we give (Palmer) time he can make plays. As you see he made the throw."
Palmer marvels at the protection: "That's phenomenal. This is like a 7-on-7 tournament in high school. And the pocket was like that all day."
Palmer lets it fly, knowing safety Usama Young won't get there in time: "It just felt like it was an opportunity to take a shot. It was 50-50. The guy had pretty good coverage on Mike. Mike just ended up making a play."
Floyd had inferior position but high hopes: "Always have a shot to get it. That comes with confidence and the quarterback having confidence in you that you'll make the play."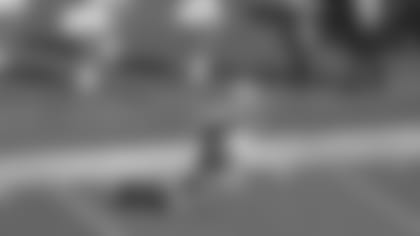 Floyd times his jump correctly to haul in the touchdown: "The ball was kind of inside and I had to go back through him and make the catch. It was good defense by (cornerback Tarell Brown) but I made a play on the ball."
Palmer on his trust in Floyd in those situations: "He's proved himself time and time again that he'll make the play. That's your thought process. You know you've got Smokey who's going to have his depth and have his guy beat, but Mike has done it enough that you just know he's going to come down with the ball."
Taylor on the catch: "That's what separates good players from great players, going up and taking that ball. He's shown he can do it. Go up there, high-point it and snatch it. That's Floyd for you."
Images of Michael Floyd's 33-yard touchdown reception against the Raiders