The
Cardinals were moving the ball consistently in the second half against the Titans, but still found themselves trailing by a point with less than 10 minutes remaining in the game. They were backed up in their own territory at the time, but wide receiver Chad Williams changed that in a matter of seconds.  The rookie third-round pick took a jet sweep and exploded upfield for a 33-yard gain, and Phil Dawson hit the eventual game-winning field goal to cap the drive. Williams, tight end Ricky Seals-Jones and coach Bruce Arians talked about the big play in this week's edition of Cardinals Film Room.
The situation: The Cardinals had a first-and-10 from their 15 with 9:59 left in the fourth quarter, trailing 7-6.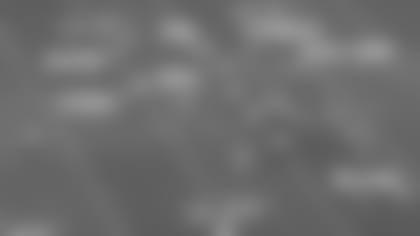 Arians makes a split-second decision to go with the end-around: "I had another play called. I said, 'What the hell, it's time for this one.' It's either going to be a five-yard loss or a big gain, and we needed a spark."
Williams motions across the formation, and then motions back toward the ball as it's snapped:"When I motioned over, I wanted to see if it was man or zone. I wanted to see if somebody was going to chase me across the formation. I wanted to see their alignment to know who I have to beat when I get the ball."
Seals-Jones zeroes in on his two possible blocking targets: ""Larry has the nickel/SAM (Logan Ryan) and we leave the end (Kevin Dodd). Basically, out of these two (cornerback Adoree Jackson and safety Jonathan Cyprien), whoever shoots first, I'll take. And Chad has one to miss."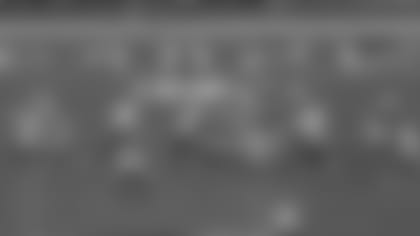 The play design allows Dodd to come free, which Arians knows is high-risk, high-reward: "It's called '25 blunt sucker.' Either you're a sucker, or they're a sucker. We luckily got him to look in the backfield."
Dodd's hesitation is the break Williams needs: "We ran this play in the second quarter, but it was the actual run, so we handed it off to K-Dub (Kerwynn Williams). On my fake on the first time we ran it, I noticed he actually committed to me. The second time around, he thought it was a handoff again. He didn't commit as hard as he did the first time. That was a good thing."
Seals-Jones decides to take on Jackson on the perimeter: "The corner (Jackson) was kind of sitting out, and I just felt like the corner would be the easiest guy. Once Chad got around the corner, I'd rather Chad have the advantage of the safety (Cyprien) to make a move than on the corner that's right there."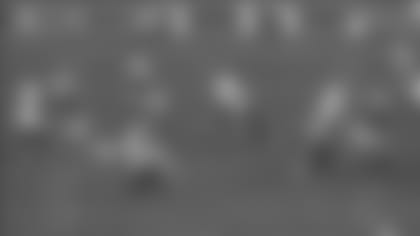 Seals-Jones knows the importance of Williams zooming past Dodd: "It's make or break. Either Chad gets tackled in the backfield or it's a big play. We had trust Chad could make the D-end miss with his speed, and he wouldn't be able to catch him."
The play is setting up nicely for Williams: "Once I feel like I'm past the D-end, there's only one guy for me to beat, and that's '37.' I knew Larry (Fitzgerald) would have his guy and I knew Ricky would kick out the cornerback. So that just leaves me and (Cyprien). Now me and this guy are just racing. Whoever gets (the edge) first wins. And I beat him to the spot."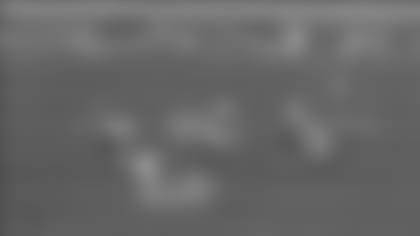 Williams has a lane: "Ricky told me that block was going to be sealed up before the play was even called."
Seals-Jones gave Williams a pep talk at intermission: "They brought it up at halftime, that it was in the playbook early in the second half. I told Chad, 'Hey, just be ready. I'm going to get that block for you. You just do what you got to do to make a play.' When it came, I kind of went back in my duffel bag to my college days, to my cutting. I just kind of went up to (Jackson) and acted like I was going to stalk-block him, and then went low. He didn't expect it. When I looked up, Chad was through the crease and he was gone."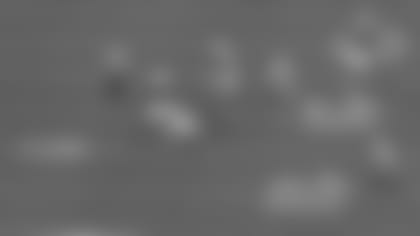 Williams beats Cyprien around the corner: "I felt like I had him. I didn't make a move or anything. I just trusted my speed. It's always a confidence boost when you make a play on a footrace. It just shows you that you have the same ability as everybody else. Nobody's superhuman, you know?"
Seals-Jones was elated to see another first-year player contribute: "The rookie class, that's us. That's all we came in with. I look up to 'Gresh' (Jermaine Gresham) and Troy (Niklas), but they've been in the league. As rookies, especially me and Chad, we always come up to each other before games or even in the huddle, like, 'If it comes your way, make the play. Put on for the rookies.' That's what we kind of do. Me and Chad are just trying to find our way. We're trying to show the coaching staff and the vets that, as rookies, we can come out and play and help the team win."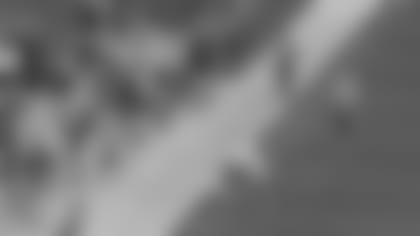 Arians has put more trust in Williams late in the season: "He still struggles with press, man-to-man as a wideout, but he's a talented young guy. You try to find a way to get the ball into his hands."
Seals-Jones knows the importance of the result: "We knew this play would get us going or set us back. I looked at Chad and I said, 'Run. Run hard and run fast. The block is going to be sealed out there for you.' And when I looked up he was down the sidelines. It was one of those plays where we knew what we could do, and we went out and executed."
Williams lowers his shoulder at the end: "I'm not going out of bounds. I've been like that since I was in little league. I've always been hard-headed. I don't want to run out of bounds unless we have to, to stop the clock or something. It's football, man. You're not supposed to go out of bounds."