!It was a frenetic ending in Saturday's clash against the Seahawks, as the field goal team rushed onto the field as the clock ticked toward zero. Everyone lined up in time, and kicker Chandler Catanzaro booted a 43-yard field goal to give the Cardinals an exhilarating 34-31 victory. Catanzaro had previously missed two game-winning attempts this season, including one in overtime against the Seahawks, so for him it was a welcome reversal. Catanzaro, linebacker Kareem Martin and left tackle John Wetzel discussed the team's procedure leading up to the kick in this week's Cardinals Film Room.
The situation: The Cardinals had a fourth-and-3 from the Seattle 26 as time ticked down in a 31-31 game.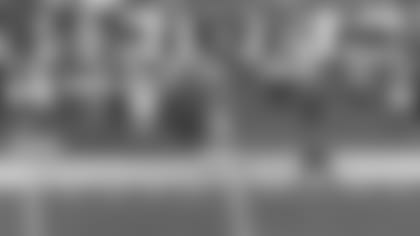 Catanzaro first watched the offense drive down the field: "Carson (Palmer) and the offense have done a great job in those situations all year, so on the sidelines I was kind of mentally preparing myself for the opportunity. I kind of knew it was going to happen. And I knew once we called that last timeout, there was a chance of that 'Hurry' scenario, as we call it."
Martin and others wait for the situation to unfold: "Me, Calais (Campbell), Corey (Peters) and Rodney (Gunter), we're the four defensive guys, so we're the guys subbing in. The four of us, in that situation we went to the offensive side of the bench and sat there in preparation for it. We usually move down there when we're in field goal range, but seeing the situation, we said, 'Alright, let's get down there. You never know time-wise and how quick they're going to move the ball down the field, so let's be prepared.' We were down there pretty much the whole drive, just ready and waiting. When they got into the fringe range, we buckled up and got to the front of the sidelines."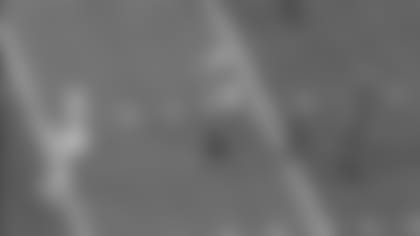 Larry Fitzgerald's catch is short of the first down, and Wetzel waits for direction: "At first, I didn't know if we were going to spike it or not. And A.Q. (Shipley) lost his shoe."
Martin listens for the signal: "On the sideline, we were prepared for, 'Ready! Ready!' no matter what, whether they were going to spike it we would have been prepared, or whether we were going to do an exchange. It's something we practice every Wednesday and Thursday, that quick field goal with time running out. There was no panic by anyone on the sideline. Everyone was strapped up and ready."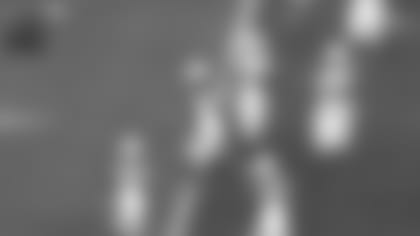 Martin and six others hurry onto the field: "When they made the call, everyone ran out there like it was practice, milked the clock all the way to zero, snapped it, and the rest is what it is. The biggest part was on us to make sure we were ready, because (the offensive linemen) were already on the field. They just had to turn around and get on the ball."
Wetzel finds his place: "I played both (offense and special teams), so it was easier for me. Regardless, I was going to be on the field. I was just kind of waiting and seeing what was going on. Once I saw some guys were rushing on, I hurried up and got to my spot."
Catanzaro is the last player out: "The ball was spotted with about 15 seconds, I believe, so I know I have to get out there and get set. I don't have time to go through my whole routine, because my whole routine takes a little over 12 seconds. So I can't do my full routine, and I have to set up as fast as I can and make sure I'm set. We always try to snap it on four or three seconds, just to give us a little time to get it off."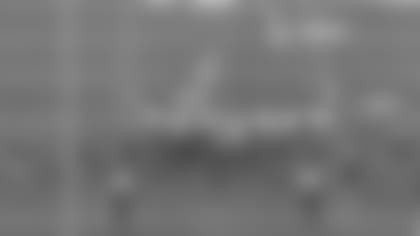 Martin steals a glance at the clock: "I got a peek at it. I saw the time, and I'm like, 'Oh, OK, we've got plenty of time. The biggest thing now is we're going to be in our stance a little bit longer, so just sit in there and don't jump and don't move. That's the biggest thing, because there's a 10-second run-off (for a false start). Their field-goal team, they do a lot of running up to the line to try to draw you offsides. At that point, you've just got to have a one-track mind. Don't worry about them moving, and then once you see that ball being snapped out of my peripheral, take my steps and do my job."
Catanzaro has to line up correctly before the time expires: "Alignment is definitely key. That's something I practice in the offseason a lot. You never know when that scenario is going to pop up. But the fact of the matter was, the clock was running and we had under 15 seconds. So I can't do my whole routine, but I've got to make sure my alignment's correct. … If it was less than 15 seconds, I may have had to take three steps from my spot to the last spot, like a diagonal."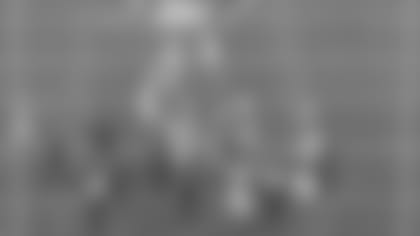 Catanzaro connects on the game-winner: "That was the first "Hurry" situation I've had the NFL. That situation doesn't pop up very often, but it's a testament to how much we prepare for that situation and what the coaches have done setting us up for it. I don't think I had one in college, and that was my first one in the league. I'm glad it was successful."
Wetzel looks up to see it go through: "Great kick by Cat-Man, especially in that environment and in that type of weather. It was huge. We had all the confidence in the world in him. I was so excited, running around and jumping up. It was good. Clutch kick."
Martin didn't doubt it: "He's made a lot of big kicks since he's been here, and we all had confidence going into that kick. That pressure situation, we're always working it where he has to rush his steps back and he doesn't have the time he usually has on an extra point or a regular field goal. He just went in there and kicked it right down the middle. Best kick all day."