The! Cardinals were disappointed in a 6-6 tie against the Seahawks on Sunday night, mainly because the defense played so well it should have resulted in a win. The team consistently pressured Seahawks quarterback Russell Wilson, often without blitzing. The team's lone sack was a big one, as outside linebacker Chandler Jones came in from the blind side and stripped Wilson. The Seahawks recovered the loose ball at their 1 but quickly punted. Jones, outside linebacker Markus Golden and safety Tony Jefferson analyzed the play in Cardinals Film Room.
The situation: The Seahawks faced a second-and-9 from their 21 with 8:40 left in the fourth quarter, trailing 3-0.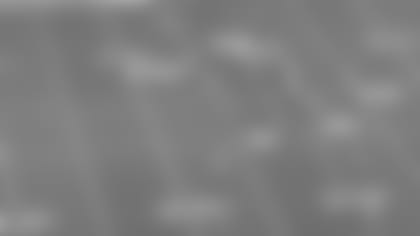 The Cardinals drop seven players into coverage because the four-man pass rush was working. Jefferson: "It helps us out defensively, being able to make some different calls and switch it up a bit so they don't really know what we've got going on."
Jones zeroes in on Wilson: "It being second-and-9, and where they were, I figured since they were backed up it was for sure a pass."
Golden feels like the Cardinals' defense is due: "I already knew he was going to make a play. I could feel it. We knew somebody had to make a play, and he actually said he was about to get one."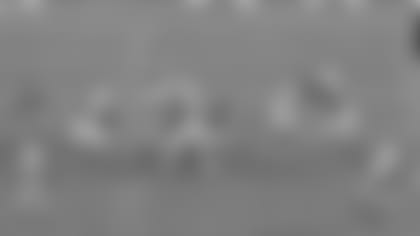 Jones unveils a new tactic: "I'd been powering (left tackle Bradley Sowell) the whole game, so every time I contacted him he was sitting down. So I said, 'I've got him right where I want him.' Right when I stepped at him like I was going to power him, I stepped back out, and I got him on the edge. It's definitely a chess match, a mind game, depending on what they give you. If I were to be powering him and I wasn't getting him pushed back, then he probably wouldn't sit on there as hard. But prior to that I pushed him back into the quarterback, so I knew he was going to sit the next the next time I did it. I had him right where I wanted him, and I knew it was a pass, so that's when I jumped back out."
Golden knows there is an art to it: "You set them up. Especially in a game like that. You aren't going to get a sack on every play. You might have to wear them out in the first and second quarter, then in the third and fourth quarter it opens up more for you. That's what he did."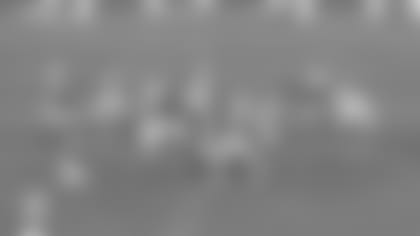 Golden sees Jones get the edge: "Chandler's a beast. He does some crazy stuff. He took his shoulder away. You see Bradley was trying to hit that shoulder. You hit that shoulder, you get him on the ground and stop his momentum. But Chandler got low, turned his shoulder and was able to bend – crazy bend. It was like he's 5-11."
Jones explains the move: "Whenever you're in this position right here, the tighter you are to the offensive lineman, the better it is. The further away, the worse it is because the guy has more chance to recover and push you. When I knew that I cleared his hands, I tried to lean back into him as close as I can, so I can get a straight shot at the quarterback. It kind of propelled me to the quarterback."
Jefferson doesn't see the play live but watches it after: "I love it. I saw it (Sunday) night. It was ridiculous. He's super long and can get around that edge pretty quick. He's got a little skip to him that he does."
Jefferson and the rest of the defensive backs make it tough on Wilson to find a receiver: "He had nowhere to throw. I don't know where he was throwing, but I figure wherever he was throwing, it was probably was going to be a pick. Everybody was pretty much covered."
Jones appreciates the back-end support: "It all works together. If you don't have a good rush, the coverage doesn't work. If you don't have coverage, the rush doesn't work. Hats off to Tyrann Mathieu, Patrick Peterson, D.J. Swearinger, Marcus Cooper, Tony Jefferson, all those guys making plays in the secondary. They do a tremendous job of handling their guys. It all works together. It's all ball and chain."
Jones isn't content with just a sack: "If I'm winning that clean, I'm definitely going for the ball. A lot of times you have a guy on you, so you're just trying to get the quarterback down. When you win clean, that's the No. 1 goal. You want make big plays like that. Those are elite plays, and that's what playmakers do. They create turnovers. Unfortunately we didn't get the turnover, but it knocked them back to the 1-yard-line."