Tight end Darren Fells' long catch set up a touchdown in the Cardinals' 31-19 win over the Saints.




The Cardinals scored touchdowns on two of their first three possessions in Sunday's 31-19 win over the Saints. The! second score, a 1-yard run by Andre Ellington, was set up by a 48-yard pass from quarterback Carson Palmer to tight end Darren Fells. Fells finished the game with four catches for 82 yards and a touchdown, the top receiving day of his career and the best for a Cardinals tight end dating back to 1989.
Fells, tight end Jermaine Gresham and wide receiver John Brown broke down their roles in the play for Cardinals Film Room.
The situation: The Cardinals faced a third-and-2 on their 34-yard-line with 12:07 remaining in the second quarter, leading 7-3.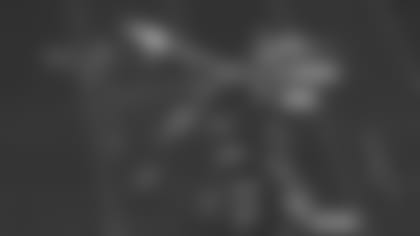 The Cardinals' pass routes were determined by the defensive formation. Brown: "They had one safety over the top, so I had to try to get outside and run a straight go-route outside the numbers. Larry had the in or the out route – it was his choice – but Darren had the automatic in route."
Fells could either get the ball right away or later, depending on the coverage: "There was a dropped pass I had in practice because I didn't look for the ball initially. So I knew to look for the ball at first."
Gresham had an option route and took it vertical: "I pretty much beat my guy so bad I took it high."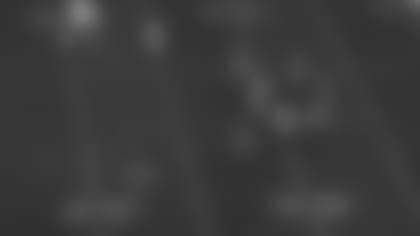 As Brown runs his route, his defender, Saints cornerback Delvin Breaux, and Fells' guy, cornerback Damian Swann, get bunched up: "I wasn't trying to set the pick. I released out and I guess the cornerback was trying to help, so we all three hit each other. We crashed each other. I guess they both switch-released it or something like that. When Darren caught it, I heard the crowd screaming. When I looked back he was gone."
Fells easily converts the first down and has room to run: "Smoke did a great job running his man right into mine. Initially, I didn't know that happened because obviously my head is looking at the quarterback. Right when I caught it and I turned around and saw I was wide open, that's when I turned the jets on a little bit."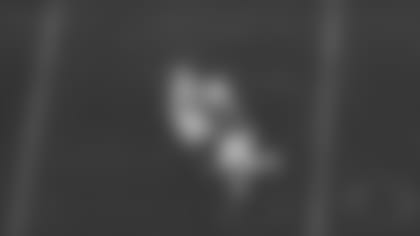 As Saints safety Rafael Bush gets a bead on Fells, Gresham doubts he will be involved in the play: "In my mind, I'm thinking he's going to get tackled right here, not knowing that he's stiff-arming. I was getting in position kind of half-assed."
Instead, Fells shakes off Bush: "Every time I get a smaller guy on me I know they're going for my legs. When he came straight at me, I knew I could give him a nice stiff-arm and continue going."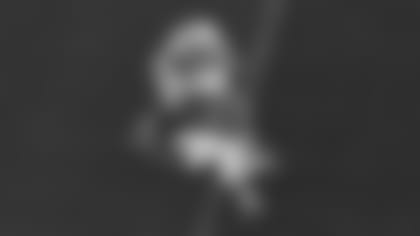 Gresham then sees Fells heading toward him: "About 10 yards away I knew his angle where he was coming, so I was trying to give him enough area on the sideline for him to squeeze through."
Fells fits between Gresham and the sideline: "After that stiff-arm, I turned my eyes outside to see where I could run. I saw him and he saw me. He started blocking, and I saw he had the perfect angle so I could take the sideline. I ended up running my man right into him and he made a great block. He got me an extra, what, 20 to 25 yards? I have to give him a lot of props. I said this play was for him because he was the one that got it for me."
Coach Bruce Arians on Gresham's block, which took out linebacker Ramon Humber and Bush: "He did a very smart thing. They changed the rules on peel-back blocks. You can only hit them from the numbers to the waist basically and he came back and shoved the one guy right into the other guy, so he got two guys with one. It was a big block and it extended that play for 20 more yards, so it was a huge play for him."
Brown said downfield blocking was also a key later on: "It's just like the David Johnson (touchdown) catch when Larry (Fitzgerald) came back and set the block. Every time we continue to set our blocks and help our guys downfield, we get big plays like this."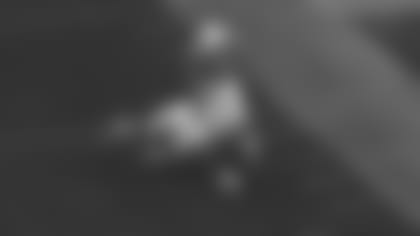 Fells contemplates a hurdle attempt with only Swann to beat, but didn't have enough gas in the tank: "I know initially every single defender is going at my legs, but my legs were dead by that time. I didn't want to try to jump and make myself look bad and I had to protect the ball."
Brown was waiting for Fells to evade the final defender: "I thought he was going to get him and score a touchdown. I guess he got a little winded."
Gresham tries to stifle a smile when asked about Fells' inability to get into the end zone: "No comment."
While he didn't make it all the way, Fells' catch was a big boost: "B.A. always says there's first-down routes and there's touchdown routes. The route I ran was a first-down route. To be able to turn it into a possible touchdown route – it was a little disappointing I couldn't get all the way there, but it was still a good play. I've been known as that blocking tight end, and to be thrown into the passing game a little bit, it feels good that they have that confidence in me."