The
Cardinals' offense was given great field position on its second series against the 49ers on Sunday. Safety Tyrann Mathieu forced a fumble and cornerback Patrick Peterson returned it to the San Francisco 6. The Cardinals got halfway to the goal-line on their first two plays before putting the onus on quarterback Drew Stanton. The pass play looked shot as Stanton scrambled toward the sideline, but he found Jaron Brown just in time for a 3-yard touchdown pass and a 7-0 lead. Stanton and Brown discussed the play in this week's edition of Cardinals Film Room.
The situation: The Cardinals had a third-and-goal from the San Francisco 3 with 10:23 remaining in the first quarter of a scoreless game.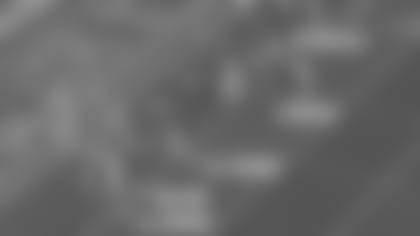 Stanton reads the defense before the snap:""We motioned Andre (Ellington) out, trying to see how they were going to adjust to the motion. If they were in single-high (safety), we were thinking they'd be in weak rotation, and the safety might run out with him and create a hole for Larry (Fitzgerald) through here. When I came out and saw it was going to be two (safeties) high, the read pushed me over (to the left side). Jaron was here running a drag, coming across, trying to clear it out. J.J. (Nelson) had a two-way go at the top here, and Smokey (Brown) had an angle route, or he could run a flat."
Jaron Brown must figure out the 49ers' coverage:"Man/zone. The first read is man (or) zone. If it's man, my job is to kind of set a pick for Smokey right there. If it's zone, it's to find a void."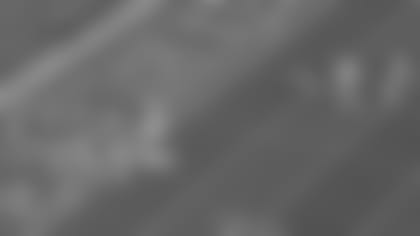 Stanton's first read is Smokey Brown: "I was anticipating, because it was quarters coverage, that (Smokey Brown) was going to break in. Well, Leon (Hall), as you can see, is sitting there. Being the savvy vet that he is, I knew what I was dealing with. So he was sitting inside when I tried to look it off and get it to (Smokey Brown). I was getting ready to throw it to J.J., but he has a two-way go, so I wasn't sure if he was going to break out or in. That caused me to scramble to the right."
Jaron Brown makes sure a reception would mean six points: "I'm on the goal-line, and my main thing is to make sure I'm in the end zone."
Jaron Brown finds some space: "Once I get past him, I kind of felt like I was clear. But I noticed that Drew – initially he was looking at me, but he got some pressure and he started scrambling out."
Brown and Fitzgerald flash open, but Stanton is leaving the pocket: "Naturally, it felt like (heading to the right) was the way to escape, with everything kind of flowing that way. Jared (Veldheer) did a good job of holding his guy up for me."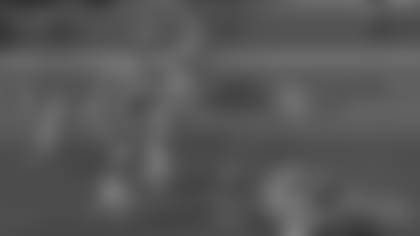 Stanton notices Brown just in time:"I saw his hand. Initially I was getting ready to throw the ball away, and then all of a sudden, I saw color flash. I felt that window enough to try to squeeze it in there. I was a split-second decision from throwing it out of bounds."
Brown's plea for attention worked:"Quarterbacks, most of the time they see the open man, so they tell us not to put our hand up. I still do it. I was waving and trying to flag him down. He saw me (wave)? I didn't know that. I was hoping that he saw me. Geez, now that you mention that, I'm going to put my hand up every time now. You shouldn't have told me that."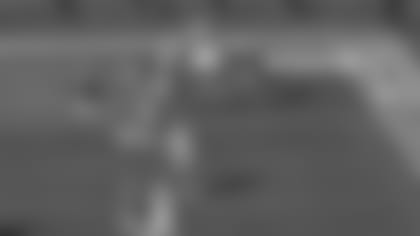 Brown believes Stanton will try to fit the pass in to him: "I've seen Drew make that throw before, so I was confident he'd be able to find me."
Stanton feels there is enough room between defenders: "(49ers linebacker Brock Coyle) was trailing back here and 'Dre was occupying the corner (Ahkello Witherspoon). I felt like I could get it in there, or at least throw it high that he was the only person that was going to be able to catch it."
Images of the 3-yard touchdown reception on Sunday against the 49ers