The
Cardinals had a three-point lead late in Sunday's game against Seattle, but were one play away from having to punt. Coach Bruce Arians called a draw as he aimed for the first down. Not only did Andre Ellington pick it up, he didn't stop there. The Cardinals' running back scampered 48 yards for the back-breaking touchdown, giving the Cardinals a 39-29 lead in the eventual 39-32 win. It was a monumental victory, pushing the Cardinals three games ahead of the Seahawks with seven to play as they take aim at the NFC West crown. Ellington, Arians, wideout Brittan Golden, left tackle Jared Veldheer and Seahawks coach Pete Carroll dissected the play in this week's Cardinals Film Room.
The situation: The Cardinals had a third-and-4 from the Seattle 48 with 2:07 remaining in the fourth quarter, leading 32-29.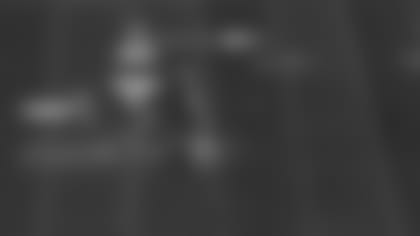 Arians sees a familiar defensive look from the Seahawks, and goes boom or bust with the play-call: "They had been blitzing us up the middle pretty much the whole fourth quarter. It was going to be a hit-or-miss play. It was either going to hit big, or they were probably going to get us for a three-yard loss, and we'd use their last timeout, punt it down and play for the field goal. But if we could crack it, then you knew you were going to get at least the first down."
Ellington knew the A-gap pressure was coming: "I was aware of it because they gave us that similar look a series or two before. It was a perfect play at the right time because our play was designed to get outside."
Golden clears out Seahawks cornerback Cary Williams: "The plan was to just outside release and run him off, just try to have him focus on me and make it look pass, like I'm going deep on him."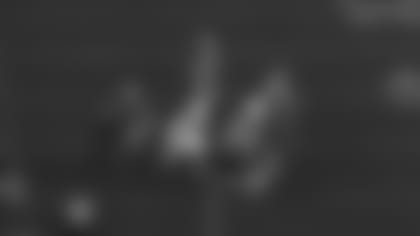 Carroll's decision to blitz puts a lot of Seahawks in the backfield: "We went after them and they ran a draw, where we could have run right into it and killed it. We didn't. They got through. It was a nice job by them."
Seahawks defensive end Frank Clark shoots upfield but overruns Ellington while going for Palmer. Veldheer: "Basically I try to over-set him. Punch him away and get out. He just kind of came right into me, and I saw Dre, like this low underneath my left side."
The delayed handoff and Clark's aggressiveness worked out perfectly for Ellington: "He kind of rushed upfield. He did what we wanted him to do. That was our thinking with the draw."
Ellington has to decide whether bouncing out near the sideline is worth the risk of potentially going out of bounds: "
At the time I saw I had enough space. I gave (safety Kam Chancellor) a hesitation move to freeze him inside. Once I got around him, I was conscious of the out-of-bounds line."
Carroll knows it's a limited line of defense on the back end: "We pressured it, so there's not much in the secondary, and those guys have to find a way to get him down, and we didn't."
Arians' call works better than intended: "You never call that play thinking you're going to get a touchdown. You just want to get those five yards. As soon as I saw him slip under the end, we were in good shape. We were in real good shape. But, watching him go down the sideline and make Kam miss, that was big."
Golden takes a peek at the action from downfield: "I'm kind of looking back to see what's going on, to see if he's close to the first down. At the time, I saw him one-on-one with Kam, and Andre in space is just … if you make that tackle, it's a heck of a tackle. The first thing that popped into my head was to occupy Cary (Williams) and maybe Andre will get around."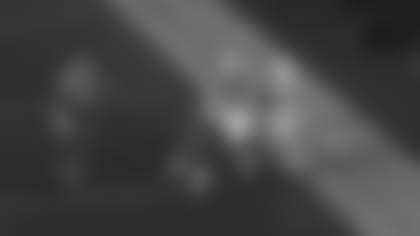 Golden valiantly holds his block on Williams long enough to let Ellington sneak past: "I engaged with him, and I could kind of see Andre out of the corner of my eye. I was like, 'Just hold it.' If he can get that sideline, get that edge, he will be out of the picture, because there's no way a linebacker is catching Andre from behind. So I was trying to stay in bounds and make sure I didn't get pushed into Andre."
Ellington sneaks through: "Once I got around Kam, I saw Brittan downfield and he had leverage on his guy and there was space… I was like, 'Yeah, I'm going to score now."
Carroll coaches his players to force the runner back inside: "I don't know how we got pinned inside the sidelines like that.  We always defend the sidelines and get the ball to turn back.  I think we were surprised maybe. I don't know."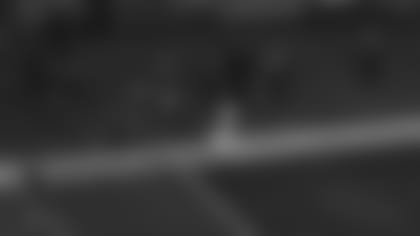 Golden turns to see Ellington gallop in for the score: "I was pumped. When Andre got into the end zone, it was like a sigh of relief. A two-possession game in Seattle, a minute left. I was excited. I don't know if I was more excited than he was, but I was happy."
Ellington enjoyed the view of mass joy on the Cardinals sideline: "Once I turned around and saw all my teammates it was so much excitement."
Veldheer on the impact of the run in a back-and-forth affair: "It was a big boxing match. We were hitting them with all the good punches early. They struck some really good punches back-to-back-to-back and got the momentum. We just kept punching back, and we ended up getting the knockout with Dre's run."
The run was huge, though it was overshadowed by the celebration dance of backup quarterback Drew Stanton, who quickly became an internet sensation. Stanton: "That was pretty ugly when I saw it back. As soon as we got off the field, a couple of the reporters came up to me and started interviewing me. Carson (Palmer) is sitting next to me, and I'm like, 'Carson won the game.' I'm sitting here and everybody wants to talk to me about it."
Ellington laughs when asked if Stanton stole his shine: "It's all good. That was pretty funny."
Golden loved it: "That was the greatest dance I've ever seen on the sideline. I've probably watched it 500 times since 3 o'clock (Monday) morning. It popped up about 20 times on my (Twitter) timeline. The arm part. I was crying for a while."