The
Cardinals' offense was uncharacteristically dormant in the first half on Sunday. Quarterback Carson Palmer threw a pair of interceptions and just one touchdown as the Bengals entered intermission with a 14-7 lead. That all changed in the third quarter, when Palmer threw for 171 yards and three touchdowns for a 28-14 advantage in an eventual 34-31 victory. The Cardinals tied the game on a 64-yard touchdown pass from Palmer to rookie wide receiver J.J. Nelson. The UAB product had the fastest 40-yard dash time at the NFL Scouting combine and showed it off on this play, streaking nearly untouched down the middle of the field. Nelson, Palmer, tight end Darren Fells and left tackle Jared Veldheer broke down the score in this week's edition of Cardinals Film Room.
The situation: The Cardinals had a first-and-10 from their 36 with 11:32 left in the third quarter, trailing 14-7.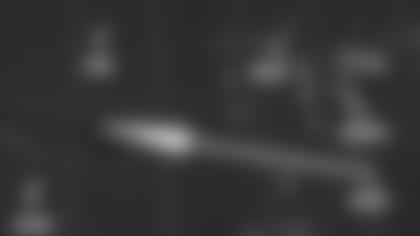 The Cardinals' two tight-end formation suggests a possible run. Veldheer: "The action was off one of the runs we were having success with, so we just had to be aggressive and make it look as much like a run as possible."
Fells knows any forward movement by the linebackers will make it tough for them to recover: "One of the biggest things I had to do was draw in that 'Sam' linebacker (Vontaze Burfict) right there. Bring those defenders in on the play-action, knowing that J.J.'s so fast that he will beat them down the field."
Nelson maps out his route: "Just by looking at the safeties I knew it was Cover Two. My thing was to just split the safeties and run straight down the field like we'd practiced all week."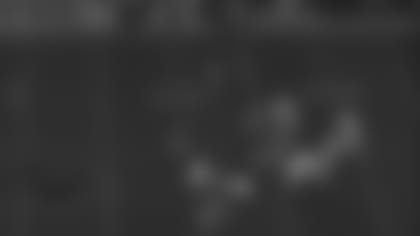 Palmer turns his back, so the protection must be perfect:"Those kind of long drawn-out plays... it was a run-fake to the left and roll out and to get all the way back over to the right side, to the right tackle, right guard ghost areas. The play-action helps, but (it's more) the guys being right where they are. They are harped on so much and coached so much, not being down the middle of a guy but being on the outside shoulder or the inside shoulder. When they do react to the run, they are always in the right position to be able to slide back into position to stop a bull rush or a spin move. Really just execution is what that one was."
Veldheer and the rest of the blockers sell the run: "As you can see, (linebacker A.J. Hawk) clearly thinks it's a run. The picture looks like a run. That's basically what it needs to look like up front, and then we have to sustain that run blocking and turn it into pass blocking."
The stretch run play is a common call in the Cardinals' offense, which Fells says keeps the defense guessing: "I think that's one of the best things about our offense. We have formations and play-actions that look the same (as runs). The plays always look the same, but they're not."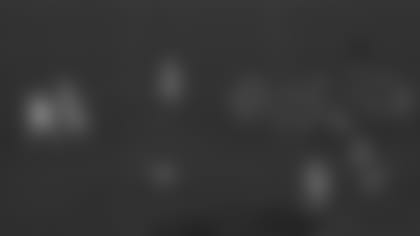 It's one of the finest pockets Palmer has all day:"That was a college football highlight. You don't see that very often in the NFL, but especially against that pass rush. (Geno) Atkins, and Michael Johnson and Carlos Dunlap, the slew of pass rushers they have. It was a phenomenal pocket. It was an easy throw because the pocket was so good."
Fells stymies Burfict's rush: "The biggest thing in my mind is buying Carson time. Don't let this guy go around you. If he's going to try to bull-rush me, I'm a big guy, so I can take the hit. So the biggest thing is don't let him go around you. Me and Jermaine (Gresham) sold the run pretty well, because they came right at me. Hit me right in the facemask."
Nelson finds the opening: "(The protection) was a big key so (Palmer) could dissect the field. Cover Two is pretty tough coverage to dissect, so at that point in time, I was just running to my spot."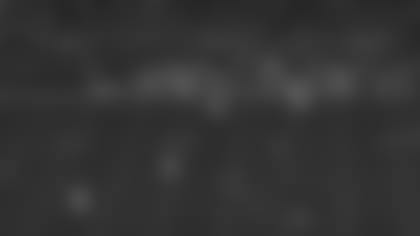 Nelson finds the opening in the coverage: "(The play-action) held the safety (Reggie Nelson) to my side, and the motion by Fitz and his route held the safety (George Iloka) to the back side. It gave me a lot of leverage on both of the safeties. You've always got to account for a guy like Fitz because of his track record and what he's been doing this season. You've got to respect him no matter what."
Veldheer knows how potent the passing game can be when Palmer has time: "That kind of stuff is great once we're able to set them up. You see how deadly those shots are."
Fells' job is done, and he watches the rest of the play unfold: "When (Burfict) stops attacking me and turns around, that's when I know the ball has been released. So I saw J.J. make the catch and take off from there. You can see it. I run straight down there to congratulate him."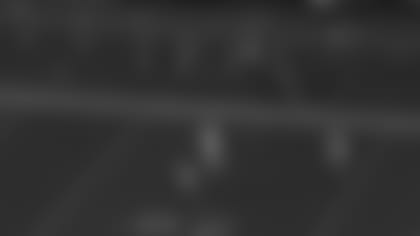 Nelson settles under a pass that traveled 54 yards in the air and takes it to the house: "It was a great throw. I didn't have to break stride or anything like that. I just ran right under it and kept running."
Fells sees a rare combination of skills in the speedy Nelson: "He's made quite a few one-handed catches this year. Most of the time, the guys that have speed are projects, so coaches are working on their hands. But with J.J. you don't have to work on that. He's got the full package. Except for the weight."
Nelson had four catches for 142 yards in place of an injured Michael Floyd. Palmer wasn't surprised: "I think everybody's expecting that out of J.J. He is young and he is green as far as playing in big-time games, coming from a smaller school. But I think everybody expected him to make the plays that he did and I'm just glad to see him do it. He's starting to realize that he's not just a player. He's a big-time player."
Images of the Cardinals cheerleaders during the Week 11 victory over the Bengals