The Cardinals were nursing a one-point lead against Washington on Sunday, and conventional wisdom said to keep piling up first downs to run out the clock. Quarterback Carson Palmer instead went for it all, and helped seal the win on a beautiful 42-yard touchdown pass to J.J. Nelson. "You go back to your roots," coach Bruce Arians said of the daring call. "When the game is on the line, no risk-it, no biscuit." Cornerback Patrick Peterson intercepted a pass on Washington's last-gasp possession to give the Cardinals a much-needed 31-23 win. Palmer, Nelson and left tackle D.J. Humphries dissected the passing touchdown in this week's edition of Cardinals Film Room.
The situation: The Cardinals had a second-and-10 from the Washington 42, leading 24-23 with 2:03 left in the fourth quarter.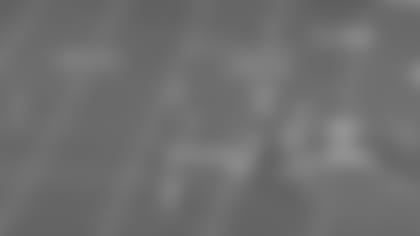 Washington's front expects a run, which Humphries is happy to hear: "They called it out. (Defensive end Ricky Jean Francois) said, 'You know the Duo is coming.' That's not what we call the play, but I guess that's what they call it. It's one of our main running plays that we do, and that's one of the formations we do it in, so they were calling it out. We did a pretty good job of selling it."
Palmer knows the formation screams run and sees a defensive look that could be fruitful for him: "We're hoping so. You never know for sure until post-snap, but we'd been running the ball very successfully from the first quarter to this point in the game. We're hoping we'd get the reaction out of the secondary we got."
Nelson wasn't originally supposed to be in the game, but Michael Floyd got sick in the huddle: "Me and Britt (Golden), we were actually talking. I just heard coach (Darryl) Drake yelling, and I look on the field and I see Mike bending down. He turned to me and he's like, 'Do you want to run this play? Do you think you can run this play?' I was like, 'Yeah. What is it?' He told me the play, and I actually ran the play in practice. So once I got on the field and he called the play, I was just praying they were in the defense to where Carson was able to give me the ball."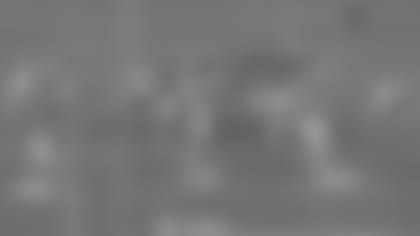 Humphries lurches forward to fake a run block: "You be more aggressive and then settle down. That way the linebackers will bite up. You see, (linebacker Mason Foster) is frozen. This guy (linebacker Will Compton) was probably going to drop anyway. When they see us with our pads down like this, like we're coming off the ball, these guys are usually going to bite up, which opens something across the middle, too. That's what we're trying to do."
Palmer likes what he sees: "You try to come off the ball and make it look like a run, and they did a good job of that. You can tell the linebackers stepped to the ball, which is what you want. You can see that (safety Duke Ihenacho) is still in the picture. He's not getting a bunch of depth. He's ready for the run. You can see (safety Donte Whitner) is back-pedaling, so he obviously came up with the run fake. The guys up front sold that the run was coming and J.J. did the rest."
Nelson needs to get behind Ihenacho to have a shot: "The play-action was definitely a big part of it, especially with a guy like David (Johnson) in the backfield. With the play-action, it kind of freezes the safety. By that time, I'm on the cornerback's toes, trying to beat him."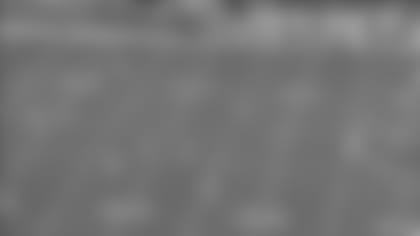 Palmer needs a lot of time to throw, and gets it: "It's a seven-step, two-hitch throw. It takes forever. It's the longest throw in any designed pass play of any offense, so it takes forever. They were blocking forever, and that's a really good front. They did a great job."
A patchwork offensive line holds up, which Humphries loves to see: "That's pretty ideal. That's a good shot right there. That full umbrella-looking pocket, and he's stepping up in there and slinging it. If he has to move off the spot, he probably doesn't go (deep)."
Palmer takes the shot because Ihenacho was flat-footed: "I think he got kind of stuck with the ball in the run game. You can tell he's trying to retreat, but J.J. runs 4.2 and that guy was just too low. His eyes were in the backfield on that run fake, which gave J.J. that shot."
As the ball gets launched, it's all up to Nelson: "He kind of grabbed me, but at this time I'm like, 'I've done come too far now. I'm in the end zone so I'm looking to make this play.' I was just trying to block out him grabbing my jersey to focus in on the ball to make the play."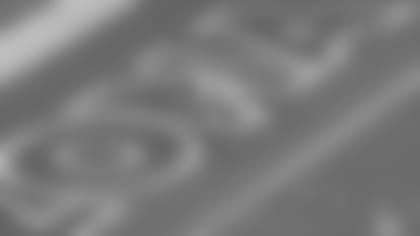 Humphries turns to watch: "The D-lineman kind of stopped when he saw Carson got the ball off, so I was watching. I couldn't see it, but I really hoped he caught it because I sprinted all the way down the field. When they started doing the review, I was like, 'Damn, I really hope he caught that, because I'm tired right now. I just sprinted like 60 yards.'"
Nelson hauls it in, and despite a replay review, knows the ball was safely tucked: "I was like, 'This is a waste of time.' I guess towards the end of the game everything's a reviewable play, but I wasn't worried."
After a year of critical drops by wideouts, Palmer gets some help from Nelson: "A phenomenal play by a young guy. You look back at his catches, and his big catches, they are all at critical points in games. He's just one of those guys that when the lights come on, and a big play needs to be made, he's made them."
Images of the crucial late-game touchdown reception