Cornerback Justin Bethel blocks his third career field goal attempt
The Cardinals almost had a 10-point swing on one play against the Cowboys, when cornerback Justin Bethel blocked a 35-yard field goal attempt and cornerback Patrick Peterson raced toward the opposite end zone with the ball. Cowboys tight end Jason Witten eventually tracked Peterson down, but the block still saved three points. Bethel, Peterson, safety Rashad Johnson and coach Bruce Arians broke down the sequence in Cardinals Film Room.
The situation: The Cowboys faced a 4th-and-11 from the Cardinals 17 with three seconds remaining in the second quarter, trailing 14-10.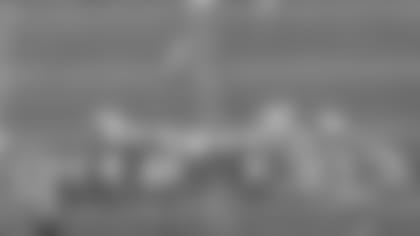 Bethel starts wide and waits to see who Cowboys tight end James Hanna (back right of line) chooses to block:  "Usually people assume that you're not going to be able to get there off the edge because of the distance. I know coach Amos (Jones) always tells our wings not to chase the ones because they're probably not going to get there anyways. I told Shad, 'I'm going to widen out, so if I don't get there, you should be able to come free because he's probably going to try and come get me since I've blocked kicks before.'"
Linebacker Lorenzo Alexander occupies Cowboys tackle Jermey Parnell, forcing Hanna to guard against two players. Johnson: "Zo did a great job of getting on '78', so when I came through the gap, (Hanna) tried to double-tap us both and Justin was able to get through really clean. If you don't go right to him, he gets off the ball so fast. He's got cat-like instincts."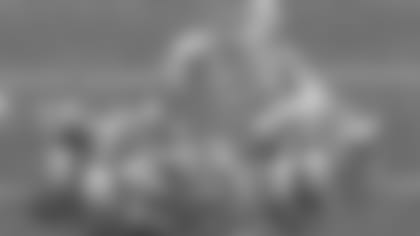 Bethel knows he has a chance to block it: "Basically, I can tell by my get-off and how much (the blocker) gets on me. Once I come off and get to about shoulder length with him, I can tell if I'm going to get there or not.  It's like slow motion. It usually takes about five steps because the play is about two seconds or less, or something like that. Within my first two or three steps -- I've done it so my body gets familiar -- it's bam-bam, 'OK, yeah, I can get there.'
Johnson is right behind him: "I think (Hanna) was going for Justin, but then when I got as free as I did, that's when I felt a little trip on my leg. He tried to trip me. We saw it from the kick before. We were both like, 'Man, I could have gotten through and got that one.' He was like, 'I'm going to adjust my alignment.' I said, 'OK, I'll pick my feet up this time.' We were both looking to make this play. It was all on '84' to make a decision, and whatever decision he made was going to be the wrong decision."
Bethel gets his left hand squarely on the ball: "I've had it go under me before, over me. It's not a perfect science, so you just want to get your hands and go at an angle – not too high, not too low. You just go where the ball's going to come off at."
Bethel's block didn't surprise Arians: "Oh, man. He has an unbelievable knack for turning the edge of that corner and then getting down low enough to explode and block it. You can't say enough because every kicker you go against knows he's over there. He may not block some, but he's going to force some to miss, too."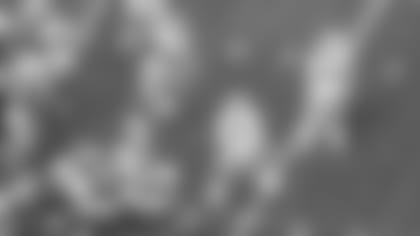 Bethel searches for the carom: "I remember feeling it, so now I'm looking. I got so much of it, but he's a strong kicker. I looked in front of me to see if it bounced forward. If I block it, I'm automatically looking for it to see if I can pick it up and run with it. Once I blocked it and didn't see it, I looked back and saw Pat with it, so the next thing I'm thinking is to just block for him."
Peterson catches the ball and takes off down the sideline: "I had some room but I didn't have enough room to make something happen. As soon as the ball was blocked, those (Cowboys) took off running because they knew somebody was going to get their hands on the ball and possibly score. So they had a headstart on me."
Johnson watches the return unfold from the ground: "At that point, I thought we were going to score a touchdown. We got the ball in the guy's hands that we want to get it in."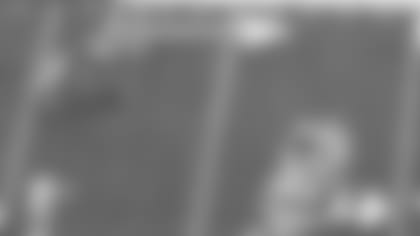 Bethel hopes to spring Peterson with a final block: "I was trying to get in front of (kicker Dan Bailey) but he was moving pretty good, and I was trying not to get a hold (penalty). I really think if I could have just held him up a little more, (Peterson) would have been able to out-run them."
Johnson realizes Peterson might get caught: "You look and Jason Witten is chasing him and his angle is probably the goal-line. Both took really, really good angles."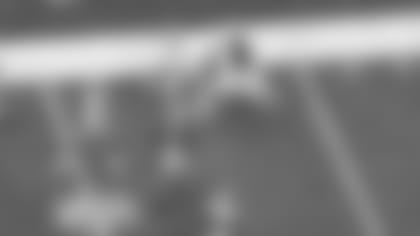 Peterson tries to cut inside but is wrapped up by Witten:"They (his Cardinals teammates) are definitely giving me a ton of grief by being caught by Jason Witten and the kicker."
Johnson wanted the seven points but feels good about still being up four: "They have to score a touchdown to grab the lead from us, and we knew we were going to come out and play well to open the second half."
Arians didn't let it go very easily: "I just still can't believe we didn't score a touchdown on that play."
Bethel thought the Cardinals would take over at the Dallas 19: "Truthfully, I didn't even remember what the time was on the clock. After he got down, I'm looking like, 'OK, the offense is going to be in position to score.' Then I'm like, 'Oh, wait a minute. We don't have any time left.'"

Images of CB Justin Bethel blocking a field goal and CB Patrick Peterson running with the loose ball