The Cardinals' lead over the 49ers vanished with under two minutes remaining on Sunday, and a loss would have been severely detrimental to their playoff hopes. The offense answered with a critical drive that was punctuated by a Chandler Catanzaro game-winning field goal as time expired. The biggest play in the sequence came with the Cardinals backed up in their own territory, when quarterback Carson Palmer scrambled to find wide receiver Michael Floyd for a highlight-reel 26-yard gain. Palmer, Floyd and left tackle John Wetzel analyzed the play in this week's edition of Cardinals Film Room.
The situation: The Cardinals had a second-and-10 from their 15, tied at 20 with 1:47 left in the fourth quarter.
Floyd's original read is basic: "It's single-high safety and I had a curl route."
Wetzel knew a defensive line stunt could be coming, as the 49ers were using variations of them throughout: "When they run a twist, there can be different angles, so you've got to prepare for that. You learn from that. They won't necessarily always go as wide. They can go really tight. They can grab one of us. There are so many different ways they can do it. You can't just sit back and expect something. Even if they show it on film, they can do something else."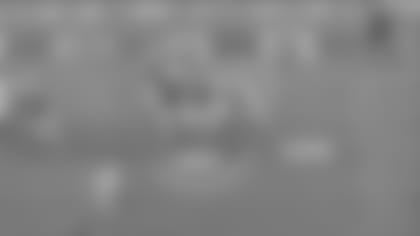 San Francisco defensive linemen DeForest Buckner and Eli Harold indeed do a twist game, and it works. Wetzel: "I passed it off and Mike (Iupati) is hitting (Harold). I'm waiting for (Buckner) but I went in a little too far. He came real tight off of him, almost like he wasn't moving, so it was a little bit weird. It caught me off guard."
Palmer sees the pressure: "They ran a quick stunt and got the edge. The coverage was pretty good and they ran a good stunt which flushed me out. It got me rolling out toward Mike."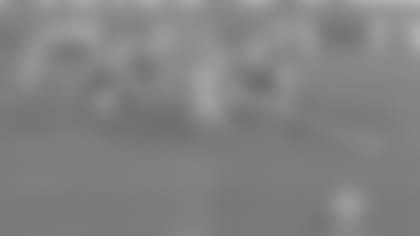 Wetzel tries to stay with the play and gets help from Palmer: "Even when something happens like that, where we don't pass it off right, he knows what's coming, so he has a crease to run into to buy some time. He's really good at that. He's a smart player. And he's got a feel for that stuff, too. You can't teach that."
Palmer moves up in the pocket then darts out: "I think you just react. You see the loops or the games or the stunts they're running, and I'll try to find that hole or the soft spot in the pocket if you're going to stay in the pocket. This was one of those ones where he came around and I wouldn't have been able to stay in the pocket, so I kind of found a seam and got in that seam."
Floyd chuckles at Palmer's movement skills: "Carson's never known for his mobility. To get out of the pocket and to see me downfield is incredible."
Palmer assesses the situation on the run: "In a scramble situation, you like to have somebody going deep, and somebody going toward the sticks to get the first down, and somebody just getting open over the middle. (Floyd) was going deep, and I think there was the safety (Jaquiski Tartt) back in the middle of the field that was going over the top, so when I threw it, at the last second I took some air out of it."
Floyd finds an open area: "I saw Carson roll out to the left. When you're the widest guy, you take off as a go route. I felt like I was the widest guy at that time. That's when I took off. He made a great throw that gave me a chance to catch the ball, and I came down with it."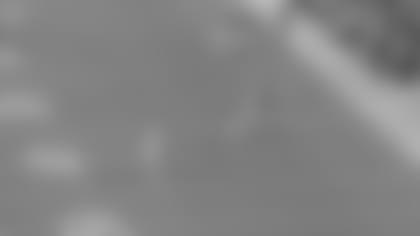 Floyd's spectacular catch was held up on video review: "Film don't lie. I think I came down with it."
Wetzel knows the Cardinals would have been staring at a third-and-10 without the completion: "That was a huge play. It kept the drive rolling."
Palmer had glowing praise for Floyd during the week and his confidence was well-founded: "From here on out, that's what we expect from Mike. Like I said, Mike can have a big second half of the season and that started (Sunday)."
Floyd felt the catch would kickstart the winning drive: "I think we always feel good when the ball's in our hands. We feel like we can go downfield, score and win the game."
Images of the Cardinals cheerleaders during the Week 10 home game against San Francisco