S Rashad Johnson's 88-yard interception return for a score gave the Cardinals some life after a slow start
The Cardinals found themselves in a 17-point hole after one quarter on Sunday against the Falcons, and Atlanta was driving again early in the second. Safety Rashad Johnson helped keep the Cardinals within striking distance when he picked off a pass by Falcons quarterback Matt Ryan and returned it 88 yards for a score. Johnson, linebacker Larry Foote and linebacker Alex Okafor broke down the play for Cardinals Film Room.
The situation: The Falcons had a second-and-5 from the Arizona 25, leading 17-0 with 14:26 left in the second quarter.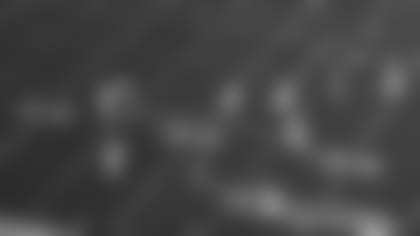 Johnson sees a familiar formation and changes the defense: "Normally in empty (backfield), when '11' (Julio Jones) is outside they run the screen. This time they put '11' inside and flipped the formation. At this point, as you can see I'm looking at Pat (Peterson), and I'm telling him I'm going to jump the seam and he's going to take the seven (route). It gives me an opportunity to pretty much make a play right here."
Linebacker Larry Foote is now responsible for anything short: "(Johnson) signaled (the switch) to me. It was 3-on-2 basically so I was taking underneath or inside."
Linebacker Alex Okafor prepares to get after Atlanta quarterback Matt Ryan: "Since it's empty and there's no running backs going to the flare, no running backs chipping, I basically have the freedom just to rush. Only thing about empty is that it can't be an uncontrolled rush because there will be escape plans for him to scramble and in empty there's going to be a quick pass. Besides those two things in my mind, I can kind of get after him."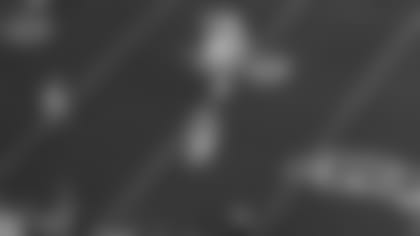 Foote intentionally bumps Jones on his way to cover running back Jacquizz Rodgers: "I push him from the inside so it won't be as hard for (Johnson) because he'll have him inside and (Peterson) will have him up top. Once (Jones) is going deep, I push through him and climb to (Rodgers)."
If Rodgers and Jones both went vertical it could have put Peterson in a bind, but Johnson knew that wouldn't happen: "When you put a back out wide like this, he's going to run a 5-yard stop or something short."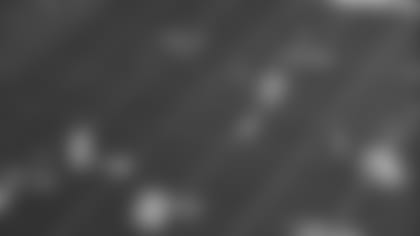 Johnson watches Ryan stare down Jones and makes his move: "We knew '11' was getting the ball for sure. They're always looking for him in that formation. I broke on it immediately when he began his throwing motion."
Foote helps the return get going by slowing two Falcons: "I didn't even know what happened. My back was turned. I put my hands on (Rodgers) because that was my coverage, and then I turned around and I think I blocked (wide receiver Devin Hester, No. 17). He was coming over so I chipped him."
Okafor becomes a downfield blocker: "Every time somebody picks it off in practice, the D-Line, or whoever is not involved with the interception, turns and goes to look for the nearest offensive guy. After I saw him pick it off, I turned and found the nearest O-lineman, which was the guy I was rushing against. I put my hands on him and tried to drive him back."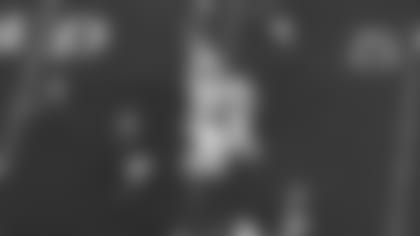 Johnson sprints toward the right sideline and then makes a cut-back to his left: "When I went in as a freshman in college I was a running back. Growing up playing running back and offense definitely gives you some type of confidence that when you get the ball in your hands you'll be able to make a play with it."
Okafor's block helps spring Johnson: "I knew it didn't have to be a big block. Just get my body in the way to create a cut-back lane. Rashad did most of the work. I play special teams and that's the mentality with punt and kick return. You don't necessarily have to pile drive a guy, just get in the way."
Johnson angles left and then cuts back up the middle: "I wasn't really worried about any offensive linemen. I was looking to try and see where the faster people were. I was coming out and I saw the tight end (Levine Toilolo) to the left. I actually missed (cornerback Antonio Cromartie) right there. If I would have seen Cro I probably would have stayed that way because he can block him, Jerraud (Powers) has got (wideout Harry Douglas) sealed and I could have walked in. I saw (Toilolo) gaining on me so I just decided, 'Hey, man, let's get north as fast as you can.' Jerraud was doing a great job of blocking Harry. Harry was fighting Jerraud so much to try and beat him across the face that I just planted and hit it north behind him. He wasn't going to be able to redirect because he was so caught up in getting across Jerraud's blocking and not let me get to the other sideline."
Okafor watches the rest of the return unfold: "After I made my block, there was really nothing else I could do. The only thing I could do was hurt my team by getting a block in the back or clipping or something. It was just up to those two blockers in front of him. Who is that, Big Dan (Williams) trying to get after somebody? Big Dan is kind of in the position that I'm in, that red zone of blocking somebody in the back. It's just up to (Johnson) to finish the play and he did."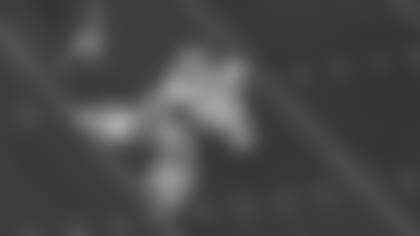 Johnson races past Rodgers, Douglas and Jones into the end zone: "When I turned it up right there I showed my speed. A lot of guys don't think I'm that fast but I think I showed a different gear right there. Those are three pretty fast guys in that picture. After running 80 yards I'm pretty tired, but I was able to shift it to another gear, and at that point I was just fighting for the end zone. Whatever I had to do, I was going to do all I could to get it very close if not in."
Okafor was waiting for a big play after the slow start: "It gave life to us. Throughout the whole game we were always like, 'We need to keep going and we'll make a run eventually.' It didn't happen but that was our mindset. The pick-six was a great boost. After that play, it was like, OK, we've got a shot now."
Foote gives Johnson props for his finishing speed: "That was awesome. Especially at the end, after running 70 yards, then he had another burst to get into the end zone. That was super impressive. He probably didn't even know he had that. I think the nose for the end zone, the smell of the end zone, made his legs turn over a little faster than they normally do."