Good blocking helped spring running back Stepfan Taylor's long run

The Cardinals didn't need many points with the way their defense dominated on Thursday night against the Rams, but found some welcome breathing room with a field goal early in the fourth quarter. Running back Stepfan Taylor shook loose for a 21-yard gain, setting up Chandler Catanzaro's fourth successful three-point try to push the lead to two possessions. Taylor, tight end Darren Fells and guard Ted Larsen broke down the run in Cardinals Film Room.
The situation: The Cardinals faced a 2nd-and-9 from their 46, leading 9-3 with 12:51 remaining in the fourth quarter.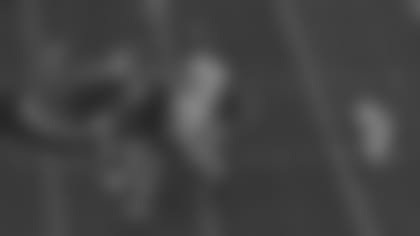 The Rams didn't stack the box on this play, even against third-string quarterback Ryan Lindley. Taylor:"This was kind of common. They played down (by the line of scrimmage) a little bit more but they kept it pretty much the same until they knew we were going to start running the ball (exclusively)."
Larsen said the Cardinals' play-call contributed to it:"We were doing a sub-(formation) run, so it opened the box up. It's sub-personnel, so we tried to spread them out in a passing-type formation."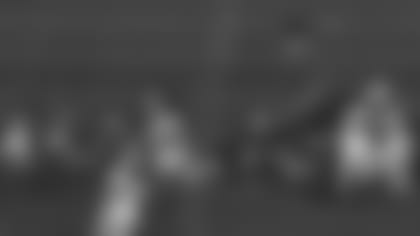 Rams defensive end Robert Quinn comes free in the running lane immediately, but Taylor doesn't panic: "When I'm taking my zone steps, I'm taking wide steps and I'm reading how they're flowing. I was just being patient. I just wanted to get my body square to the line of scrimmage and let it play out."
Taylor gets the play started by ducking left past Quinn. Larsen: "That's what you need out of your running back. You're not always going to have every guy blocked, so you need a guy who is going to run downhill, and a guy who can make somebody miss. He did a really good job of making him miss, and as you can tell, it's formationed pretty good where, besides (Quinn), we have it man-on-man and we have a big cut-back right there."
Fells has two blocking assignments on the play: "I know I'm going up to the safety and (wide receiver Larry Fitzgerald) is coming down to get the D-end. Since (defensive end William Hayes) is in pretty tight, and obviously he's a bigger guy, I know I'm going to give (Fitzgerald) a little bit of help before I go to my man."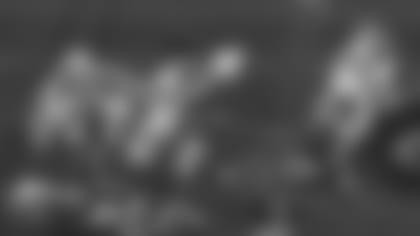 Larsen shot to the second level immediately and slowed Rams linebacker Alec Ogletree: "I'm trying to block my guy so (Taylor) can go outside of me. He ended up hitting it backside, and when he does that it's on him to make the guy miss. And he did. He saw daylight. You've got to let the running backs see what they see."
Fells reaches the secondary and gets a block on cornerback E.J. Gaines, which is no easy task: "It's extremely difficult. He sees the ball and I don't. All I see is his footwork, so I need to get as close as possible and read the body language from there. Read what way he's trying to go and then push him in the other direction. I know he's a lot faster than me, but once I get my hands on him I know I can block him. I'm mostly trying to bubble outside of me, so Stepfan can go up the hash right there."
Taylor said the downfield blocking helped spring him for the big gain: "That's where the big runs happen, when they're up to the second level and you're able to read and play off of that. Once I broke it, I was just trying to read the blocks and see the different angles they were coming from. Try to cut back. It's kind of natural reaction."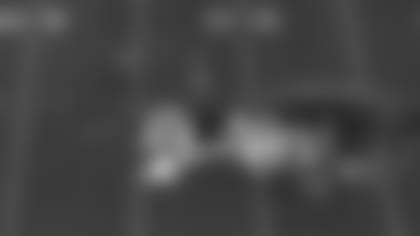 Fells had previously been unaware of Taylor's location, but now feels Gaines' body language shift: "Reading the defender, I can feel he's coming up. The defender is trying to go around me right there, so I know he's coming."
Taylor reads what he can but knows he cannot slow up: "I tried to set up these other blocks right here, but also at the same time, you've got to know they're still right behind you. I didn't know how far they were behind me. You're really just out there running at that point. Not thinking too much about it."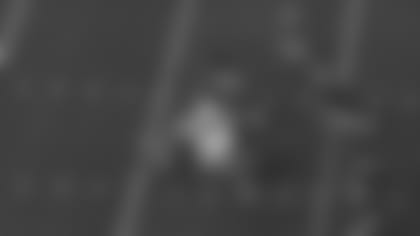 Larsen was happy with the run but disappointed the drive didn't end in seven points: "We want to score touchdowns. The field goals aren't going to get it done. The points are good, but when you're in the red zone you need to score touchdowns. It was a big run but it was disappointing not to score a touchdown."
Fells had a good feeling about the game's outcome once the lead stretched to two possessions: "We know we have one of the best defenses in the league, so once we get that lead we know they're going to hold it."
Taylor said he often excels late in the game after getting consistent carries: "I'm used to in the past having a workload, and as the game goes on, you see how they're trying to tackle you, you feel how they're playing, you see how they react. Also, if I come downhill and give them a hit, they're not going to want to come up that same way the next time, so then you try to play off of that. As the game goes, I feel like I get stronger. You get used to things, everything slows down. You get a feel of how they do. It's also setting the tone. You want the opportunity to come in and buck somebody, let them know you're there. They'll be a little hesitant the next time, and then if they're not and they fly in to try to (match the power), it's easy for me to make a move."