The !Cardinals entered Sunday's game against the Rams without their top two running backs, Chris Johnson and Andre Ellington. That didn't slow them down, as the duo of David Johnson and Kerwynn Williams led the way during a 175-yard rushing day. Both showed impressive skills, and it helped that the team had one of its finest blocking days of the season. Each aspect was on display in the third quarter, when Williams took a handoff and raced 35 yards for a touchdown. Williams, tight end Darren Fells and left tackle Jared Veldheer broke down the key score in this week's edition of Cardinals Film Room.
The situation: The Cardinals had a second-and-5 from the Rams 35 with 1:37 left in the third quarter, leading 17-3.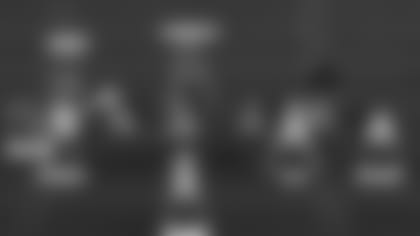 Williams knows this run takes time to develop: "On this particular play, you've got to be patient because the pull is coming from a long way. You want to make sure (tight end Jermaine Gresham) is able to get there and has enough time to get his block, and you're not running up his back."
Veldheer blocked defensive end Matt Longacre on this run earlier in the game but will hit the second level this time: "Beforehand they had crashed (Longacre) down. So I'd block him and the two tight ends (Gresham and Fells) would come around and hit (safety Mark Barron and linebacker James Laurinatis). We hit them a couple times, so (this time) they were just going to play (Longacre) straight. So I'm going to go through and get Laurinaitis and (the tight ends) are going to kick out."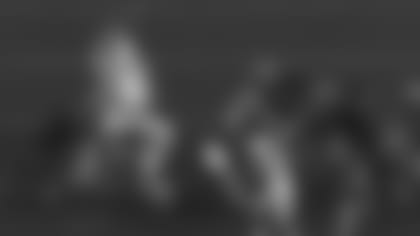 Fells sweeps across and hits Longacre: "He sort of tried to collapse the hole, so my biggest thing was not to let him collapse the hole and give Jermaine (Gresham) a chance to come in there and increase the size of the hole."
Williams takes the handoff: "At this point, I'm looking and I can already see that the hole is already formed. I have enough faith that Jermaine is going to get enough on that guy that's coming around the corner to keep him out of that hole. I just trust my blocking. Darren is already in great position kicking his guy out."
Veldheer's blocking responsibilty depends on how the defense attacks the run: "If (Longacre) crossed my face, I'll take him. If not, I'll go up to the second guy. I just try to square him up as much as possible, just in case the ball goes outside or back up (the middle)."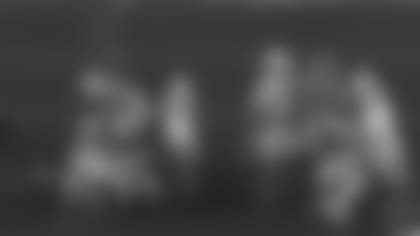 The interior offensive linemen do a great job on the right side as Williams runs through untouched: "Mike (Iupati) did a great job of coming down and making sure he kept his guy out of the hole. So did Lyle (Sendlein). They both did great jobs. They made a big hole for me to run through."
Veldheer on Iupati paving the way: "Road-grader. He crushes him."
Fells holds up on the other side: "Size is everything. If I was 210 pounds I probably would have been knocked back. Being able to be a big guy and kick out, it helps a lot."
Veldheer marvels at the running lane: "That's a pretty picture right there. It's guys working hard, doing their job and getting a big one to break late in the game. It's set up from all those little grimy runs in the beginning of the game. You finally get the big ones to break."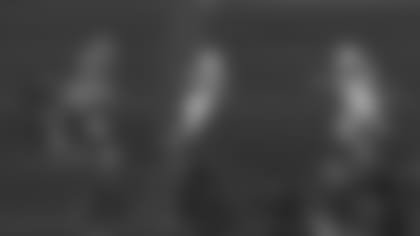 Williams gets to the second level in a hurry: "I kind of peeked and saw the safety (Rodney McLeod) was coming and there was no one over to the right. I knew I had to run away from that guy in order to get there. Larry did a good job of keeping (safety T.J. McDonald) occupied. He made it to where I only had one guy to worry about."
The Cardinals wideouts have been lauded for their blocking skills. Fells: "It's a huge advantage for a running back to know, that not just the line is going to block really well but the receivers as well. It's going to create a lot more gaps, a lot more holes to be able to do what he does best. And Kerwynn is a great runner. Every time he's in there, he's proven that.  For him to be able to have a crease like that has to be one of the best things to see as a running back."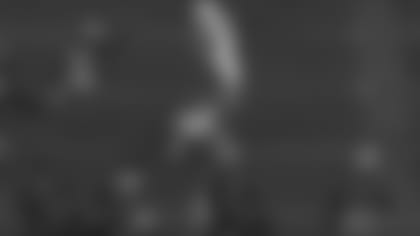 Williams dodges McLeod and cruises into the end zone: "It felt good seeing nobody was back there. Being that it was my first career touchdown, I was extra excited."
Fells knew Williams could step in seamlessly at running back: "(Coach Bruce Arians) is always talking about 'Next Man Up.' To be able to come in as fourth string and have an impact on the game is a huge thing. You don't have to worry about if someone gets hurt who is going to fill that spot, because we have a talented guy backing him up. I worked out with Kerwynn at Exos (performance facility). From then I could tell he had a lot of talent."
Williams drops the ball after scoring and then went back to retrieve it: "I remembered late, but as long as you remember. I don't know what I'm doing with it yet, but I might have to keep that one though. My parents got the last two (last year's 100-yard rushing ball and a game ball). Can't give them every ball."
The top images from the Cardinals' 27-3 victory over the Rams in Week 12