Wide receiver Michael Floyd notched the first of his two touchdown catches on the opening drive

The Cardinals drove down the field with ease on their first possession Sunday, and it culminated with a 20-yard touchdown pass from Ryan Lindley to Michael Floyd on a flea-flicker. It was Lindley's first career touchdown throw and it set the tone for his best day as a professional. Lindley, Floyd and running back Marion Grice analyzed the play in this week's edition of Cardinals Film Room.
The situation: The Cardinals had a first-and-10 from the San Francisco 20 with 11:01 remaining in the first quarter of a scoreless game.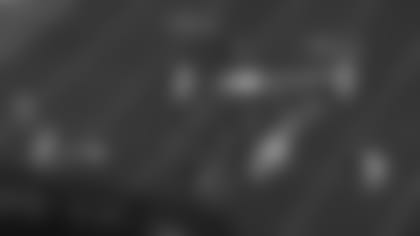 Lindley on the play-call: "You kind of get excited for any trick play like that. You're stoked for it. You don't spend too much time on it. We may have gotten one rep of it in practice that week. You just want to make sure you get it down that one chance you get, and then hopefully when the time comes it's a perfect situation, like it was."
Grice has to sell the run so the linebackers and safeties move forward: "Watching film of those guys, they really flow. They press the hole. They try to beat the back to the hole, and knowing that, my job was to press it and get them to bite."
Lindley likes the coverage but there's one caveat: "It worked out perfect. That's kind of the coverage you want for it. Your one fear is one guy sitting in the middle of the field to be able to roam and see it coming, (who) won't suck up on the run."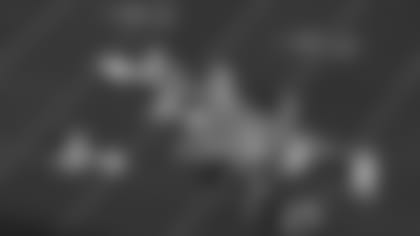 Grice pitches the ball once he sees the defenders closing in:"That's pretty easy (to execute). (Lindley) had the responsibility of being directly behind me. It's just trust in my teammate knowing he'd be right there. Regardless if he was slanted over to the right a little bit, I was just going to have to give him a nice little pitch back."
Lindley takes a very quick look down the field before the ball arrives: "You take a peek at the snap, but it's first things first – you want to make sure you get the ball, because you never know. Marion might have pressure up front, there might be guys on his back. Whether or not he even has time to pitch it back is a thing that's always a problem. You want to make sure you have the ball, but in your peripheral you can kind of confirm the coverage that you saw pre-snap."
Floyd sells the block:"They played a cover-4, and Antoine Bethea comes down to fill the hole between the guard and the tackle for a run play. We faked the run, which he jumped it. Both of them did, the corner (Dontae Johnson) and the safety. I was left alone.* *I'm pretending like I'm blocking the safety, the most dangerous man, and then I shed past it."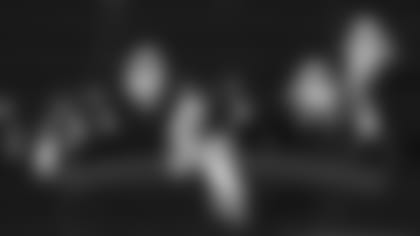 The run fake and good blocking give Lindley time: "These guys did a great job. It all starts up front when you sell the run. That's a huge thing about it. Just to stay on your blocks and to win the one-on-one battles to give Marion the opportunity to sell the run and take a couple steps and then turn around and throw the ball is good in itself."
Grice watches Bethea (No. 41), who drops into coverage: "If he met me in the hole, I would turn and block him, but he dropped back and Mike was already gone."
Floyd breaks vertical and the 49ers are caught flat-footed: "Yep, already (knew the defenders were in trouble). You can tell from that picture and I could feel it when I was out there."
Lindley sees Floyd running free, and all that's left is a good throw: "With these plays, you usually think of a big, long (flea-flicker) from the middle of the field, where you don't want to overthrow them, obviously, but you want to give them something to run with and beat everybody down the field. Here, knowing that (it's a shorter field), hey, don't throw it out of bounds. Don't throw it too far. I just wanted to make sure it got up and down. You don't want to lay it up there because everybody's recovering. I tried to throw it straight in the back and Mike got a hold of it."
The plan all along was to call the play in a confined space. Grice: "(Coach Bruce Arians) said, 'I'm going to call it in the red zone area.' He called my number and I said, 'OK, that'll be one of my plays.' He called it, and we executed. Everyone picked up everyone we needed to and Mike did a great job of selling it."
Floyd gets both feet in-bounds before momentum carried him out of the end zone: "I realized I had room. I stopped a little bit early to make sure I had room to put my feet down."
Grice was involved in another trick play later, when his half-back pass for Floyd was well covered: "You get excited (about trick plays), but you have to be calm about it. You hope the defense is going to play it the way it was repped in practice. They did a little bit (on the halfback pass) but the guy sat back just a little tiny bit because we got them on this play. They were expecting that play, so I did what my coach told me to do, which was throw it away if Mike was not open."
The touchdown ball was retrieved so Lindley could keep it as a memento: "The guys back here kept it for me and I gave it to my wife yesterday. She was excited. ... It was great. Better late than never. I was glad to finally do it – frustrating it took this long (an NFL-record 229 attempts). It was exciting, and I think it is for anybody who gets to play in this league, any time you get a first. It made me realize, too, that once you get it, you want another one. It's insatiable at that point. It's exciting and hopefully we get a couple more this week."