!In a game full of explosive plays, the Cardinals struck first in Sunday's 48-41 loss to the Saints. The offense broke out the Wildcat, a unique offensive formation which lines up quarterback Carson Palmer at wideout and puts a pair of running backs in the backfield. Kerwynn Williams took Palmer's place in the shotgun alongside David Johnson and again proved his worth with the ball in his hands, slicing 49 yards to the end zone. Williams, coach Bruce Arians and center A.Q. Shipley dissected the play in this week's edition of Cardinals Film Room.
The situation: The Cardinals had a first-and-10 from the New Orleans 49 with 12:39 remaining in the first quarter of a scoreless game.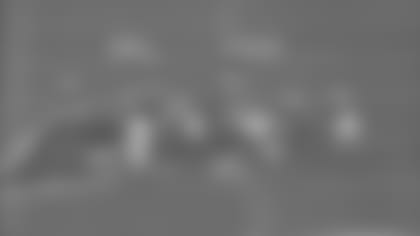 Williams must roll through the regular duties of a quarterback: "Pre-snap really the only thing I'm making sure is that everybody gets set. You don't want to get a penalty. It's a different formation so there are a lot of guys lining up. Carson's lining up at receiver so you've got to make sure he's set out there. That's really the main thing I'm looking for in the beginning."
Shipley explains the advantage of a Wildcat formation: "Whenever Kerwynn is back there, they have to account for him. There are six (blockers), but we really have an extra guy they have to account for with David. (Saints defensive end Cameron Jordan) is the free man. He has to make a decision whether to go for (Johnson) or (Williams). That's kind of the whole premise of the play."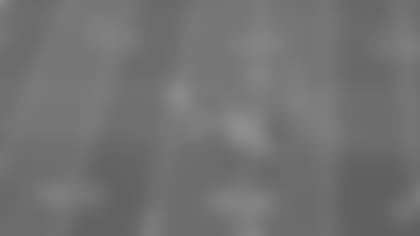 Williams keeps his eye on Jordan: "Initially when I'm going through the mesh with David and making the read, I'm looking at that defensive end. The defensive end went down hard and chased David, so that was pretty much my read right there. Once he bit down and took the bait, I pulled it and made my read."
Shipley and the other offensive linemen dive to their left: "We're all selling this way, this way, this way. Basically (Kerwynn) is reading (Jordan). If he goes inside, he pulls it. It was a great job. Once he saw that, he pulled it."
Arians won't divulge whether a pass option has been built in to the Wildcat, but is happy to grade Williams' passing ability: "Average. He was a running quarterback."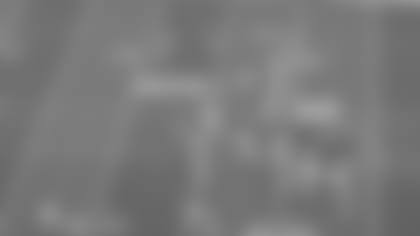 With so many players flowing the other way, Williams has room to maneuver: "I was making a read on how much space I had between the sideline and (wideout Larry Fitzgerald's) block. The main thing there is I knew Darren (Fells) was on the outside, so I knew that guy in the slot (cornerback Sterling Moore), Darren would do a good job getting a body on that guy and really all I had to do was beat that linebacker (Craig Robertson). I knew if I got around, I'm just reading Fitz's block."
Arians loves the wrinkle the Wildcat adds: "He's really good at it. We couldn't stop him in practice, so we put it in. I think it's been an element of surprise a little bit, but it worked for him and it's worked for us really well."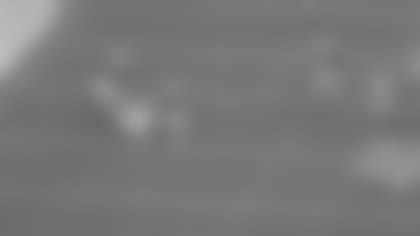 Williams cuts upfield and gets help from Fitzgerald: "He made a good block. He ended up flat-backing the dude (Roman Harper) who was over top of him, which made it easy for me to make that linebacker miss. It really opened it up for me."
Williams' shoe is ripped off by Robertson, something Shipley didn't notice live: "They said it on the sidelines. That was crazy."
Williams keeps on rolling: "It's a little bit different. There is obviously no traction. If someone else was coming up to me and I had to make a move, it would have been hard for me to make a move off that left foot. The biggest thing is you don't want anything embarrassing to happen. Your shoe is off. If you have to slow down suddenly or something, you don't want to look like a fool."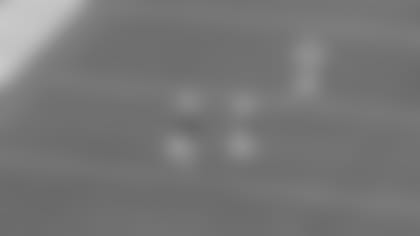 Wide receiver Brittan Golden joins Williams for the final waltz to the end zone:"It's an amazing feeling. When you see your teammate come up to you, you know there is nobody else even close."
Shipley knows the added dimension Williams brings to the offense: "Kerwynn has been a heck of an addition for us. He's a great change-of-pace guy with David. You put him in, and teams don't really understand or account for him, or understand the play because we don't do it that often. So it's a good change-up for us."
Arians likes having another explosive runner beyond Johnson: "It never hurts to give Kerwynn the ball."
Images of Cardinals running back Kerwynn Williams carrying the ball 49 yards for a touchdown