The! Cardinals seemed poised to escape with a 16-13 win over the Colts in regulation on Sunday, but Phil Dawson missed a 42-yard field goal as time expired. The teams instead went to overtime, and Indianapolis received the ball after winning the coin toss. The Colts could have won by driving down the field for a touchdown, but safety Tyrann Mathieu quickly ended that notion, intercepting the first pass from scrimmage in the extra period. Dawson found redemption with a 30-yard field goal four plays later as the Cardinals eked out the improbable victory. Mathieu, defensive tackle Frostee Rucker, linebacker Karlos Dansby and Colts quarterback Jacoby Brissett shared their thoughts on Mathieu's interception in this week's edition of Cardinals Film Room.
The situation: The Colts had a first-and-10 from their 26 with 9:55 left in overtime with the game tied at 13.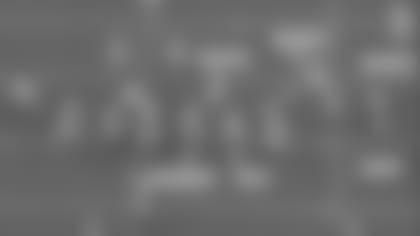 Rucker gets a favorable matchup: "What happened on the play which helped us, which uniquely didn't happen the rest of the game, is (safety Tyvon Branch) came down. When he acted like he was going to blitz, he took (right tackle Joe Haeg) off the double team, which freed me up for a one-on-one (against guard Jack Mewhort)."
Mathieu has an idea where Colts wide receiver Kamar Aiken might go: "I'd been getting a lot of in routes all day, so I wasn't really anticipating anything outside."
Mathieu doesn't want to bite too soon: "Once the ball was snapped, he kind of took me vertical up the field. He started to sit down, and I kind of wanted to pace myself. You don't want to jump the in route and then he runs an out route. There's always that possibility. I kind of just let him break and really just played off him. I had outside leverage the whole time. We had our hole player right here in (Karlos Dansby). I knew anything shallow, he was going to take. Anything that came vertical, 10-yards-plus, I would have to at least carry it back to (Dansby)."
Rucker gains the advantage on the pass rush: "I just turned the corner there. I had the edge."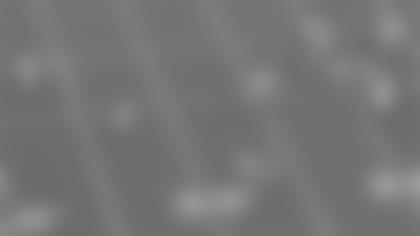 Rucker bears down in Brissett's field of vision: "I'm pretty sure, watching the game tape, he glanced and saw it. He had to get the ball out hot."
Mathieu stays patient in coverage: "I didn't undercut him. I just stuck my hand out and felt him. That's when I got my eyes back to the quarterback and I realized the ball was coming my way."
Brissett regrets the throw: "I saw it as soon as I let it go. A dumb decision."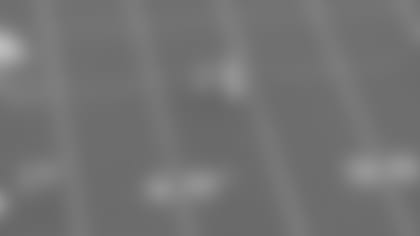 Mathieu uses an unconventional tactic on the interception: "Once I got a good break and I saw the ball – and I saw 'Los out of my peripheral – that's when I closed my eyes. The ball was just magically in my hands."
Mathieu won't be trying that again, but points out he got the preferred result: "Like I was telling (money linebacker Deone Bucannon) the other day, 'When you kiss somebody, sometimes you kiss them with your eyes closed, sometimes you kiss them with your eyes open. Either way it goes, it's still a kiss.'"
Dansby was swooping in for an interception of his own: "I felt the ball in my hand and all of a sudden I just see him run by, so he really kind of took it from me. That would have been 20 (career interceptions), man. He told me he closed his eyes, so I let him have it."
Mathieu avoids a collision with Dansby: "I'm so used to playing with Kevin Minter, and he's liable to knock you completely out of the game. And 'Buc' as well. I've always played with guys that are into friendly fire. I saw 'Los out of my peripheral, and I literally stuck my arms out and the ball was there."
Rucker knows consistent pressure will lead to good things with a talented secondary behind him: "There's not a lot of plays where people are left wide open. They blanket guys pretty well and keep things in front of them. Nothing really gets behind our guys. So we know as rushers up front, if we can get the quarterback for the most part off his spot and keep him in the box and get a hit on him, he should throw and erratic ball. That's what happened."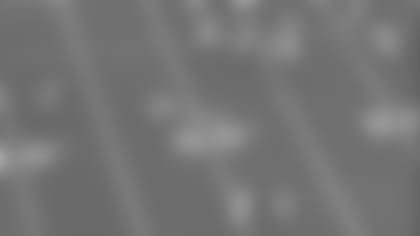 Rucker watches Mathieu's return while still tangled with Brissett: "I just tried to lay on the quarterback a little longer because I saw Ty cutting in. I didn't know if he was doing a house call."
Mathieu has a lane, but stumbles after the catch: "Had I caught it clean, I probably would have got to the sideline and I may have scored. I didn't catch it clean, so I had to run through traffic a bit. At that point, it's all about securing the ball. You definitely don't want to give the ball back to them, because at that point, all they would need is three points to win. We were already in field goal range. Me and Phil had a conversation on the sideline before the play. He owes me a bottle of wine (for giving him a second chance at a game-winner)."