Cardinals safety Tyrann Mathieu had the first of his two interceptions in the first quarter.



The
Cardinals took control of their 47-7 win over the 49ers with consecutive interception returns for touchdowns in the first quarter. Cornerback Justin Bethel picked 49ers quarterback Colin Kaepernick for a 7-0 advantage, and safety Tyrann Mathieu did the same four plays later to double the lead. "I've never seen it happen that fast," defensive end Calais Campbell said. "I've seen two pick-sixes, but not on back-to-back drives." It was the first of two interceptions for Mathieu on the day. Mathieu, Campbell and safety Deone Bucannon broke down the second pick-six in this week's Cardinals Film Room.
The situation: The 49ers had a second-and-9 from their 31, trailing 7-0 with 9:14 remaining in the first quarter.
Mathieu isn't locked into coverage of Anquan Boldin at the outset of the play:"We were in an inverted form of Cover 2 so I really have two options. I can either take my man, which was Anquan in the slot, or I could stay high and help Pat (Peterson against Torrey Smith) and let the linebackers push through."
Carlos Hyde entered as the NFL's leading rusher but Bucannon isn't thinking run: "We knew going into film that a majority of the time when (Kaepernick) is in the shotgun and his back's offset, the majority of the time it's pass. So I was already thinking pass."
Campbell reads the same thing and revs up the pass rush: "They kind of give it away in their stance. You can see (tight end) Vernon Davis is in a little bit of a 'ready to get out' type of stance. So I kind of had an idea they were passing. Kaepernick's foot was a little further back, and he could have done the read-zone, but it just felt like more of a pass feel. At that point they were running a lot, so you could kind of tell the difference in stance."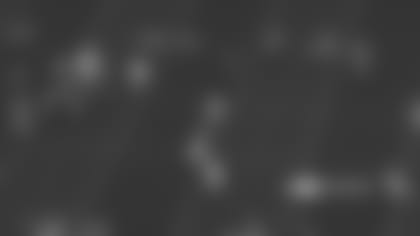 Kaepernick drops back, and Bucannon follows his eyes: "I'm actually supposed to be over here (with Boldin). I'm supposed to be in that window but Ty saw it."
Mathieu abandons his role as safety help and shoots down at Boldin: "With the play-action the linebackers kind of got stuck, so Buc wasn't able to push through. Once I saw Anquan come off the ball and kind of stop I was able to initially get a good break on it. Then when I saw the pocket kind of break down, that's when I was really happy with it."
Campbell keeps working toward Kaepernick: "It was one of those slide protections with the fullback and running back going to pick up the outside linebacker, with the offensive line all turning to their right. So I popped across (left tackle Joe) Staley because I was pretty much head up against him. In that protection, I've realized through the years the best way to win is going outside of that tackle and then being able to come inside."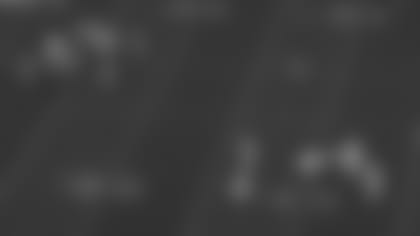 Mathieu was confident he had enough help on Smith: "Once I saw Pat kind of stay on him, I was able to break it off. As you can see, Pat is looking for my help. But once I saw him stay on it, I was really just able to drive on it. I'm watching (Kaepernick) the entire time. I probably looked at (Boldin) maybe once or twice, just to get a feel of where he was at. A lot of times when he does these stop routes, he usually pivots back outside. I was just able to close on it."
Bucannon said Mathieu's high-level IQ let him diagnose the play on the fly: "Shoot, that's just Ty being Ty. He does that every practice. It's no surprise."
Campbell gets past fullback Bruce Miller and starts making his free run at Kaepernick: "So I've got the fullback picking me up, but really he's a tight end – he's a hybrid. But I know I have to go inside because I saw a rusher (linebacker LaMarr Woodley) coming on the outside of me. So I popped back inside of him and I see the quarterback still has the ball in his hands and I have a chance to get to him."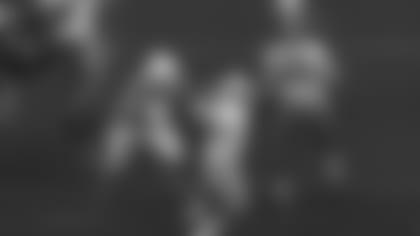 Campbell zeroes in on Kaepernick: "The only thing I'm thinking is: 'Don't let him shake me. Don't let him shake me!' He had a mindset of throwing, and I think he was trying to throw the ball before he gave up a sack to me. I've sacked him a couple times in my career, so we have a history. I know he's always looking for me, and when he saw me coming he decided to get rid of the ball really quick. "
Kaepernick's pass floats without his feet under him and Mathieu takes advantage: "(Campbell's pressure) helps us a lot when you're talking about these types of throws. You talk about the NFL, if you don't get a clean break on the ball, you're probably not even going to touch the football. When you get good defensive line penetration, he's got to throw off his back foot. If you give our secondary that type of opportunity, we're most likely going to make the play."
Mathieu swoops in for the interception and glides into the end zone: "Obviously, the first thing I want to do is catch the ball. I kind of peeked back to see where Anquan was. I know he plays hard, so I knew he wasn't just going to give up on the play. I kind of looked back and saw he wasn't behind me, so I took my time."
Campbell has Kaepernick wrapped up on the ground after the pass: "At the time I was disappointed he threw the ball before I got to him, but then, when I heard the crowd go crazy, I'm like, 'Oh, we must have gotten an interception.' And then I get up and see Ty running down the sidelines dancing. I'm like, 'Good thing I didn't get the sack, because we just put some points on the board.'"
The Cardinals finished with four interceptions, which didn't surprise Bucannon: "Even when I was up there playing in the box, every time he threw the ball, I knew it was going to get picked. I just had a feeling. I had a front-row view. He wasn't confident in his throws, and at the same time we've got dudes that are blanketing the receivers."
Mathieu's plan to hold onto the touchdown ball went awry: "It was so much (adrenaline). I didn't even want to throw the football when I was in the end zone, but I was so, so excited. I didn't know what to do. I did get it back though. I'll probably hang it up on the wall."
Images of Cardinals safety Tyrann Mathieu's interception return for a touchdown