For all the times he has found the end zone in his career – and this season for the Cardinals – he thinks back to that time when he was on the other side of the ball.
"I actually almost like how getting a sack feels more than a touchdown," Conner said with a smile. "That's a dominant feeling when you get a sack.
"But a touchdown still feels good."
The running back has found a role with the Cards in his first season. He has become the perfect paring with Chase Edmonds in the backfield. He has become an emotional leader on the field. And he is the guy that has made it a virtual guarantee of six points if the Cardinals can reach the 1- or 2-yard line of the opponent.
"The majority of the time" Conner feels that's automatic.
"Even in the red zone in general," Conner added. "I feel I have enough speed and acceleration and a nose for the end zone as well as an awareness for where I'm at, and how important a touchdown is. I take a lot of pride in it."
In eight games, Conner has scored a team-leading eight touchdowns for the Cardinals, all rushing. He is also coming off, based on his per-carry average, three best games of the season, at 5.1 yards an attempt combined. He is the beast in the backfield the team needed.
His career high in touchdowns is 13 – 12 rushing, one receiving – in his 2018 Pro Bowl season with the Steelers.
"James is a dog," quarterback Kyler Murray said. "Playing in Pittsburgh, that dog-mentality. He's got that, he added that to this team. No matter who we play, you can count on James. Anything you ask him to do, he's going to go full speed, 100 percent. You just know he's got everybody on this team's back. Those are the type of guys that I can go with."
The emotions Conner plays with are natural. He knows, at 6-foot-1, 233 pounds and as a one-time defender, how difficult it is to tackle a player like him. He relishes the contact, the dirty yards, and often for him, the six points that lay just beyond that first and often vicious contact.
"It's funny because James on a day-to-day basis in the locker room is one of the more quiet and chill guys," wide receiver Christian Kirk said. "It's like a switch that's flipped on Sundays. He turns into a bully."
They are different sides to Conner that he knows well.
"There is a time and a place for everything," Conner said. "I know how to flip a switch from being a football player to talking to the press to being one of the guys in the locker room. I think I have a good feel for it."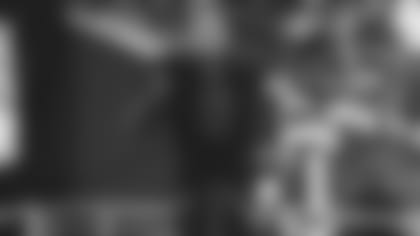 Conner's gratitude for the Cardinals and his current situation have also seeped into his mindset. He expresses appreciation for the team to seek him out as a free agent, a situation that has been an excellent fit.
But appreciation, whether it's for his roster spot or the chance to score another touchdown, has a permanent place in Conner's psyche. Diagnosed with Hodgkin's lymphoma in college – when it was discovered, Conner was told he might've only had a week to live had it continued untreated – his fight with cancer cast a permanent addendum to everything in Conner's life.
"I know there are people in the hospital watching me play, getting motivated, so I carry with that with me," Conner said. "Also all the girls and guys who didn't make it through their battle with cancer, I try to honor them with my play. A piece of that I'll always carry with me."
With that, it's easy to understand why Conner does get so emotional on the field grinding out yards and points.
"When you have someone who can extend drives, extend the clock, it's a defensive best friend, right?" linebacker Jordan Hicks said. "He's able to run for first down after first down, not on easy runs but tough, hard runs that gives everybody energy."
Coach Kliff Kingsbury said Conner hasn't exceeded expectations, only because they were confident in the many things Conner could do to add to Kingsbury's offense.
Scoring a lot of touchdowns had to be high on the list.
"I had no goals and really no expectations," Conner said. "I knew I was going to give me best self every day. I knew it would take time to get comfortable with the guys and get into my role.