Daniel Gray peered into the holding cell, his eyes wide with wonder.
Three feet in front of him, separated by an indestructible door, the faces stared back.
The Cardinals cornerback minored in criminal justice at Utah State and has long been interested in a post-football career in law enforcement. But Gray had never stepped foot inside a jail until Wednesday, when he, along with the rest of the Cardinals rookies, received a crash course in its daily operation.
As the players looked on, the guards explained the purpose of a holding cell, the place to hold detainees before they go in front of a judge. While there is a 24-hour maximum hold, it can still be a long wait.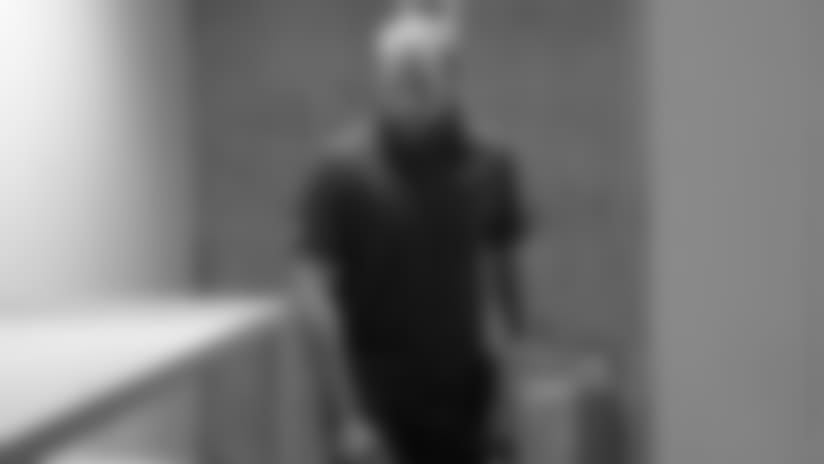 That point was illustrated when a detainee curled up on a concrete bench, using scrunched up toilet paper as a makeshift pillow. Metal handrails protruded every few feet, separating each seat and making it awkward and uncomfortable to lie down.
"They sleep in there?" Gray asked incredulously.
The field trip to the 4th Avenue Jail was part of the Cardinals' rookie development program, which is designed to educate the players about avoiding off-field pitfalls.
Many times, the lessons are taught on a projector or TV screen, which may or may not be effective, depending on a player's attention span. The midday trek to downtown Phoenix had them fixated.
"Actually seeing the inside, and smelling it – it didn't smell great," rookie wide receiver Krishawn Hogan said. "The officers telling us how much free time (the inmates) get, which is really none; what they eat, which isn't good food; it was eye-opening. We saw some crazy stuff."
---
Last month, Maricopa County Sheriff Paul Penzone attended the Arians Family Foundation's charity fundraising event at Topgolf in Gilbert. When he and Cardinals coach Bruce Arians began to chat, an idea for a mutually-beneficial collaboration quickly sprouted.
The Cardinals wanted to educate their rookies -- who were flying in from all over the country -- on some of Arizona's more pertinent laws, and Penzone loved the idea of a proactive meeting.
"This isn't intended to be like a 'Scared Straight' program," Penzone said. "It's just the reality of, 'Hey, something you see in that moment as just a simple mistake or bad judgment could lead to this place.' You need to understand the consequences. When you get inside there and get a direct feel for the consequences, I think it's more impactful."
The rookies arrived at the Maricopa County Sheriff's Office at 10:30 a.m., and after a quick introductory meeting with Penzone, were split into two groups.
The first stayed in the meeting room to learn the state's laws on impaired driving, drugs and guns. The second group, which included Hogan, Gray, quarterback Trevor Knight and draft picks Haason Reddick, Budda Baker, Chad Williams, T.J. Logan and Rudy Ford, made the short stroll to the jail.
They began the tour outside the entrance, where "perp walks" are filmed by local television stations when someone prominent is arrested. Once inside, they saw the booking station, where mug shots and fingerprints are taken.
"You see it on 'Cops' all the time," Gray said. "But to actually see it in person, it was crazy."
When the players stepped into an elevator, they noticed for the first time one of the numerous security cameras equipped throughout the facility. Conversation veered to drug lord 'El Chapo' and the TV show 'Prison Break' as an officer was asked how many prisoners had ever escaped this jail. None, he said, although someone had gotten out by assuming the identity of another inmate.
The players then perused the cells and common area of a block not in use. They sat down at metal tables bolted to the floor, listening to the information supplied by the officers. In a technologically-saturated world, there was no cell phone scrolling in sight.
"They can really see the process and see what it's like being in the jail," said Cardinals senior director of player development Anthony Edwards, who runs the rookie development program. "It resonates more with them being able to visually see it."
The first group finished their tour at a control tower, where security kept an eye on the inmates. The players looked over at the exercise area, which paled in comparison to the weight room at the Cardinals' facility.
"There was no equipment at all," Hogan said. "It was a big empty room with natural light, and natural light just means it's sunlight coming through windows that have shades on them. So there was really no light at all, and they're doing air squats and stretching. It was wild."
---
The groups passed each other in the lobby of the sheriff's office, one heading back to the meeting room for a PowerPoint slideshow, the other heading for the jail.
After the day's activities wrapped up, Penzone invited the players to his office.
Most plopped down on lush couches, but Knight and tackle Will Holden drifted toward the back near Penzone's desk, where they were encouraged to make themselves at home. Knight happily obliged, propping his feet on the desk and splaying out.
Penzone enjoyed his time getting to know the Cardinals rookies, but the meeting also went beyond football.
"These are young men – regardless of the profession – that are out and active in our community," Penzone said. "Right now there is a divisiveness between law enforcement and primarily young men in our community. We want to overcome that. We want to have a healthy relationship."
Gray believes something as simple as these informational gatherings can be a big step forward to help players avoid unwanted scenarios.
"Some people that get in trouble are very much uneducated," Gray said. "I feel like if they are educated, a lot of people wouldn't do it."
The trip certainly left a lasting impression on the rookies, who were still buzzing about it on the bus ride back to Tempe, caring little that the visit went an hour longer than scheduled.
"I never planned on going to jail anyway, but now I definitely know," Hogan said. "I'm not going to mess up at all."
Images of the Cardinals during their trip to jail and the Maricopa County Sheriff's Office